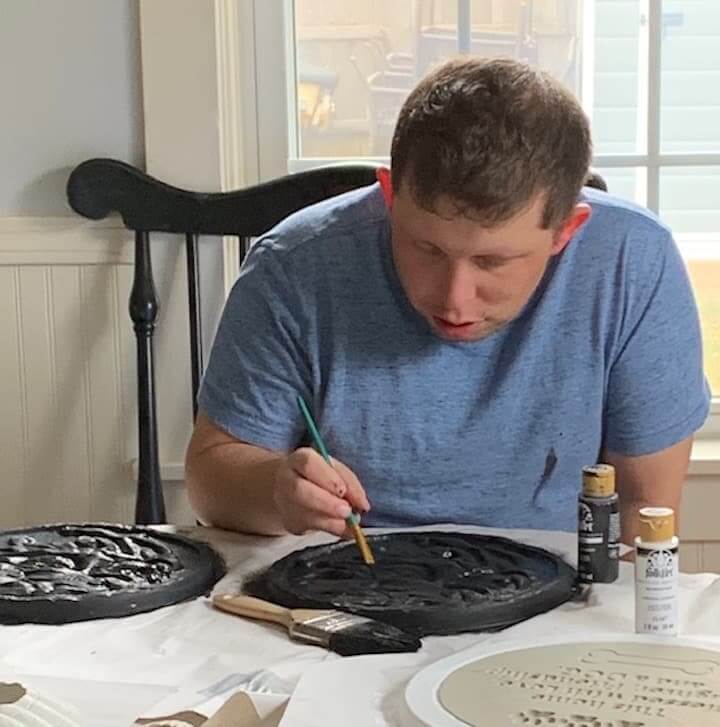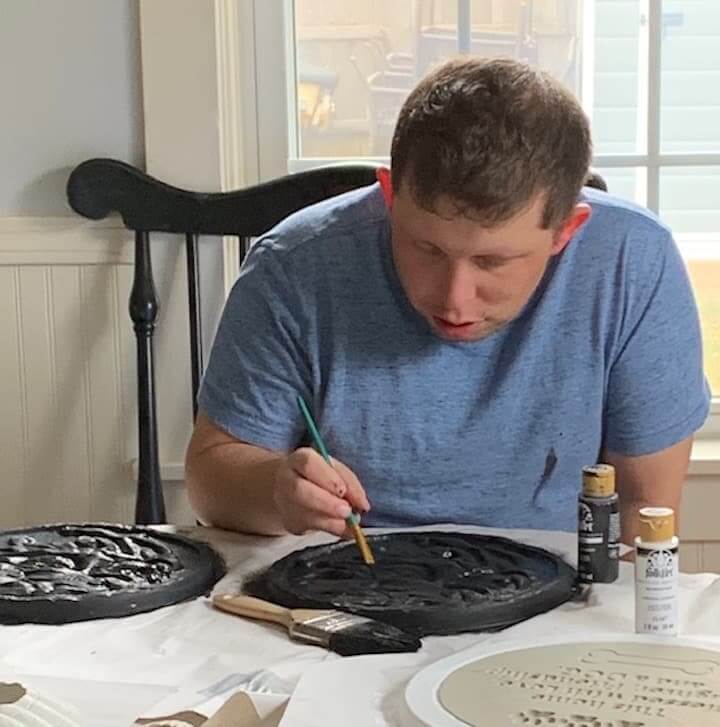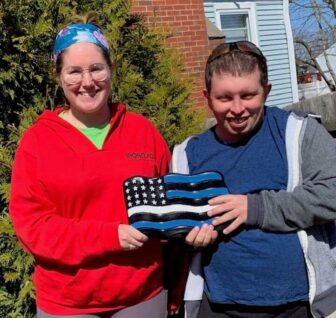 Nicholas Votolato, owner of Rock Solid Creations, loves dogs, spending time with people, and having fun running his business, all part of his life now thanks to the Rhode Island Developmental Disabilities Council.
Nic couldn't find a long-term, reliable place to work that satisfied his passion to contribute and socialize with others, said Nic's mom, Gail McCusker.
The Division of Developmental Disabilities (DDD) within the State Department of Behavioral Health, Developmental Disabilities, and Hospitals (BHDDH) provides funding for supports for people with developmental disabilities. Their self-directed program empowers those who prefer designing, implementing and managing a service plan that suits them uniquely.
Nic hired his life-long friend, Emily Susfoletti, to work for him to assist him with building his business and learning other important life skills."
Partners, in time
Though they grew up together, Susfoletti didn't start working with Nic until she was 17 in 2011.
"Which changed the dynamic a little bit," Susfoletti said.
Susfoletti said it was her job to encourage and teach Nic to become more independent.
The two spent a lot of time out in the community, going grocery shopping, practicing managing money and performing the routine tasks young people acquire on their own as they move into their adult years.
Susfoletti also helped Nic overcome his fear of heights, which posed a problem when he needed to do something in a building that was above the first floor.
"He has come a long way. He is able to do a lot more than he used to," Susfoletti said.
RIDDC paves way for creative growth, expansion
Gail, who works for the RIDDC, shared Nic's frustration with his work prospects.
In spring of 2019, Nic and Gail enrolled in the RIDDC's Self-Employment Business Incubator, which offers people with developmental disabilities classes to learn how to run their own businesses. This innovative project is funded by the Governor's Workforce Board and the Department of Labor and Training's "Real Pathways RI" employment initiative to assist various target populations to obtain employment in RI's workforce.
Everyone who enrolls in the program needs to start out with an idea for their business, though, Gail said. So they decided to pursue Nic's vocation, focused, at first, on his love of dogs.
"We decided it would be good for him to do something he liked," Gail said.
Nic's love for dogs inspired his first product, a concrete dog bowl that dogs can't budge without significant effort.
"We make dog bowls they don't tip over," Nic said.
The solid stone creations were a boon for dog owners and the dogs themselves, and they were quite popular.
Nic and Gail hired an aide, Cory Cascella, to work with him on Rock Solid Creations, mixing and decorating the dog bowls. Cascella and Susfoletti worked together for about a year helping Nic.
"They were having a great time," McCusker said.
In April of 2019, the program also qualified Nic for a small grant he used to expand his product line into decorative garden stones.
By the time Small Business Saturday SHOP RI was held in November, Nic had a newly expanded inventory of stone dog bowls and decorative garden stones, all of which would soon prove very popular.
Nic set up a booth for Rock Solid Creations during Small Business Saturday at the Crowne Plaza in Warwick, selling his wares with hundreds of other small businesses and crafters. He sold out his entire inventory.
"He did quite well," Gail said. They were thrilled.
Susfoletti didn't attend the Business Development classes with Nic, but she said he obviously learned a lot of useful things about starting and running a business in the entrepreneurial program. She said the classes were a tremendous help to him.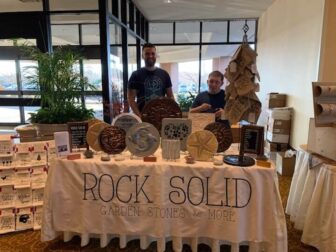 "Starting a business is really overwhelming for anybody," Susfoletti said.
After he took the classes, she said they continued working together making the products for Nic to sell. Hes' the operation's idea man, she said.
"Nic is very creative, so he comes up with a lot of cool ideas," Susfoletti said.
When they're out buying materials and choosing designs, "He's good at pointing out what will work out best and what will sell," Susfoletti said.
"I like to go and buy the stuff," Nic said.
Susfoletti said the RIDDC's classes helped Nic develop a solid understanding of what makes a business work.
"I think that through this experience Nic has grown enormously in his confidence," Susfoletti said.
Pandemic shifts plans, operations
While Nic had plans to set up a table at the Gaspee Days Arts and Crafts Festival this year, the COVID-19 pandemic interrupted that along with the festival itself. But Nic has continued selling his dog bowls and garden stones online.
Now, instead of setting up shop at a table during a local festival or event, where he enjoys socializing with his customers, they have to ask customers pick up the items themselves, with little interaction. That's disappointing for Nic, who gets a thrill out of seeing people's faces when they're getting their first look at his work.
Outside of such interactions, Nic doesn't have a lot of social contact, so those moments with his customers are precious, Gail said.
"I like when they smile," Nic said.
"It's just a wonderful thing to see," Gail said.
"Nic and Emily are still working on new garden stones, sundials and other cement products together, and Gail helps too, including brainstorming other new ideas that will continue to build Nic's business."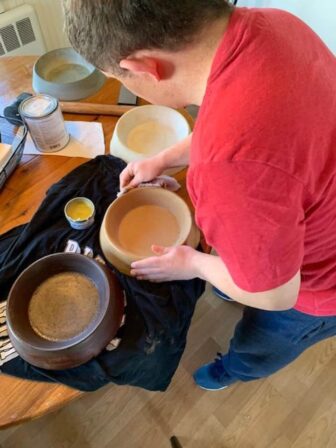 Gail said the RIDDC program has done a lot to help Nic grow into a more mature and responsible person.
"He realizes he has to work to make money. It just doesn't come to you," Gail said.
Owning and running the business has also become a subtle point of pride for her son, Gail said.
"He walks a different way when his pockets are full and he's getting paid," Gail said.
But, ask Nic the motivation behind his work and you'll get a more elementary answer.
"Because it's fun," Nic said.
You can see more of Nic's garden stones and other cement products on his Facebook Page, "Rock Solid Creations", or purchase them directly at "The Budding Violet" retail shop in North Smithfield, RI."
This page is part of a series of sponsored content pieces for the Rhode Island Developmental Disabilities Council.