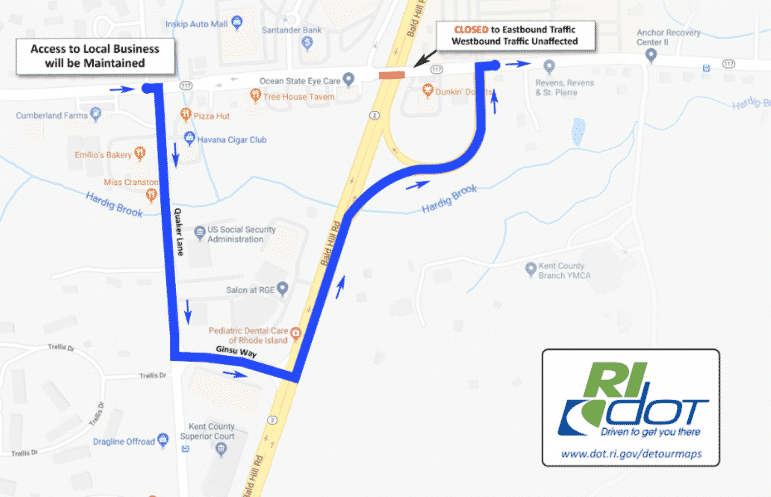 WARWICK, RI — Centerville Road Bridge, carrying Rte. 117 over Rte. 2, is getting a $6 million rehab, requiring a detour of eastbound traffic starting Monday, Feb. 18. Centerville-Road-Detour-2019.2

The detour is expected to last until mid-summer.
While the detour is in place, Rte. 117 East past the intersection with Quaker Lane will stay open for local traffic and access to businesses including Inskip Automall, the Treehouse Tavern, Santandar Bank and professional offices. The Dunkin Donuts/National Guard Recruiting Office building is located just past the bridge, but is easily accessed off the detour route by turning left the end of the ramp from Rte. 2 to Rte. 117, according to a RIDOT release on the work.
Though the detour will only last through the summer, it will help the RIDOT speed the project by about six months, finishing by the end of the year instead of in spring of 2020, the agency reports.
Centerville Road Bridge was built in 1951 and is considered functionally obsolete, RIDOT reports. It carries about 28,000 vehicles per day. RIDOT will rehabilitate the bridge's superstructure, substructure and its deck. The road at the bridge will be paved and sidewalks will be replaced.
The repairs to the bridge is project of RhodeWorks, RIDOT's initiative to repair structurally deficient bridges and restore Rhode Island transportation infrastructure to good condition.
Turn-by-turn directions for Rte. 117 East are as follows:
• Turn right onto Quaker Lane
• Turn left onto Ginsu Way
• Turn left onto Bald Hill Road/Route 2 North
• Bear right at the next exit to return to Route 117