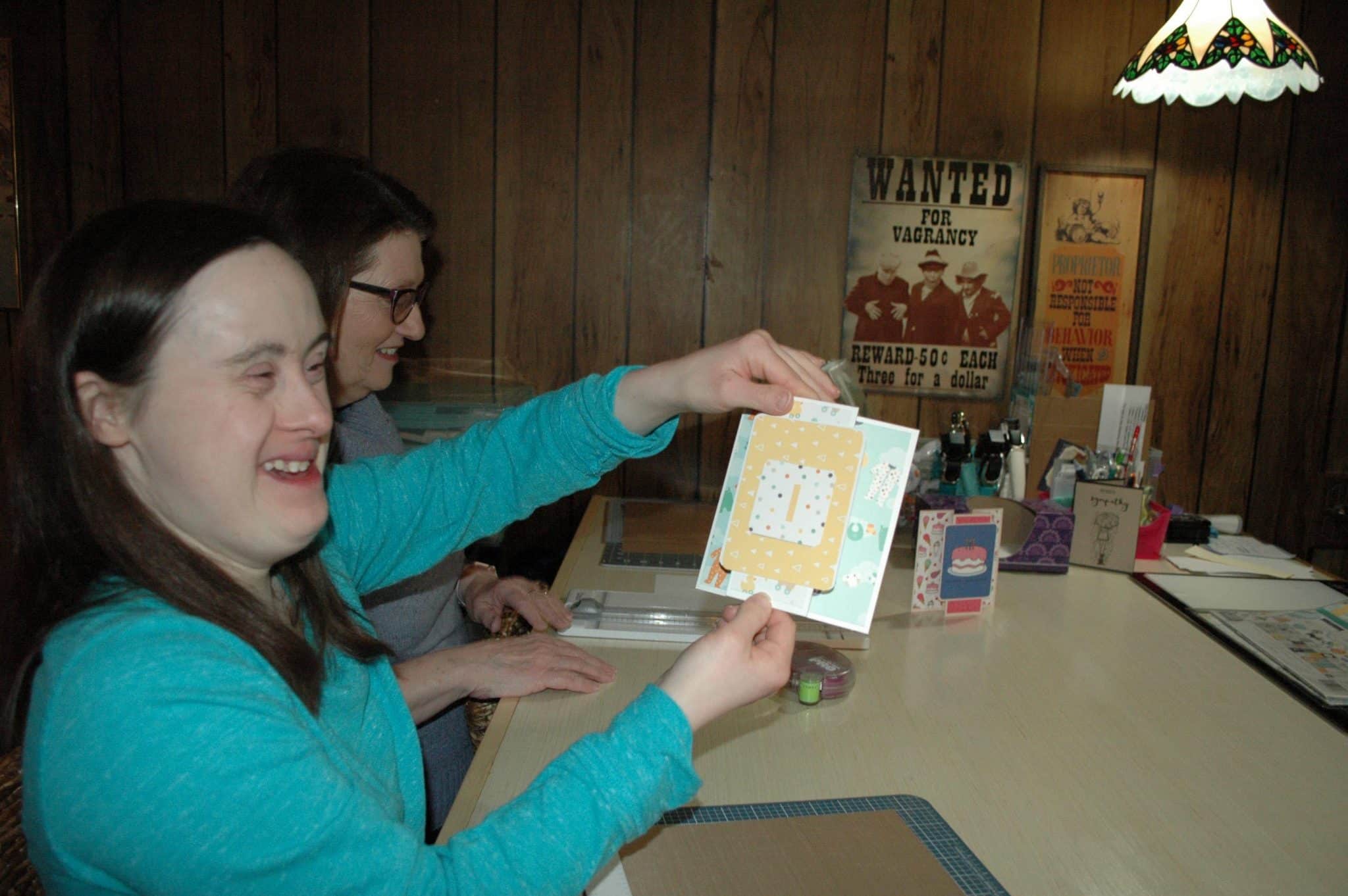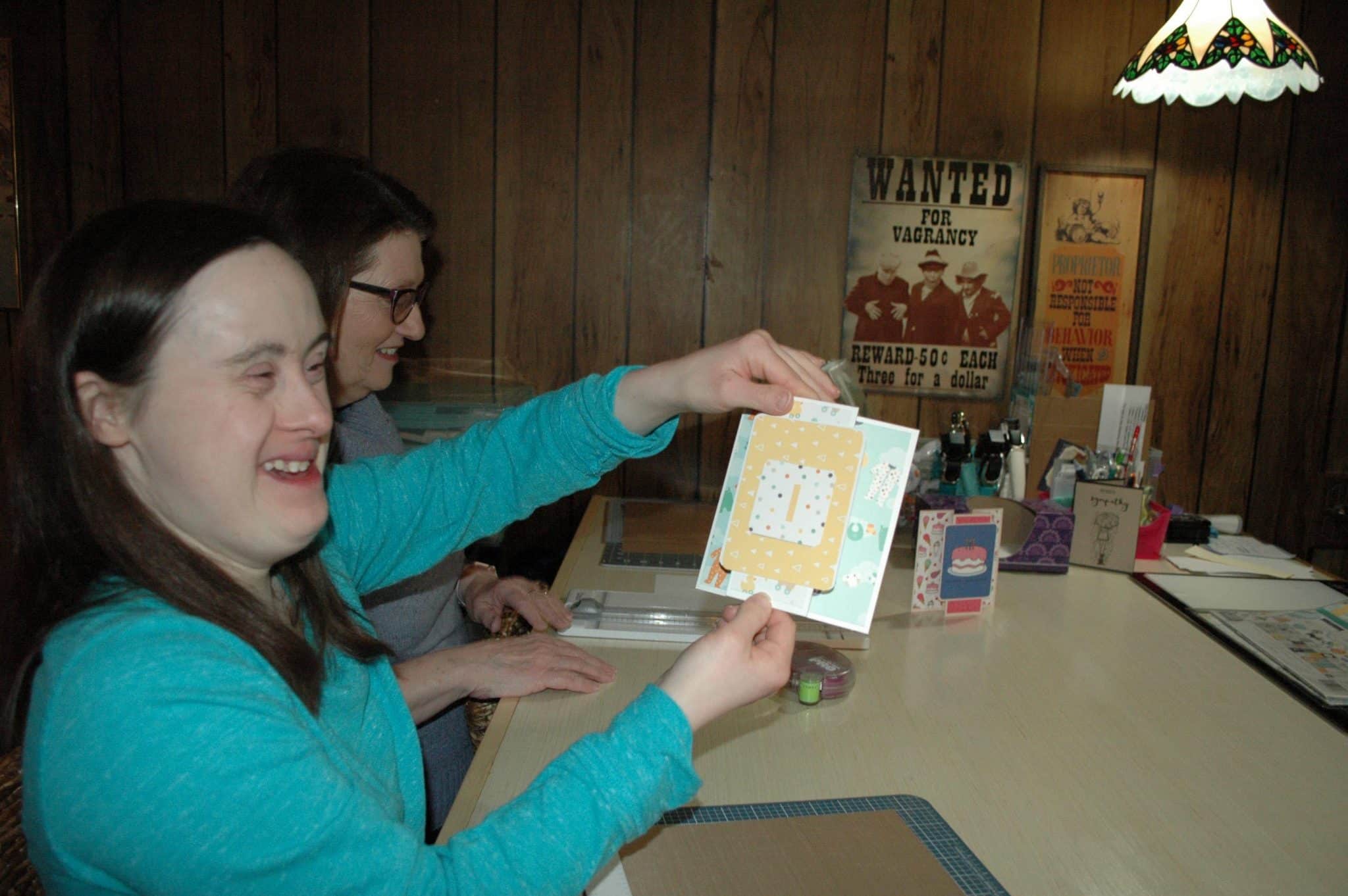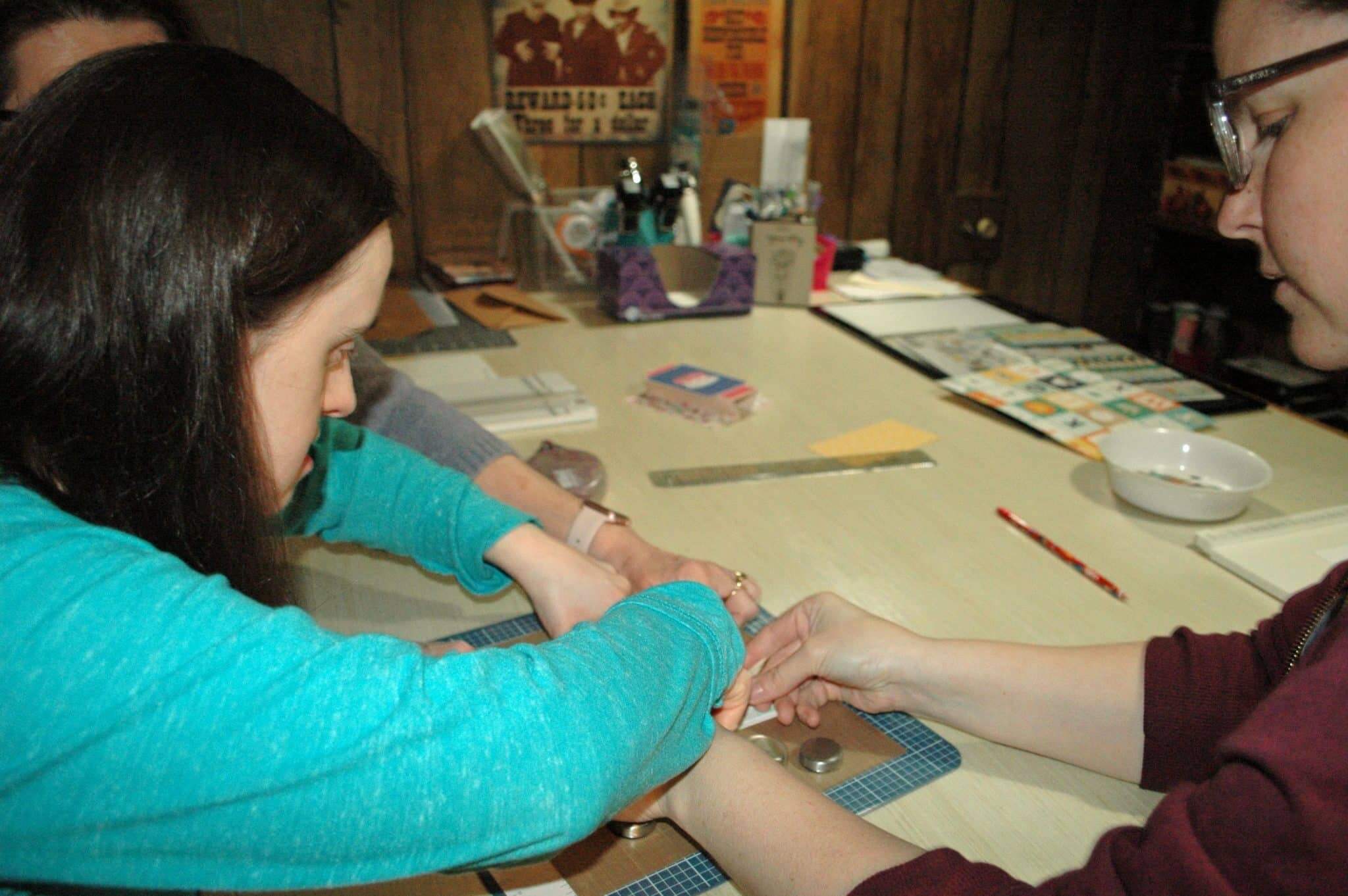 WARWICK, RI — Katie Lowe, 39, has Down syndrome, fulfilling work, beloved co-workers and a productive life as owner and creative influence at greeting card company Cheetah Greetings, blessings she and her mom, Claudia, have built into her life with the RI Developmental Disabilities Council (RIDDC).
Rhode Island's Division of Developmental Disabilities, part of the Behavioral Healthcare, Developmental Disabilities and Hospitals (BHDDH) department, provides services for people with developmental disabilities.
Katie chose to access "Self-Directed Supports" instead of traditional services a person would receive from a community agency. With self-directed supports the person hires and trains their own staff to assist them with the various goals in their annual Plan to live a good quality life in the community.
Katie and Claudia have been pursuing their own path under that program for some time. Katie has always been eager to be an involved and active part of the community, so she was happy to find a part-time job with a local department store, Claudia said.
Unfortunately, when Katie asked for more hours, the store wasn't able to oblige. Katie wanted to be more a part of the daily working world, but it was difficult to find opportunities.
Such situations are frequent for people in Katie's position.
"They want to work, but there are obstacles, if you will," Claudia said.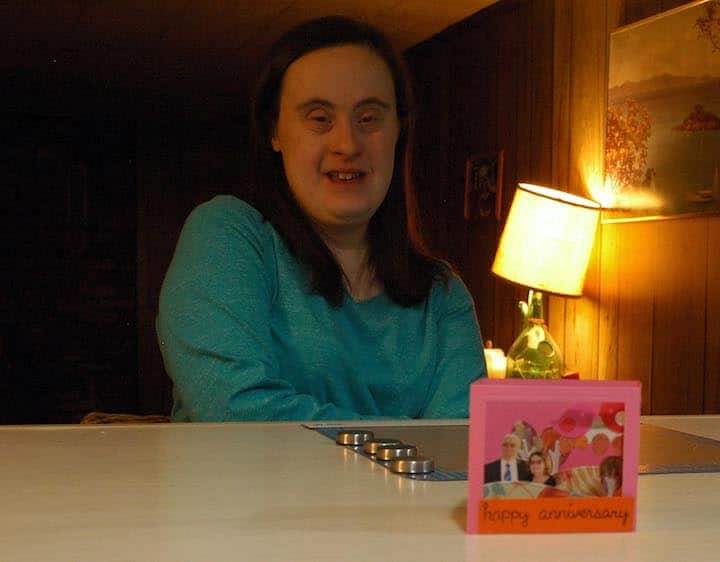 So, Claudia and Katie launched a DJ business under the self-directed services program. The BHDDH allocates each person with developmental disabilities funding based on a formula assessing their needs, the Supports Intensity Scale, to measure supports required for individuals, 16 years and older, with intellectual and developmental disabilities. The assessment is made during an interview with individuals and the people close to them.
Usually, that provides an individual service plan (ISP), including funding for a job coach to aid the person in the program with their services.
Being a DJ, however, required working nights, and the state job coaches all worked during the day. Claudia asked to use the funding to hire someone to work with Katie during the night. The state agreed.
TheThe RI developmental Disabilities Council assisted Katie to obtain additional funding from the Office of Rehabilitative Services (ORS) and an independent grant for equipment, including a computer, mixer, speakers and headphones.
But, while owning her own business, working for herself and bringing music and entertainment to local parties was fun, increasing competition and the industry's move toward party planning started to make their approach uncompetitive.
About three years ago, they decided Katie needed a new vocation. As it turned out, Claudia provided the new direction when she bought a card-cutting machine to make her own greeting cards.
"She started to express interest in that," Claudia said.
They'd already limited themselves to just one weekly DJ gig at the Trudeau Center on Post Road in Warwick. It was time to make a move.
Claudia and Katie, long-time members of the RI Developmental Disabilities Council board, knew about the classes the RIDDC was offering people with developmental disabilities to learn how to run their own businesses in their Self-Employment Business Incubator.
 The Business Incubator project is funded by the Governor's Workforce Board and Department of Labor and Training's "Real Pathways RI" initiative, which supports partnerships between and among public, private, and nonprofit agencies that focus on serving populations with traditional barriers to employment. The Council partnered with the Center for Women in Enterprise (CWE), Veteran's Business Outreach Center (VBOC) and the Small Business Administration (SBA) to organize the classes and individual counseling with Business development Specialists.
Katie and Claudia attended the classes together.
Katie learned about being a business owner, taking the instruction to heart, particularly the parts about self-promotion.
"She's got a unique way of selling herself without even realizing she's doing it," Claudia said.
Once, during a press event with Sen. Jack Reed (D-RI), Katie, at a table with the senator, pulled out her business card and slid it across the table in front of him, very smooth. Katie's assertive, earnest approach that serves her well as a business person.
"That's just her nature," Claudia said.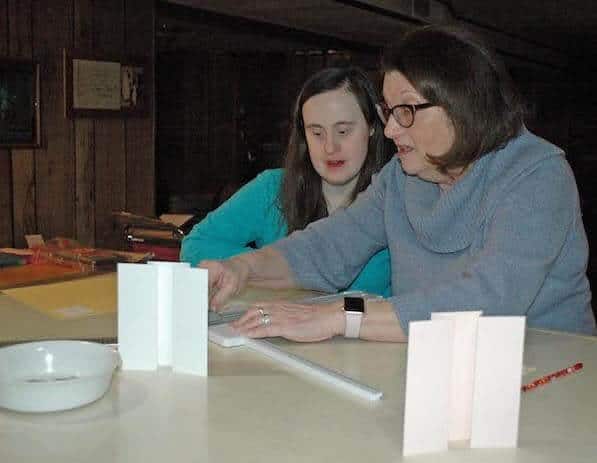 Now, three days a week, Katie's new job coach, Sara Holt, works about 10 hours a day, 30 hours a week, helping her create greeting cards for Cheetah Greetings in the finished basement of Claudia and Katie's Warwick home.
They focus on adoption and foster cards, and sympathy cards for people who have lost a pet.
It's an easy partnership, built on years of shared experiences. Claudia and Holt's mom worked together at Rhode Island Hospital's Child Development Center.
"Katie and I have known each other since we were 12," said Holt.
One source of inspiration for Katie is Maymay Made It Crafts. Claudia and Katie wrote in to the YouTube channel host, thanking May-May for her efforts, and sent a scrapbook Katie uses to plan out her endeavors. May-May, touched by the letter, devoted one of her episodes to Katie.
While May-May might provide the inspiration, it's Katie calling the shots in the workspace, choosing materials and deciding on the type of card they'll work on together.
Holt presents an array of card-stock printed with designs – clouds, fields, forests, and woodland creatures. She picks what's going with what, and glues the cards together with Holt's help. Katie hand-stamps the designs on every card.
Sometimes a little precise work is required.
"Scalpel," Katie says. Holt leans in and neatly trims an edge.
"Can you connect these dots together?" Holt asks, passing the pieces to Katie, who applies glue from her applicator to the task.
Holt credits Katie with Cheetah Greetings' inception.
"Katie kind of had an idea because Claudia likes to craft," she said.
So does Katie.
"I do, yes. I like it," Katie said.
Katie, Holt said, is a people person. In her book, the RIDDC business classes did more for Katie than teach her how to run her own business. They taught her the life skills she needs to live the kind of life she wants for herself. That life involves socializing with others, helping to make them happy, or comfort them when they're sad. It involves work that helps her do all those things.
Cheetah Greetings sells cards at the Red, White and Brew coffee shop, owned by fellow self-directed program recipient and graduate of the RIDDC entrepreneurial program. Michael Coyne, young man with autism, took advantage of the classes to start the venture in response to his own difficulty finding a job.
Katie and Holt visit the coffee shop to restock the their cards, sold for $5 each, every week. She also sells the cards at fairs and the Providence Flea, and markets with a Spartan Cheetah Greetings Facebook page.
"She has learned a lot about card making and we try to create new types of cards. She has also learned a lot about business not only from Cheetah Greetings, but from the business class she attended put on by the RIDDC council. As a part of owning the business and learning how things work, Katie is able to apply what she learned in marketing, social media, and more. Her life has purpose now. She gets up each day and is ready to make and design cards for her business," Holt said.
You can order one of Katie's hand-made cards by calling 401-206-0599.
This page is part of a series of sponsored content pieces for the Rhode Island Developmental Disabilities Council.