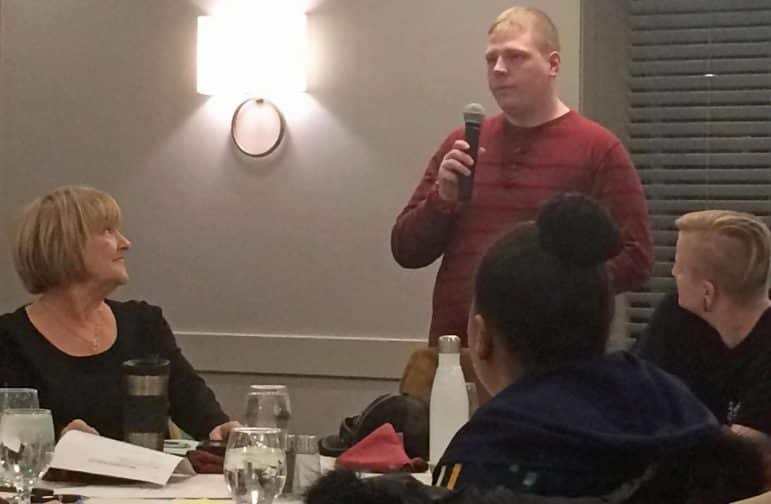 WARWICK, RI — The RI Developmental Disabilities Council reviewed its business incubation efforts on behalf of the disabled community Jan. 15 at Chelo's on Post Road, trading entrepreneurial success stories.
The evening was something of a casting call for many of the business owners, who last gathered for Small Business Saturday late last year. The meeting drew about 50 people including small business owners, their family and supporters.
Sue Babin, Special Project Coordinator at the RIDDC, led the owners and their family members through testimonials of how classes and guidance from the RIDDC helped them launch their businesses, providing gainful employment they were otherwise unable to find.
Nineteen business owners with disabilities participated in Small Business Saturday, Babin said. Among them were Bee Friendly Flowers, Red, White and Brew coffee shop, Rock Solid Creations, Favorables gifts, and Paintings by Rachel.
Many of them assembled that night were beneficiaries of the RIDDC's RI Self-Employment Business Incubator, which offers Rhode Islanders with developmental disabilities seeking self employment a six-part business class series followed by individual technical and business counseling. The program also offers the budding entrepreneurs mini-grants of up to $2,000 for marketing and business development.
Funding for the project, about $123,000 per year, comes from the Governor's Workforce Board and the RI Department of Labor and Training's "Real Pathways RI" initiative, said Babin. Real Pathways RI partners with community organizations to train job seekers in skills and abilities marketable to employers, according to the RIDLT's website.
In the case of RIDDC's self employment incubator, many of the people learning to be their own boss find it a freeing alternative to a job market that's difficult to break into. As business owners, they have flexibility that's difficult to find as job applicants. Michael Coyne, an autistic young man who took advantage of the classes to aid his business, the Red, White and Brew coffee shop, started the venture in response to the difficulty he had finding a job. Coyne's story made national news on CBS.
The successes of the initiatives were clear from the stories shared at Chelo's.
Karen Gasperini, author of Arianna's Magic Boots, about a five-year-old girl who uses her leg braces and sneakers combined with imagination to go on adventures, spoke about her exciting experience becoming a published author.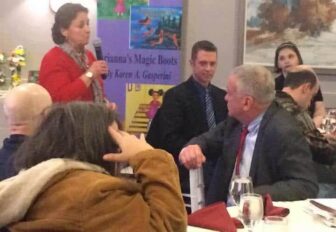 "I'm just so happy to network with you people and it kind of feels like I have a new family," Gasperini said.
Keri Hickey, owner of flower arrangement and delivery service Bee Friendly Flowers, just finished the second round of classes that began in November. The second round started in January, and the third begins in April.
"It taught me how to improve my business," Hickey said.
Nicholas Votolato, owner of Rock Solid Creations, who started his company making concrete dog bowls, used a grant from the program to expand, adding a number of items to his product line.
Rock Solid Creations sold out its stock during Small Business Saturday, and Votolato has applied to sell at the Gaspee Days Arts and Crafts festival.
Debbie Wood spoke about her son Jason Wood, owner of We Be Jammin, which sells specialty jams, relishes, bbq sauces, salsa, and marinades. They were also at Small Business Saturday, where he made the most money in one day of all the five years he'd been in business. They had not yet started the classes, "So, we're pretty excited about it," Diane said.
Coyne, who also took advantage of the classes to aid the Red, White and Brew coffee shop, praised the popularity of We Be Jammin's jams in his store.
"It is literally our most popular item," he said, adding that he has found the business advice and guidance RIDDC has provided very useful. The shop is doing good business, and their Facebook page has grown to 9,000 likes as their popularity has grown.
"It's working out very, very well. We're very grateful," Coyne said.