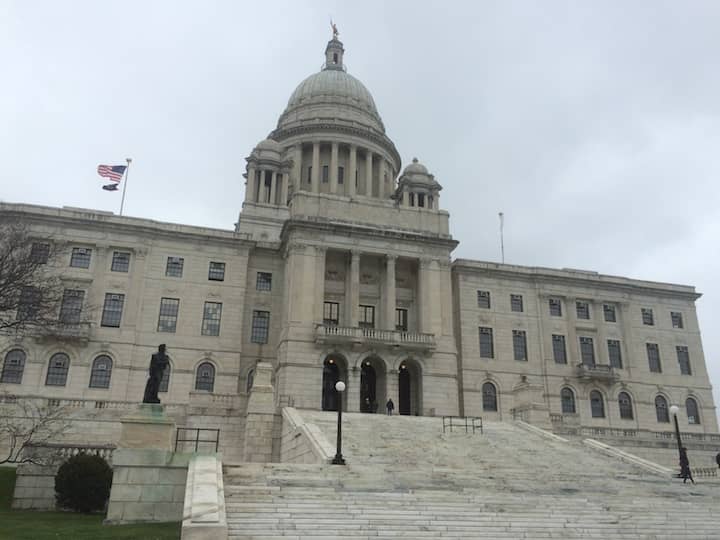 PROVIDENCE, RI – Rhode Island's $9.2 billion 2018 state budget passed in the state senate Thursday and was signed by Gov. Gina Raimondo, along with the $2.7 million Rhode Island Promise Scholarship program, allowing the state's recent high school graduates to enroll at the Community College of Rhode Island tuition-free this fall.
Gov. Gina Raimondo signed the budget bill into law moments after it passed, according to the senate press office.
The senate's 30-5 vote removed an amendment the body placed on the budget in June providing an escape clause for a six-year vehicle excise tax relief plan introduced by House Speaker Nicholas A. Mattiello, ending a month-long impasse.
In place of the amendment, the Senate passed a separate bill (2017-S 1011), sponsored by Senate President Dominick J. Ruggerio (D-Dist. 4, North Providence, Providence), mandating that the director of revenue file annual reports with both the Senate and the House and provide recommendations regarding the motor vehicle phaseout. The first report is due Jan. 1, 2021.
The excise tax relief plan included in the budget begins eliminating the car tax by reducing the taxable portion of a car's retail value from 100 percent to 95 percent and increasing the minimum exemption from $500 to $1,000, and capping the rate at $60 in 2018. It also stops taxing cars that are 15 years or older immediately. It continues reducing the taxable value and maximum rates and raising the minimum exemptions through 2023, with the tax completely eliminated in 2024. The budget fully reimburses cities and towns for the lost revenue, a cost of $26 million in 2018.
The budget also raises the minimum wage 90 cents over two years, restores no-fare bus passes for low-income elderly and disabled people, and includes a pilot program to provide two years of free tuition at CCRI.
There were no broad-based tax increases, but the state closed a $134 million shortfall by declining to create many new positions and making a $25 million cut in general government spending, as well as decreasing the General Assembly's budget by $2 million.
The Assembly agreed with the governor's proposal to raise the cigarette tax from $3.75 a pack to $4.25, which is expected to raise an estimated $7.5 million in new revenue. Lawmakers also added a limited tax-amnesty program intended to capture $12.5 million in additional revenue.
Within hours of the budget clearing Raimondo's pen, the Community College of Rhode Island announced two enrollment days this month to help 2017 Rhode Island high school graduates enroll with free tuition this fall under the Rhode Island Promise scholarship program.
The events will be held from 8:30 a.m. to 1 p.m. on Thursdays, Aug. 10 and 17, in Room
1040 at the college's Knight Campus in Warwick.
Representatives from admissions, financial aid and advising will assist students with
applying to CCRI, completing the Free Application for Federal Student Aid (FAFSA),
taking placement testing and registering for fall classes.
Those attending should bring a photo ID, a copy of their high school transcript and their
parents' 2015 tax forms.
For qualified students, the Rhode Island Promise scholarship covers tuition and fees for
students who enroll full time. For more information and frequently asked questions, prospective students may consult the program's website.
"Our college is thrilled that the groundbreaking Rhode Island Promise program will be
moving forward this fall at CCRI. We believe every high school student in Rhode Island
deserves a chance to earn the degree or credential they need to begin a high-quality career
right here in Rhode Island," said CCRI President Meghan Hughes.
Those who cannot attend one of the Enrollment Day events can apply to CCRI online and
contact the college's Advising and Counseling Center at 401-825- 1240 or by email at
[email protected] for assistance with placement testing and course selection.
The Community College of Rhode Island, New England's largest community college, has