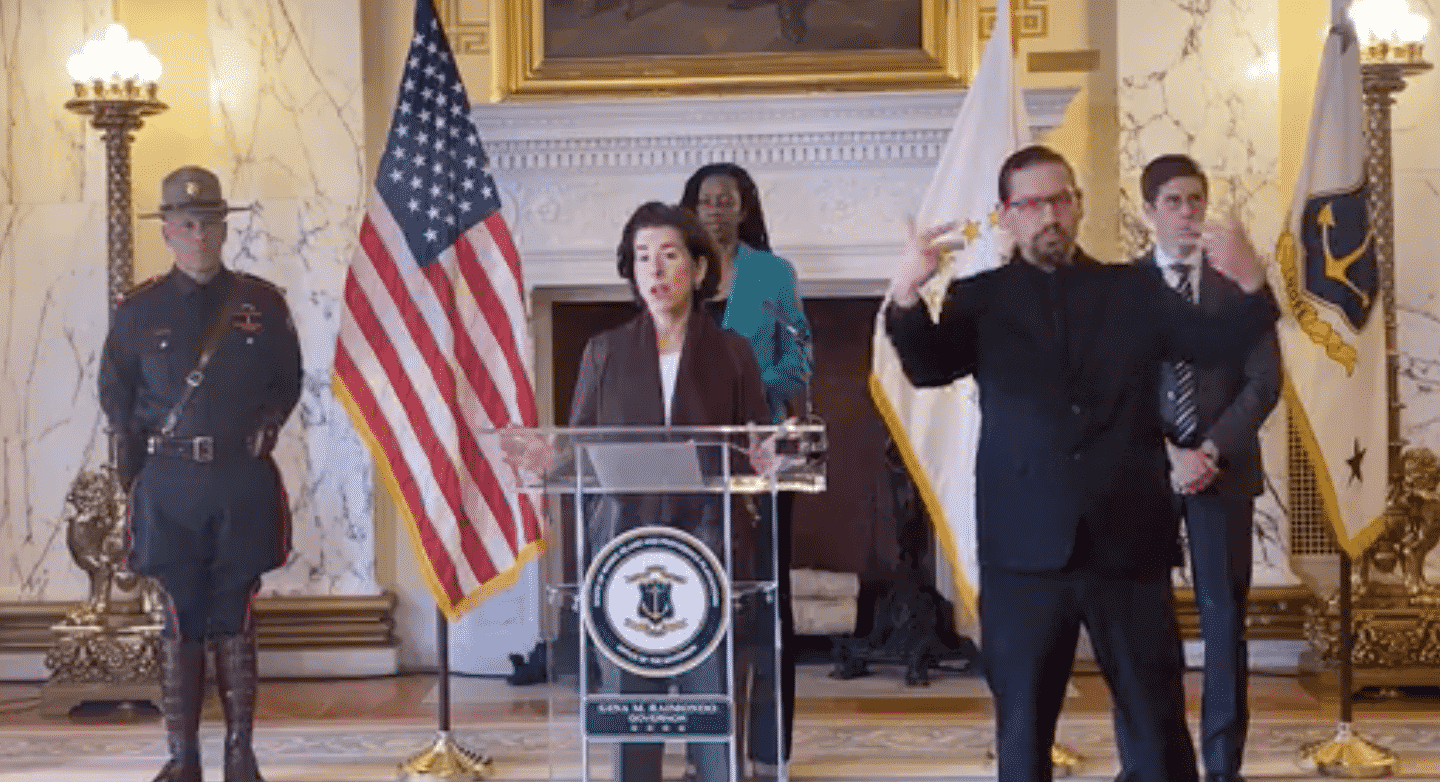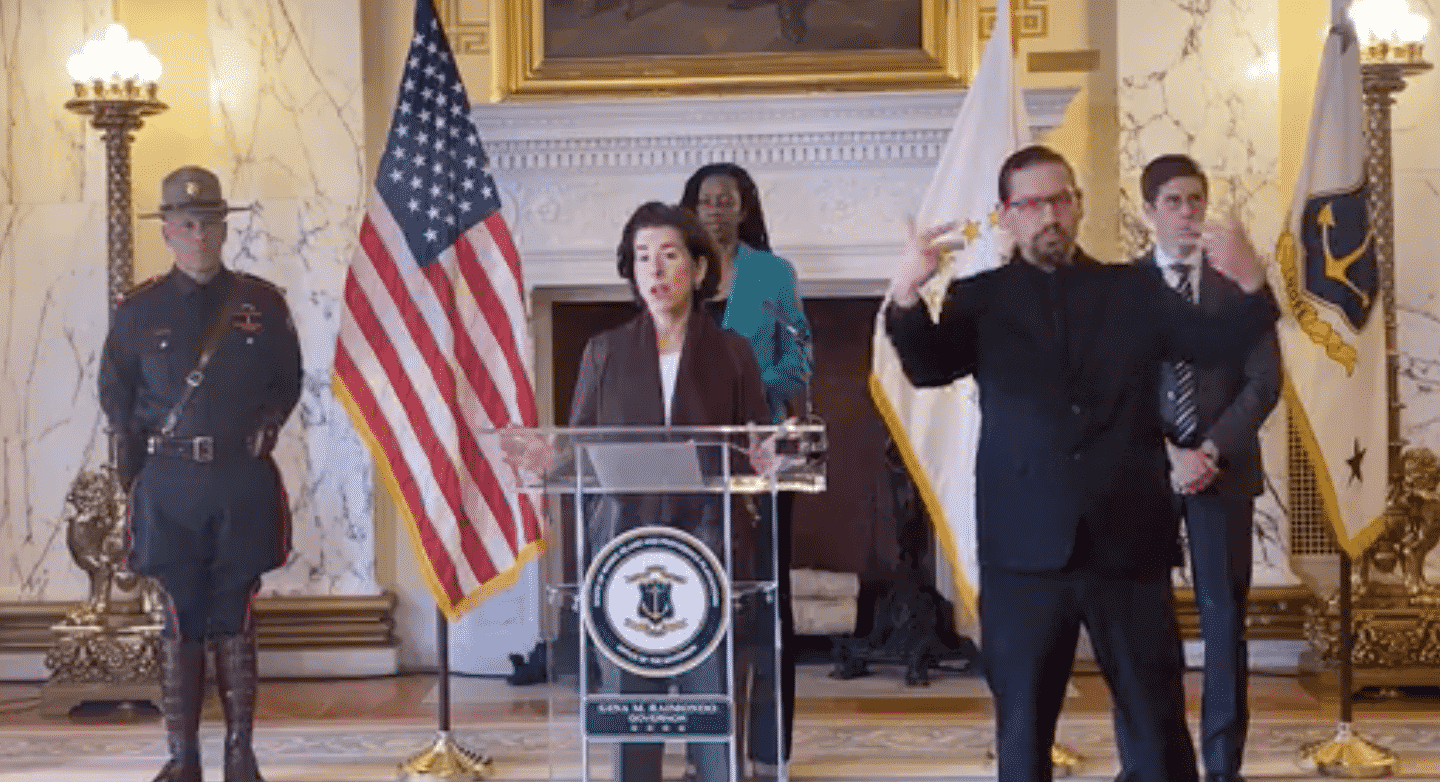 Editor's note: This article and and most of our COVID-19 related news is free to the public to ensure people have access to life-saving information. If we've helped you, and you're able to help us, we would appreciate your subscription for either $1.50/month or $15 per year.
UPDATE MARCH 22: Gov. Gina Raimondo announced there are now 83 COVID-19 cases in RI, and that the U.S.  Army Corps. of Engineers will aid the state in readying makeshift hospitals during her Sunday outbreak press conference at the State House.
"They are helping us primarily to ready buildings to provide surge capacity for our hospitals. We are preparing for a situation where our hospitals could become overfilled. It could happen very quickly. And so, we want to get ready."
Raimondo said the planning has been happening for the last several weeks.
Raimondo said it's "very likely," that Rhode Island hospitals will be overrun. How soon that happens, she said, depends on the amount of social distancing people in the state observe.
"Some of you are saying that 17 is a … a bigger jump than we usually have. That is true. We are not surprised by it. We are not alarmed by it," Raimondo said.
Raimondo made a number of announcements and reminders regarding the start of the week, large group restrictions, and rules that businesses staying open must follow:
School's back Monday "To all the kids out there, school's back on tomorrow," Raimondo said, reminding the state that schools are conducting distance learning while the buildings themselves are closed. She advised teenagers especially to set their alarms.
Continued large groupings risk lockdown Raimondo also underlined her order against groups larger than 10 people. "I don't want to drive around Rhode Island and see any groups of people larger than 10 people in close proximity. And I mean nobody. I don't want to see it in the parks. I don't want to see it on the streets, I don't want to see it at open houses, I don't want to see it at parties, dinner parties, in the mall, sneaking into hospitals to visit your loved ones, sneaking into nursing homes — knock it off." Raimondo said if such disregard for the situation continues, she will move to a state-wide lockdown.
Large group rules critical Raimondo noted Rhode Islanders' cooperation and serious treatment of the rules against large groups in the next two weeks will spare the state from overwhelming numbers of COVID-19 patients. "We don't want to become New York. We don't want to become Seattle, Washington. And the only way we can prevent that is if we get more serious about the social distancing. It's really not a joke. People will die. Our loved ones will die, if we don't get a little more serious, as Rhode Islanders, heeding these directions."
Recreation facilities ordered to close in person operations Given the public disregard shown the large groups order, Raimondo said she is ordering recreation facilities to close in-person operations by 5 p.m. March 23. Theaters, cinemas, spas, barber shops, nail salons, beauty salons, and tattoo shops are included in the order.
For businesses staying open:
Work environment must allow employees to stay six feet apart.
Require appropriate employee hygiene: Constant hand-washing, hand sanitizer use
Greet employees at the door to ensure they're not sick.
Regularly clean and disinfect surfaces that are frequently touched.
The rules will be enforced by state officials spot-checking businesses.
Business service people must work from home: Lawyers, accountants, HR professionals,
SATURDAY, MARCH 21: PROVIDENCE — On Saturday, with the RI National Guard activated, Gov. Gina Raimondo urged Rhode Islanders to follow state orders limiting gatherings to 10 and staying in.
"Don't go into any building, of any kind, with more than 10 people," Raimondo said during her Saturday press conference on the outbreak.
Going further, Raimondo implored Rhode Islanders to avoid unnecessary trips and meet-ups with friends, family and co-workers.
"No matter how important you think that meeting is or getting together with friends is, please do not do it. Because if you do, you'll be endangering the lives of our health care workers, of our physicians, friends, the elderly, and Rhode Islanders you know and love."
In an earlier interview, URI professor Jeffrey Bratberg advised limiting all contact with others outside your household.
Adhering to the directions will return the state to a more normal situation quicker, Raimondo said. Ignoring them will only stretch out the crisis, she said.
Social distancing end: More testing, quarantines
"The path out of social distancing is much better testing, and the ability to quarantine," Raimondo said.
Raimondo said the state is working to be able to perform 600-800 tests daily, with rapid results, and pinpoint folks who are positive and put them in a quarantine. Then, she said, they need to track them and make sure they stay in that quarantine.
Alexander-Scott said the state is close to being able to ramp up testing of Rhode Islanders. "We are close to it but we will let providers know when that is available," she said.
National Guard Activated
On Friday, Raimondo activated the RI National Guard, and also moved the 2019 state tax filing and payment deadlines to July 15 as the state moves to limit spread of COVID-19.
The guard activation  allows 1,000 Guard personnel to train civilian medical staff, staff call enters, distribute food and necessities to the most vulnerable and perform a number of other critical functions.
"We now have 1,000 more men and women, trained men and women, to help," Raimondo said.
The personnel are also helping with testing, logistics and deliveries as Raimondo manages the state's response to the crisis, which she said is now a 24-hour operation.
The new tax deadline is consistent with changes made at the federal level and affects both the personal income tax and the business corporation tax, according to Raimondo's office.
RI COVID-19 Case Counts Rising
On Friday, Director of Health Nicole Alexander-Scott announced Rhode Island has ten additional cases of COVID-19, bringing the count to 54. The new cases range in age from a pediatric case to a person in their 70s. All are recovering at home. RIDOH is investigating their illness sources.
The RI COVID-19 case count rose further Saturday to 66 — 8 female, 8 male, in age groups from their 20s-70s, having traveled to Boston and NY.
Three of them are hospitalized, in stable condition.
In the U.S. so far, 200 people have died from COVID-19, including a reported Massachusetts man in his 80s this week.
"At some point, Rhode Island could see a COVID-19 fatality," Alexander-Scott said, stressing that possibility does not refer to anyone specific.
On Saturday, Raimondo said that while additional restrictions to limit spread of COVID-19 are likely, she has no plans to issue a "shelter-in-place" order and/or shutdown of the state. She said she is mindful that the state economy needs to remain operating at some level during the crisis.
"We need to have some semblance of an economy," Raimondo said.
Having said that, Raimondo reminded Rhode Islanders that the state and federal limit on people gathering is 10, and that she has issued an executive order against larger gatherings and leaving home when sick.
"Right now there is an order in the State of Rhode Island that you do not participate in gatherings of greater than 10 people. We're out, every day, looking, to make sure we don't see more than 10 people gathering. And if we see it, we're going to break it up. So are mayors. So are local police departments. You are ordered to stay home if you are feeling sick. You are ordered to work from home if at all possible."
Raimondo pointed out the experiences of New York City, New Orleans, San Francisco and Seattle, where cases of COVID-19 rise past a tipping point to a spike in the number of cases, which RI officials are trying to prevent.
"This moment right now, this weekend, this week, could be the most important week that we face in keeping the lid on this virus." Raimondo said.
COVID-19 health notes/reminders
Because it attacks lungs, COVID-19 could be a more serious threat to people who smoke tobacco, marijuana or those who vape. Free smoking-quitting resources are available at 1-800-QUIT-NOW.
Flu shots are important to help preserve hospital capacity for potential COVID-19 cases. Flu is less likely to hospitalize vaccinated people.
Wash your hands frequently, especially after returning from a short trip, blowing your nose or before eating.
Frequently wipe down commonly used surfaces such as counters, doorknobs, railings, counters, cabinet handles and faucets.
Call your doctor before visiting if you need non-emergency medical attention so they can instruct you on the safest way for you to receive care.
Stay home if you are feeling at all unwell.
COVID-19 economic/election updates
Wine and beer takeout approved for RI restaurants.
Extending background check for firearms applications deadline to 30 days
The RI Board of Elections has voted to delay the state's presidential primary until June 28. Raimondo, who said she preferred holding the primary on its regular April 28 date, said any primary held during the crisis would need to be done using mail-in ballots.