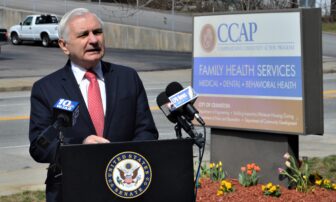 CRANSTON, RI— Comprehensive Community Action (CCAP) Family Health Services in Cranston is getting nearly $3 million from the  American Rescue Plan to combat the COVID-19 pandemic.
The health center is among eight that have received funding to aid COVID-19 vaccination distribution efforts as the nation and Rhode Island work to people in underserved communities.
Last week, President Joe Biden announced $6 billion in allocations to 1,400 community health centers nationwide.  As a result,  theRhode Island community health centers will receive nearly $33.5 million to expand access to vaccines, get more shots into arms, conduct outreach to underserved communities, and support essential workers.  The federal funds will expand COVID-19 vaccinations, testing, and treatment for vulnerable populations, deliver preventive and primary health care services to people at higher risk for COVID-19, and expand health centers' operational capacity.
Monday, members of Rhode Island's Congressional delegation joined Jim Vincent, executive director of the NAACP Providence Branch, and health and community outreach officials at CCAP, to highlight the need to get more vaccines out to people in underserved communities and the important role community health centers play in serving vulnerable populations and improving public health.
"We've got to boost vaccine delivery and expand access while eliminating barriers to health care and systemic disparities in the health system.  This injection of federal funding will help community health centers across the state combat COVID-19, vaccinate more people, and deliver essential health services now and in the future.  This is a smart investment in improving public health that will accelerate vaccine delivery to our most vulnerable residents," said Senator Jack Reed.
"The importance of community-based healthcare cannot be overstated," said Congressman Jim Langevin. "Bringing vaccines, testing, and treatment directly into the neighborhoods that have been hit the hardest by the pandemic will make a real difference in these communities. I'm proud that Congress has made these critical investments in Rhode Island's community health centers to support their critical work protecting public health."
"The issue we are confronting is access. As the Board Chair of the East Bay Community Action Program, I see firsthand how community health centers are uniquely positioned to serve our BIPOC communities. Rhode Island's community health centers have long worked to expand access to preventive, primary and behavioral healthcare. Now, they're tackling COVID-19. By providing this funding to our health centers, we are targeting resources for vaccination, testing and treatment in the communities that need it most," saidJim Vincent, who also serves as the President of the Providence Branch of the NAACP and is a member of the Governor's Equity Council.
Other community health centers in Rhode Island set to receive federal funds include:
Blackstone Valley Community Health Care, Inc. (Pawtucket): $4 million
East Bay Community Action Program (Newport): $2.4 million
Northwest Community Health Care (Pascoag): $2.8 million
Providence Community Health Centers (Providence): $9.7 million
Thundermist Health Center (Woonsocket): $8.4 million
Tri-County Community Action Agency (Johnston): $1.6 million
Wood River Health Services, Inc. (Hope Valley): $1.4 million