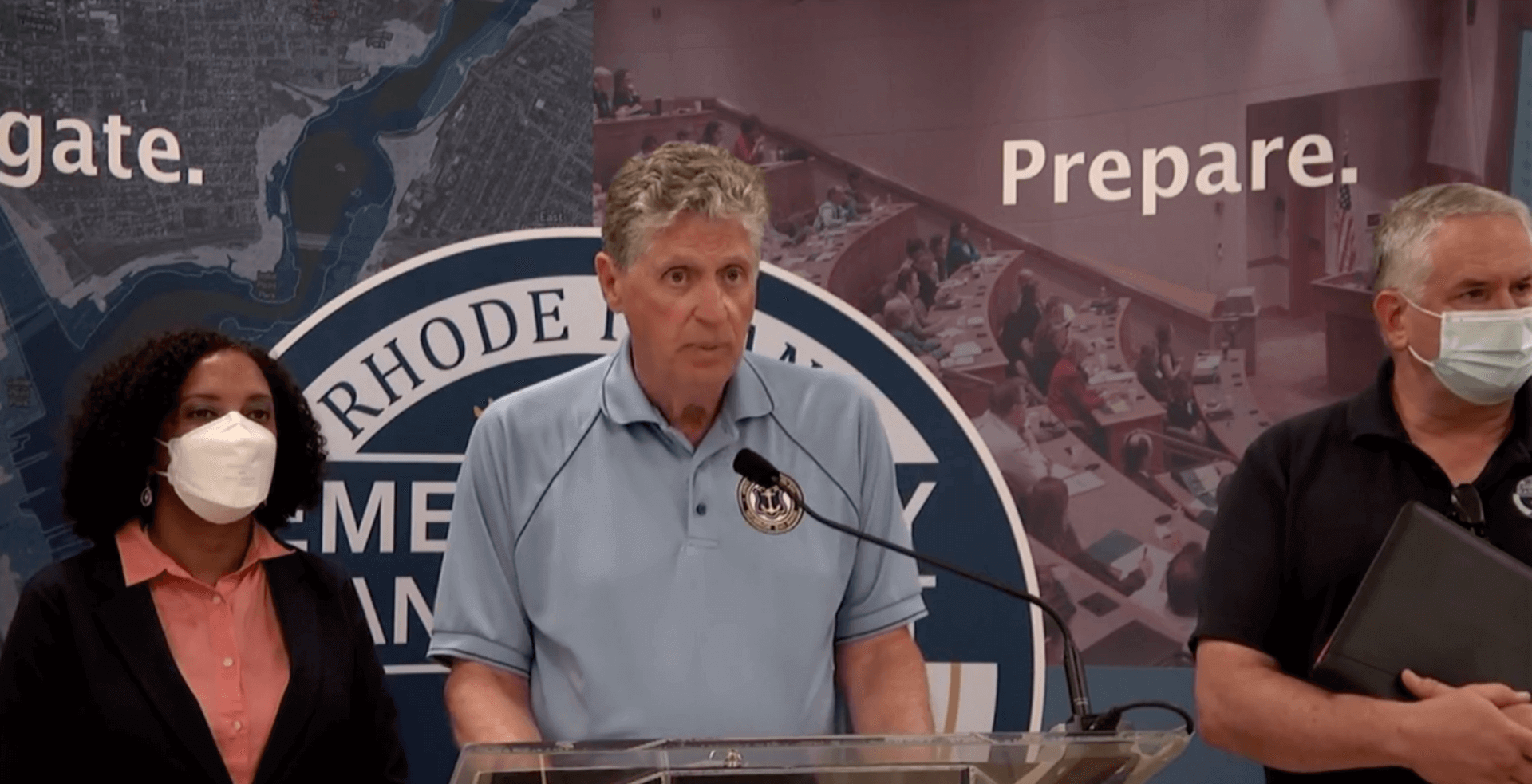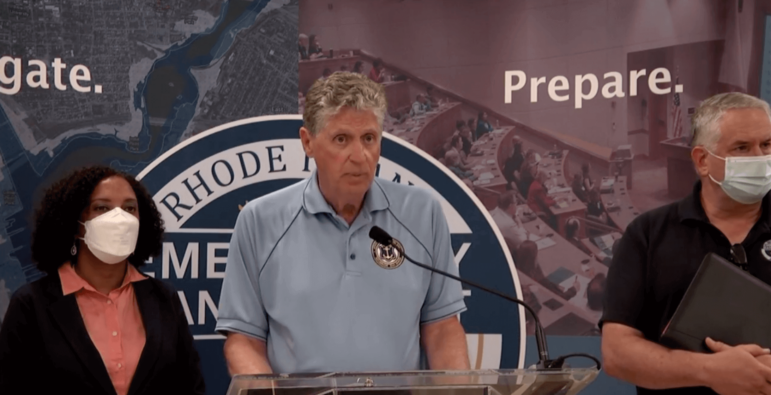 UPDATE Sunday, 11 a.m.: After a brief updgrade to hurricane,  Henri has been downgraded to a tropical storm. High winds, power outages and flooding are still hazards during the storm. Additional information on shelters and emergency resources has been added to this post.
PROVIDENCE, RI — Tropical Storm Henri may be a Category 1 Hurricane by the time it approaches Rhode Island Sunday, hence the National Weather Service's Hurricane Watch and Storm Surge Watch for RI and southern New England.
Gov. Dan McKee has issued an emergency declaration for the state as safety officials prepare for the approaching storm, which is expected to produce powerful storm surges, power outages and powerful winds.
"We're expecting to see wind gusts up to 80 miles an hour," McKee said during a press conference on the approaching storm.
Nat. Grid has 1,000 field personnel mobilized to respond to potential outages likely to occur, McKee said.
According to the National Weather Service, tropical storm conditions are possible starting Saturday night. There's a chance of showers and thunderstorms after midnight, with a low around 71.  By Sunday, hurricane conditions will be a possibility. There's also a chance of showers and thunderstorms before noon, then showers likely and possibly a thunderstorm between noon and 3 p.m., then showers likely after 3 p.m., with a high near 76.
Tropical Storm Henri is forecast to strengthen to a hurricane as it heads northward overnight and Saturday, the weather service reports. Henri is expected to make landfall over Long Island on Sunday afternoon and eventually the central CT coast Sunday evening as a strong Tropical Storm. Henri will weaken rapidly after landfall, but will exit the region slowly through Monday. It's unclear  how far west the storm will track and how strong it will get before making landfall. The main hazards include damaging winds, flooding rain, and storm surge flooding.
Henri High winds
Prepare for life-threatening wind having possible extensive impacts across south coastal Rhode Island and Massachusetts. Potential impacts in this area include: – Considerable roof damage to sturdy buildings, with some having window, door, and garage door failures leading to structural damage. Mobile homes severely damaged, with some destroyed. Damage accentuated by airborne projectiles. Locations may be uninhabitable for weeks. – Many large trees snapped or uprooted along with fences and roadway signs blown over. – Some roads impassable from large debris, and more within urban or heavily wooded places. Several bridges, causeways, and access routes impassable. – Large areas with power and communications outages. Also, prepare for dangerous wind having possible significant impacts across the rest of southern New England.
RIEMA Tips on Preparing for a Power Failure:
Get your Disaster‐Supply Kit together and make a Family Emergency Communications Plan.
Check flashlights and portable radios to ensure they are working.
 Follow energy conservation measures to keep the use of electricity as low as possible, which can help power companies avoid rolling black‐ outs.
If a storm is coming that may bring power out‐ ages, fully charge your cell phone, laptop, and any other devices in advance of a power out‐ age.
Fill containers with water and place them in a refrigerator or freezer. This chilled or frozen water will help keep food cold during a power outage.
Keep your gas tank at least half full because gas stations rely on electricity to power their pumps.
Make sure you have cash on hand, as ATMs may not work during a power (RI officials recommend remaining indoors during the storm for your safety)
People can monitor power outages at the following sites:
National Grid Power Outage Map
NOW, CHECK OUT THIS:
RI Faces Henri Hurricane Watch, Storm Surge Watch
Henri Storm Surge
Prepare for life-threatening surge having possible significant impacts across south coastal Rhode Island and Massachusetts, including Cape Cod and the Islands. Potential impacts in this area include: – Areas of inundation with storm surge flooding accentuated by waves. Damage to several buildings, mainly near the coast. – Sections of near-shore escape routes and secondary roads become weakened or washed out, especially in usually vulnerable low spots. – Major beach erosion with heavy surf breaching dunes. Strong and numerous rip currents. – Moderate damage to marinas, docks, boardwalks, and piers. Several small craft broken away from moorings, especially in unprotected anchorages. Also, prepare for locally hazardous surge having possible limited impacts along the eastern Massachusetts coastline, north of Sagamore Beach to the Merrimack River.
Officials urged the public to stay home and to avoid the coasts to prevent threats to people from powerful waves that may sweep people near the coast into the sea.
Henri Flooding Rain
Prepare for life-threatening rainfall flooding having possible extensive impacts across central/western Massachusetts and central/western Connecticut. Potential impacts include: – Major rainfall flooding may prompt many evacuations and rescues. – Rivers and tributaries may rapidly overflow their banks in multiple places. Small streams, creeks, and ditches may become dangerous rivers. In mountain areas, destructive runoff may run quickly down valleys while increasing susceptibility to rockslides and mudslides. Flood control systems and barriers may become stressed. – Flood waters can enter many structures within multiple communities, some structures becoming uninhabitable or washed away. Many places where flood waters may cover escape routes. Streets and parking lots become rivers of moving water with underpasses submerged. Driving conditions become dangerous. Many road and bridge closures with some weakened or washed out. Prepare for dangerous rainfall flooding having possible limited to significant impacts across southern New England.
Red Cross Flood Safety Info
The American Red Cross has flood safety information about preparing and dealing with floods:
Right Before a Flood
Listen to local area radio, NOAA radio or TV stations for the latest information and updates.
Check your emergency kit and replenish any items missing or in short supply, especially medications or other medical supplies. Keep it nearby.
Then, If You Can, Do This
Fill plastic bottles with clean water for drinking.
Fill bathtubs and sinks with water for flushing the toilet or washing the floor or clothing.
Fill your car's gas tank, in case you need to evacuate.
Bring outdoor belongings, such as patio furniture, indoors.
Turn off propane tanks to reduce the potential for fire.
Henri Storm Watch contacts and resources
PIlgrim High set as shelter
Pilgrim High School at 111 Pilgrim Pkwy, Warwick, is open as an emergency shelter if needed.
Anyone needing shelter should take their medications, change of clothing, and cell phone with them.
Red Cross Shelters Open during Henri 
Shelters set up by the Red Cross in Rhode Island are open at the following additional locations:
Cumberland – Joseph L. McCourt Middle School, 45 Highland Avenue, Cumberland
Providence – Providence Career & Tech Academy, 41 Fricker Street, Providence
Middletown – Joseph H. Gaudet Middle School, 1113 Aquidneck Avenue, Middletown
Wakefield – South Kingstown High School, 215 Columbia Street, Wakefield 
Individuals evacuating to a Red Cross shelter should bring essential items for each member of their family, including:
Prescription and emergency medication
Foods that meet special dietary requirements
Extra clothing, pillows, blankets, hygiene supplies and other comfort items
Chargers for any electronic devices
Books, games and other forms of entertainment
To help keep our workforce and the people we serve safe, Red Cross requires face masks regardless of vaccination status. In addition, we're also using health screenings, enhanced cleaning procedures and encouraging social distancing as much as possible.
Red Cross shelters are open to everyone in need, and all disaster assistance is free.
Anyone who needs a safe place to go can find information for open Red Cross shelters on redcross.org, 1-877-287-3327, or the free Red Cross Emergency app. Download the app by searching "American Red Cross" in your app store or by going to redcross.org/apps. You can also check with local officials and monitor local news for information on where to find emergency shelter.
Saturday, 6:40 a.m.: 
"I have a conference call at noon with RIEMA, state officials, and National Grid. I'll give you any updates and additional info later today. In the meantime you should be making preparations for the storm," the Mayor wrote.
Picozzi also posted a storm warning video to Youtube outlining how best to prepare for the storm and what the city is doing to prepare:
Emergency Alerts:
RIBA – Make sure you're signed up for text alerts from the Rhode Island Broadcasters Association. You'll get emergency notifications (including school closings and delays) direct to your phone or email.
CodeRED – The City of Warwick has instituted a new rapid emergency notification service called CodeRED®.  The new system will distribute emergency messages via telephone to targeted areas or the entire City of Warwick. Register here.
TF Green Airport – As of 11:30 a.m. Sunday morning, all flights were reported on-time. Click here to follow arrivals and departures at Green.
Emergency Calls:
In an emergency, dial 911
Police Department: 401-468-4200
Fire Department: (401) 468-4000
Highway Dept./Snow removal – 401-738-2000 ext. 6518
Do NOT call 911 to report a power outage. Contact National Grid at 1-800-465-1212. Smartphone users can also text STORM to NGRID (64743) for outage alerts. To check the status of outages in your area, visit  National Grid Outage Central for Rhode Island.
Serve RI is looking for volunteers to help neighbors in need shovel out after upcoming snowfall. You can sign up here.  You can ask for their help at at 401-331-2298. For all other needs, people should call United Way-2-1-1.
Listen to NOAA radio: Check the National Oceanic and Atmospheric Administration radio frequency here.