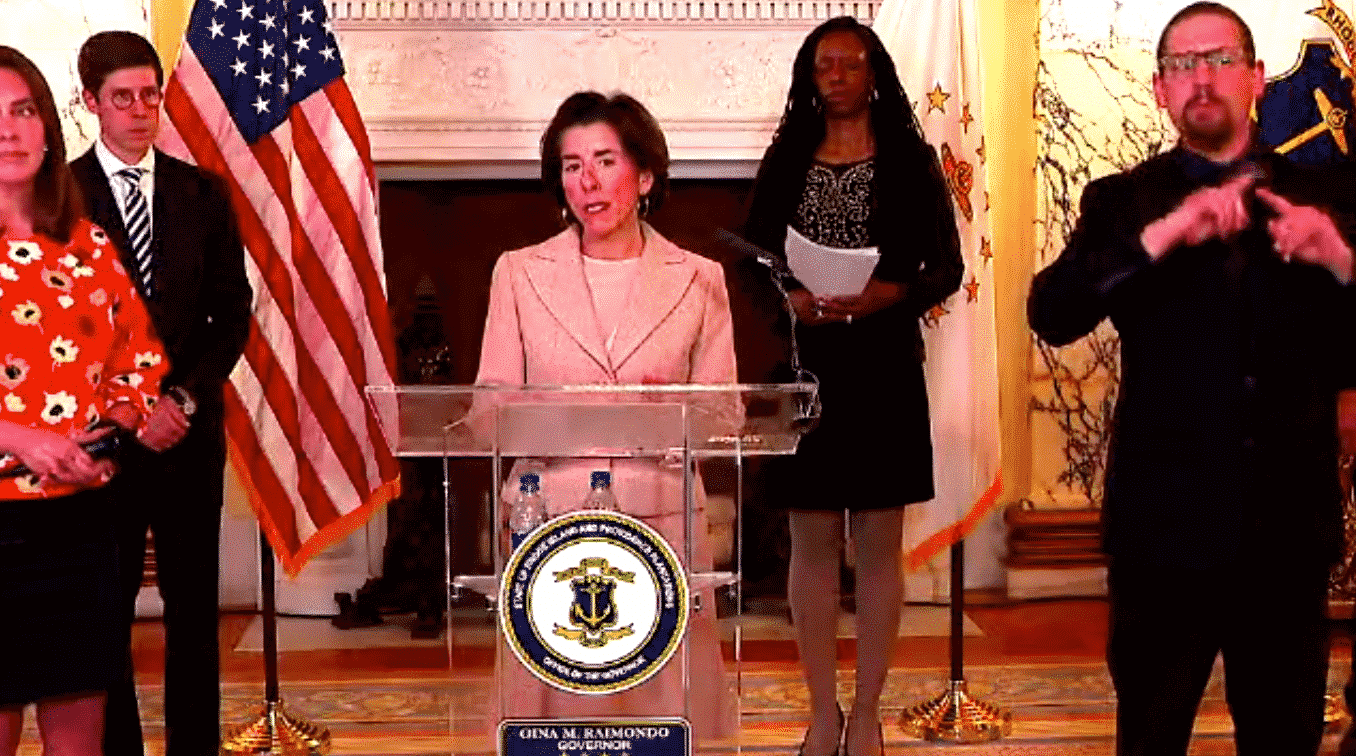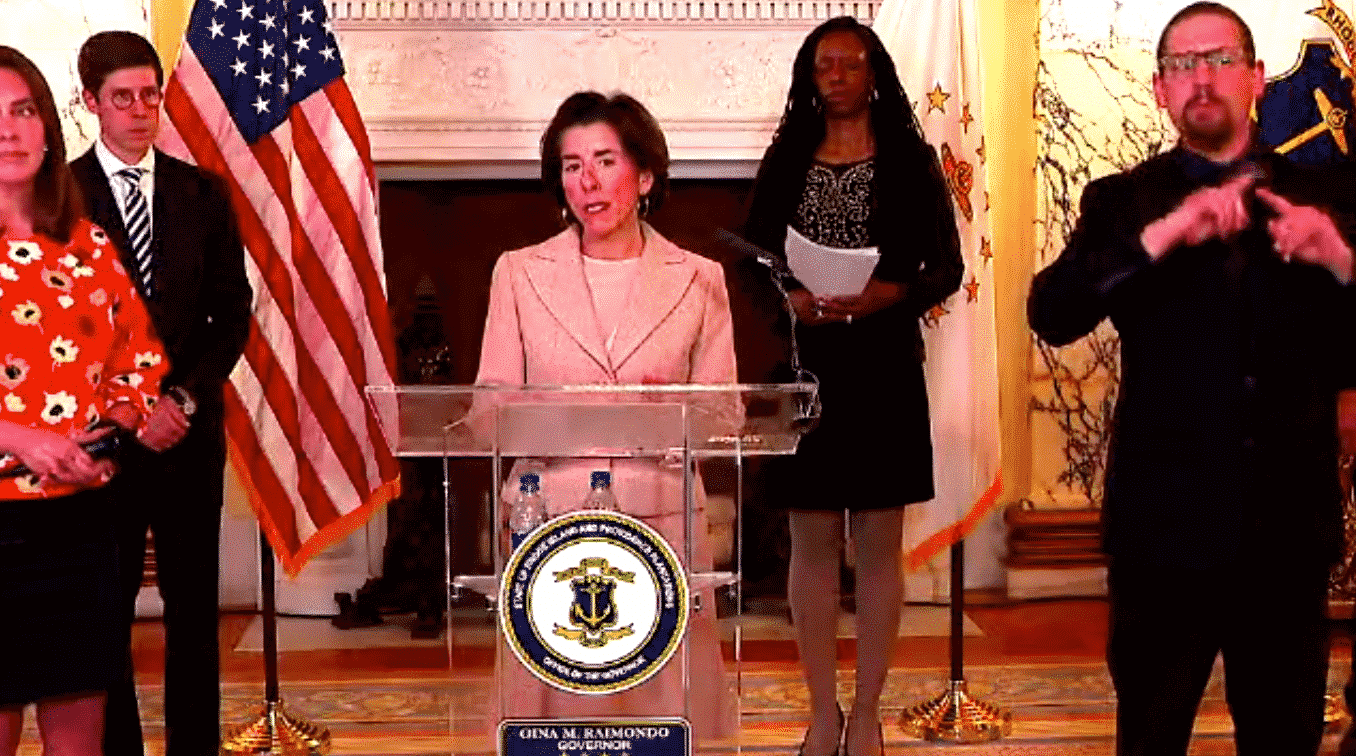 Editor's note: This article and and most of our COVID-19 related news is free to the public to ensure people have access to life-saving information. If we've helped you, and you're able to help us, we would appreciate your subscription for either $1.50/month or $15 per year.
UPDATE: The U.S. Senate approved the $2 trillion stimulus package on a 96-0 vote at nearly midnight Wednesday, according Sen. Jack Reed's office. 
PROVIDENCE — Gov. Gina Raimondo praised RI's congressional delegation for negotiating a possible $1.25 billion to soften economic COVID-19 impact and promised new orders regarding increasing travel from New York state, a disease hotspot.
"I expect to be making additional announcements, soon, as it relates to that," Raimondo said.
"Because RI took swift, aggressive action, we are much better off than a lot of places," Raimondo said, referring to a question about the state's current, apparently slight, number of confirmed infections.
She pointed to the situation in New York, with 30,800 cases, and noted RI appears to have avoided a similar explosion of infections.
Raimondo noted she is aware that New Yorkers are moving from that state into Rhode Island. "We are looking at how many people are coming to Rhode Island from New York, via bus, via plane, etc.," she said.
For the moment, she said anyone from New York, or any state, should be self-quarantining upon entering Rhode Island, "Because of the situation that's going on in New York."
Proposed stimulus a possible respite from 'marathon' COVID-19 response
"This is a marathon, not a sprint," Raimondo said of the state's response to limit spread of COVID-19.
During such efforts, Rhode Island is likely to experience ups and downs as it works through the crisis, and word of a deal, not yet voted on in the U.S. Senate as of 6;45 p.m. Wednesday, signaled a break from the harsh last few weeks.
About $1.25 billion of that stimulus would find its way to RI, Raimondo said, if the House-Senate deal reached this morning is passed by the Senate.
Dine-in ban likely to last past March 30
"Every minute of the day, I'm thinking about how to get people back to work." Raimondo said, noting that the quickest way to that end would be limiting spread by limiting interaction between people.
Raimondo said that on Friday, however, she will likely announce that the ban on dine-in services at restaurants will be extended. She said she has not decided how long the extension will last.
"For the purposes of planning, I can't imagine a world in which we're going to be able to reopen restaurants on Monday for in-room dining," Raimondo said.
RI COVID-19 testing sites designated
During earlier conferences, Raimondo said significantly increasing testing capacity to 700-800 tests per day, which she expects the state to achieve next week, are crucial part of the state's plan to control spread of COVID-19 and restart the state economy.
Such testing would allow the state to ID infections and effectively quarantine them from healthy people, a key part of her plan to reopen much of state commerce.
Alexander-Scott said the state has established respiratory centers, urgent care centers or primary care centers large enough to have set aside space for seeing patients with respiratory illnesses in a closed-off portion of the office or building.
"We are now working on building the testing expansion into those respiratory clinics," Alexander-Scott said.
Alexander-Scott reminded people of the urgent importance of calling your doctor or clinic before showing up for treatment. Screening people who can remain at home with mild symptoms is a critical part of the state's effort to limit spread, she said. "It's important for every patient to know that the phone call before you go anywhere is critical. If you can recover safely at home, please do that.
Difficulty breathing, with coughing and shortness of breath, constitute symptoms severe enough to warrant being sent to one of the respiratory centers for evaluation, Alexander-Scott said.
New RI COVID-19 cases, hospital capacity
The eight new cases include five male and three female patients, said Director of Health Nicole Alexander-Scott.
Alexander-Scott said there are currently 18 people with COVID-19 hospitalized. She said most of those cases do not require ICU care.
Rhode Island's hospital occupancy rate continues to be in line with the usual numbers for this time of year, Alexander-Scott said. She said the health department is monitoring how many people in local hospitals are dealing with respiratory illness.
COVID-19 crisis: Keep your distance, save lives
"The best thing that we can do, to keep each other safe and healthy and frankly, alive, is to keep ourselves away from other people," Raimondo said. She again stressed the importance of limiting the spread by strictly limiting the number of people you interact with.
"Do not put yourself in groups of more than 10 people. Period. Don't do it," she said.
Raimondo said there are "way too many" reports of people congregating in grocery stories, big box stores and other gathering places.
"The only way I can continue to keep these big stores open if if we all try a little bit harder to avoid crowds and avoid being closer to each other," she said.
To that end, Raimondo announced additional guidelines for stores, especially retail and grocery stores:
Reduce the number of people who can be in a store at the same time (no more than 10).
Companies must count the number of people in the store and  enforce the 10-person limit.
Do everything possible to let people order online and then pick up without going into the store.
Clean the interiors of stores more frequently.
As of 5PM tomorrow, all retailers and grocers must:
Allow no more than 20% of stated fire capacity in the store at a time;
Require staff to count the number of customers entering and exiting the store and enforce limits;
Clearly mark 6' spacing in lines and other high-traffic areas. Stores should consider posting signage or using ropes to direct customers and to limit bottlenecks/encourage flow in high-density areas of stores;
Designate employees to monitor social distancing and assist customers;
Maximize space between customers and employees at checkout;
Designate employee(s) to ensure the cleaning guidelines set by the CDC are followed;
Discontinue self-serve foods and product sampling; and
Offer exclusive hours for those in high-risk populations, including seniors, where stores will restrict entrance to maintain 10% of fire capacity.
"We're going to monitor it and I hope it works. I hope it works because I want to keep you open."
But, Raimondo said, the burden isn't only on the stores.
"We the shopper, the consumer, have to help out."
When you find a line at the store, she said – come back later. If you're waiting outside to get into a store, "You can wait with six feet between you."
Hospitals need elective surgery plans
"Many so-called elective procedures are, in fact, semi-urgent and actually need to be done," Alexander-Scott said.
These include cancer surgery, complex vascular surgery, pediatric surgery. Non essential surgeries should be postponed, but there is not a blanket cancellation of elective surgeries.
So, she said, the state is asking hospitals to provide the following:
Plans for conservation of PPE to maintain a 14-day supply
Plans for how decisions for critical scheduled procedures are safely conducted.