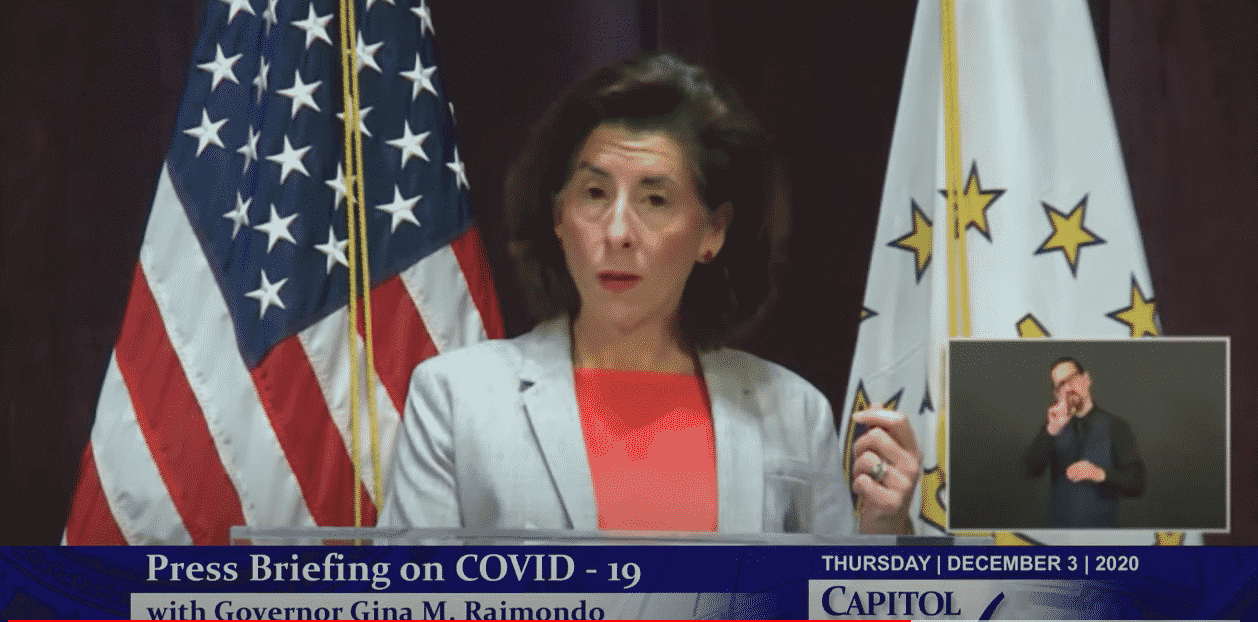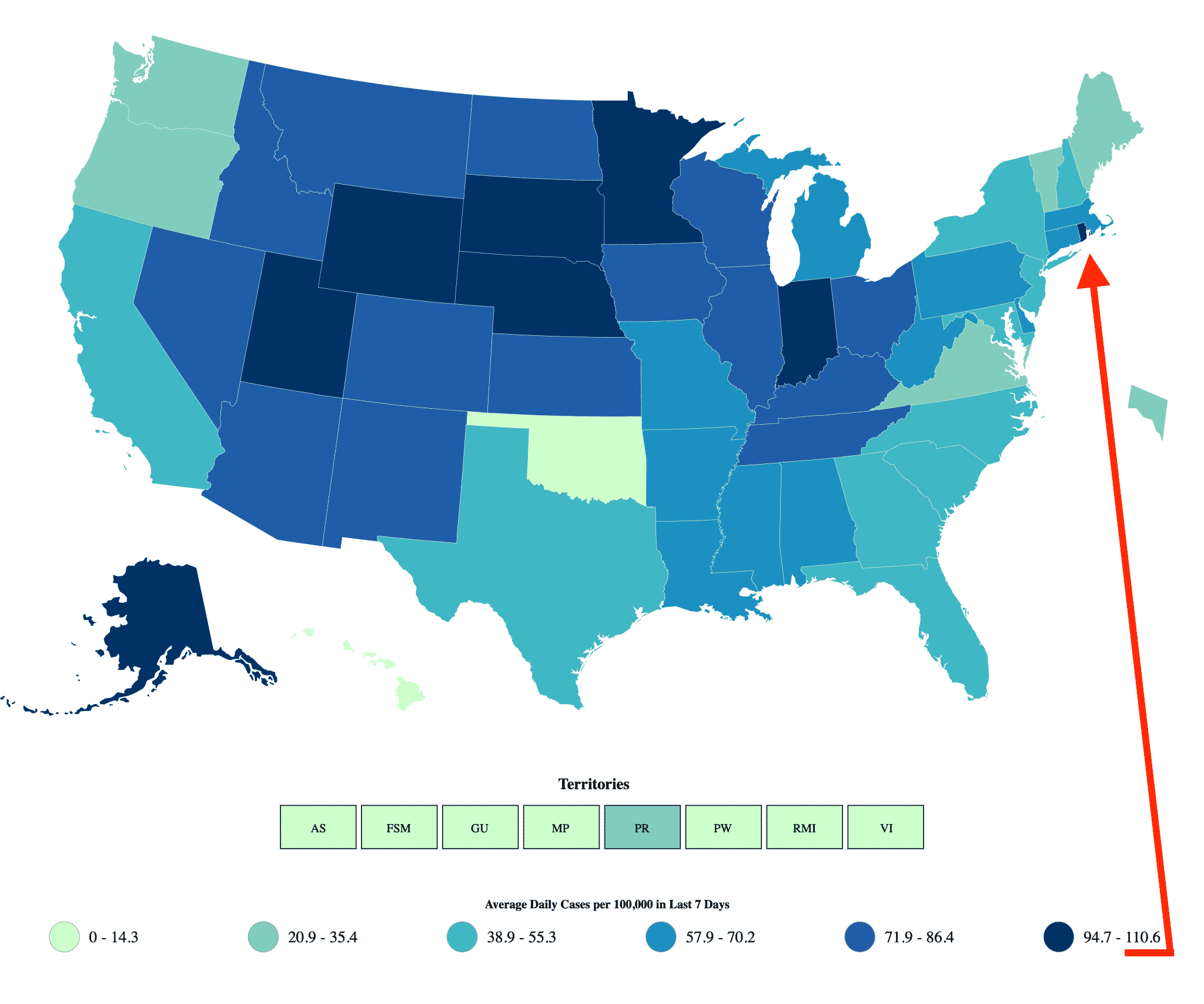 PROVIDENCE, RI  — Gov. Gina M. Raimondo reports there will be about 29,000 doses of COVID-19 vaccine available to Rhode Islanders by the end of December, given first health care workers, first responders and high-risk individuals.
The news comes at a perilous phase of Rhode Island's pandemic ordeal, as CDC data places the state at the top of its list of states per capita COVID-19 cases, at 110.6 per 100,000. According to the RIDOH COVID-19 data page, the percent COVID-19 positive rate in RI has now climbed to 8.9 percent.
The numbers are above the 5 percent threshold established in the fall by Gov. Gina M. Raimondo, and virologist Dr. Anthony Fauci, a member of the White House coronavirus task force, as a "safe" level of community transmission. At the time, Fauci said Rhode Island only had a 2-3 percent infection rate, under the threshold for "green" states, with less than 10 cases per 100,000 people.
The continuing rollout of vaccine distribution will be measured in months, not weeks or days, Raimondo said, urging continued patience with pandemic precautions including social distancing, limited groups, wearing masks and hand-washing, in the meantime.
The doses will be of one of two forms of COVID-19 vaccine expected to soon win approval for distribution from the U.S. Food and Drug Administration (FDA): about 19,000 from Moderna, Inc., and another 10,000 of the vaccine developed by Pfizer. Each vaccine requires folllow-up doses within 3-4 weeks of the initial dose.
Moderna filed for an emergency use authorization (EUA) with the FDA in late November. The FDA has scheduled a meeting of its Vaccines and Related Biological Products Advisory Committee (VRBPAC) on Dec. 17 to discuss the request. Pfizer and German biotechnology company BioNTech filed for an EUA earlier in November, and their hearing with the FDA will occur Dec. 10.
The Moderna vaccine is  vaccine 94.1 percent effective. The Pfizer-BioNTech vaccine is about 95 percent effective.
How mRNA COVID-19 vaccines work
The Moderna and Pfizer-BioNTech vaccine employ a novel approach to vaccines, messenger RNA (mRNA), a single-stranded molecule that carries genetic code from DNA in a cell's nucleus to ribosomes, the cell's protein-making machinery, as Moderna describes in their explanation of the approach.
According to the CDC, the COVID-19 mRNA vaccine gives instructions to cells to make a harmless piece of a "spike protein," found on the surface of the virus that causes COVID-19.
COVID-19 mRNA vaccines are given in the upper arm muscle. Once the instructions (mRNA) are inside the muscle cells, the cells use them to make the protein piece. After the protein piece is made, the cell breaks down the instructions and gets rid of them.
The cell displays the protein piece on its surface. Our immune systems recognize the protein doesn't belong there and begin building an immune response and making antibodies, like what happens in natural infection against COVID-19.
Finally, the vaccinated person's body has learned how to protect against future infection, without ever having to risk the serious consequences of getting sick with COVID-19.
 RI Calls for Medical Reinforcements
The state's health care workers, now in their ninth month of work under grueling pandemic conditions, are  tired, they're strained, and need backup, Raimondo said in an announcement Monday. Now, the spread of COVID-19 is the worst of the pandemic yet, with no end in sight for people caring for the sick.
"Earlier this year, when we put out calls for substitute teachers and contact tracers, we had hundreds of people raise their hands in a matter of days. I'm asking all available health care workers to do the same," Raimondo said.
Last week, the Department of Health again began issuing temporary licenses to retirees, visiting health care workers, and others who are completing their training programs. If you're a retired health care worker, or a health care worker who is currently unemployed or not working in a health care setting, and you're willing to work the floors in hospitals and nursing homes to help manage this surge, Rhode Island needs you, Raimondo said.. You can learn more about immediately available positions at
SkillsforRI.com
.
Even if you're not a trained health care worker,  if you have physical or mental health experience but can't commit to full-time work in local hospitals or nursing homes, or if you don't have health care experience but want to volunteer to assist our statewide response in other ways, visit
RIResponds.org
 to sign up as a response volunteer.