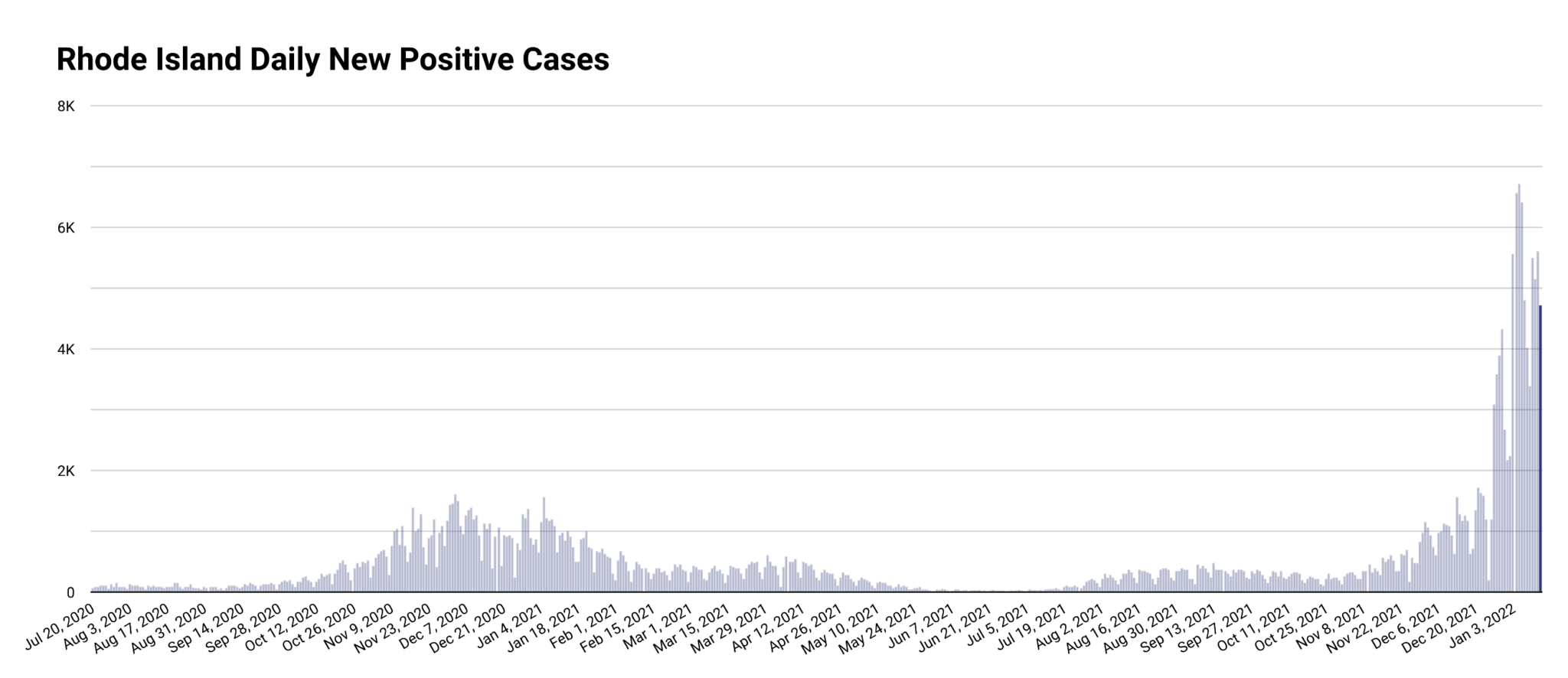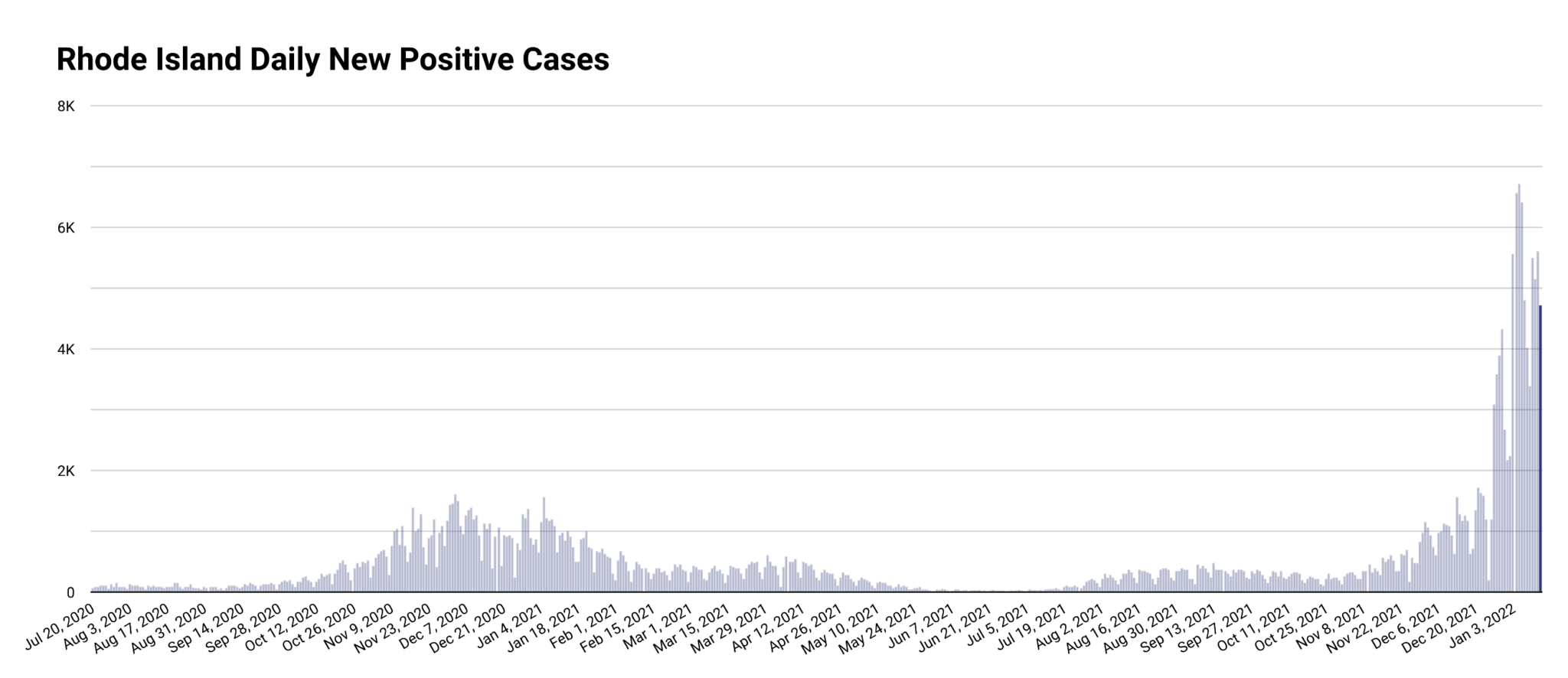 PROVIDENCE, RI — The RI COVID count climbs further into double digits at 21 percent positive as National Guard and federal troops aid hospitals and Gov. Dan McKee marshals medical personnel to respond.
The Rhode Island Department of Health (RIDOH) identified the first case of COVID-19 from the Omicron variant Dec. 10. At the time, the percent positive COVID-19 rate in RI was 5.2 percent, only slightly above the 5 percent threshold set for opening schools last year. But Dr. Katelyn Jetelina, an MPH and PhD in Epidemiology and Biostatistics, an author of the Your Local Epidemiologist newsletter, warned the presence of the more transmissible Omicron variant, also mutated to skirt some vaccine protection meant those numbers would change.
Jetelina also urged eligible people to get booster vaccinations to guard against breakthrough cases of the virus.
Now, RIDOH reports most COVID-19 cases in RI are due to the Omicron variant, and the state's COVID-19 percent positive rate is 21 percent. Hospitalizations due to COVID-19 hovered between 484 Jan. 9 and 499 Jan. 12. As of that date, there were 48 COVID-19 patients in the ICU and 36 were on ventilators.
While there's emerging good news about the newly dominant variant in RI in that it appears less likely to hospitalize people, it can, and has, spread much faster and farther than previous variants. The higher numbers of cases — this week there were 4,725 new cases recorded Jan. 14, compared to Jan. 14, 2021, when there were 1,010 new cases — still threaten RI hospitals with overwhelming numbers.
 President, Governor respond to climbing RI COVID count
On Jan. 13, President Joe Biden announced the federal government is sending military medical teams to six states – Rhode Island, New York, New Jersey, Ohio, Michigan and New Mexico – to help hospitals overburdened by COVID-19.
"The Omicron variant is highly transmissible, and Rhode Island can use this federal assistance to better handle the surge in cases.  I commend President Biden and Secretary Austin for sending additional military medical staff to help take the strain off hot spot hospitals nationwide, including Rhode Island Hospital," said U.S. Sen. Jack Reed (D-RI), the Chairman of the Senate Armed Services Committee.
Wednesday, Gov. Dan McKee announced additional initiatives to respond to the surge:
Expedited emergency licenses for recently graduated nurses Emergency licenses will be provided to recent health care graduates to allow them to immediately join the workforce while working to obtain full licensure. Also, the state will mobilize senior nursing students from CCRI to begin their clinical rotations earlier than the start of the next semester to provide immediate support.
RING providing hospital staff relief  McKee had already mobilized 180 National Guardsmen to support testing, vaccination and hospital relied strategies. Last week he sent 60 RING members to Butler Hospital to increase its ability to accept patient transfers, allowing other hospitals to send non-critical care patients to Butler and free up more beds at their facilities. RING,

RIDOH

and RIEMA are continuing to offer support to other hospitals.
Expediting patient discharge and placement approvals The Administration is coordinating with health insurance providers and Medicaid to temporarily expedite the process of hospital patient discharge and placement  to rehab or nursing homes to alleviate hospital capacity and emergency room backup due to bed availability.

Engaging local emergency medical workers to support hospital staffing: The Governor's Office is conducting outreach to municipal partners that provide emergency medical services to our cities and towns along with hospital administrators to determine the logistics for temporary supplemental employment of our licensed emergency responders in area hospitals.
RIDOH Director Dr. Alexander-Scott resigns
On Thursday, McKee announced that he regretfully accepted Dr. Nicole Alexander-Scott's resignation as the Director of the Rhode Island Department of Health (RIDOH).
Alexander-Scott, an appointee of former Gov. Gina Raimondo, has lead the state's public health response throughout the COVID-19 pandemic. She will remain as director for the next two weeks, after which she will serve as a consultant to the Department for three months.
"Dr. Alexander-Scott has been a steady, calm presence for Rhode Island as we've worked together to fight the COVID-19 pandemic," said McKee. "Her leadership has been crucial to our whole of government response – helping Rhode Island become number one in testing nationwide and getting more people vaccinated per capita than nearly any other state in the country."
"Serving as the Director of the Rhode Island Department of Health has been the most rewarding experience of my career," said Dr. Nicole Alexander-Scott. "I would like to thank all Rhode Islanders for their trust over the past two years as we have navigated this unprecedented public health crisis together. It has been an honor to serve you. I would also like to thank all the healthcare providers and community partners who have supported the work we have been doing at RIDOH since 2015 to ensure that everyone has an equal opportunity to be healthy, regardless of their ZIP code, race, ethnicity, sexual orientation, gender identity, level of education, or level of income. And finally, I would like to express enormous gratitude to the members of my RIDOH family. They embraced me, taught me, challenged me, picked me up when I was down, and had my back every step of the way."