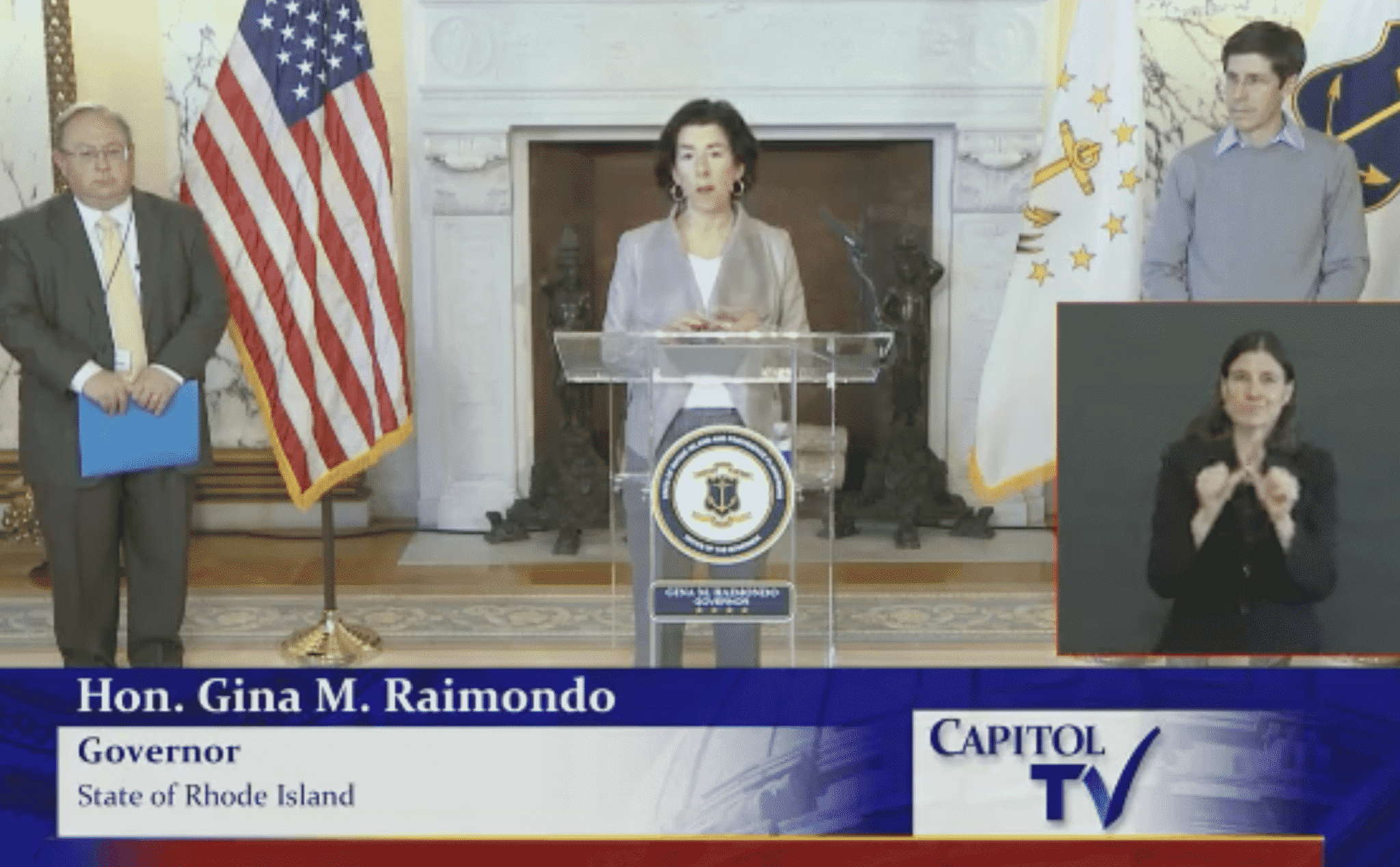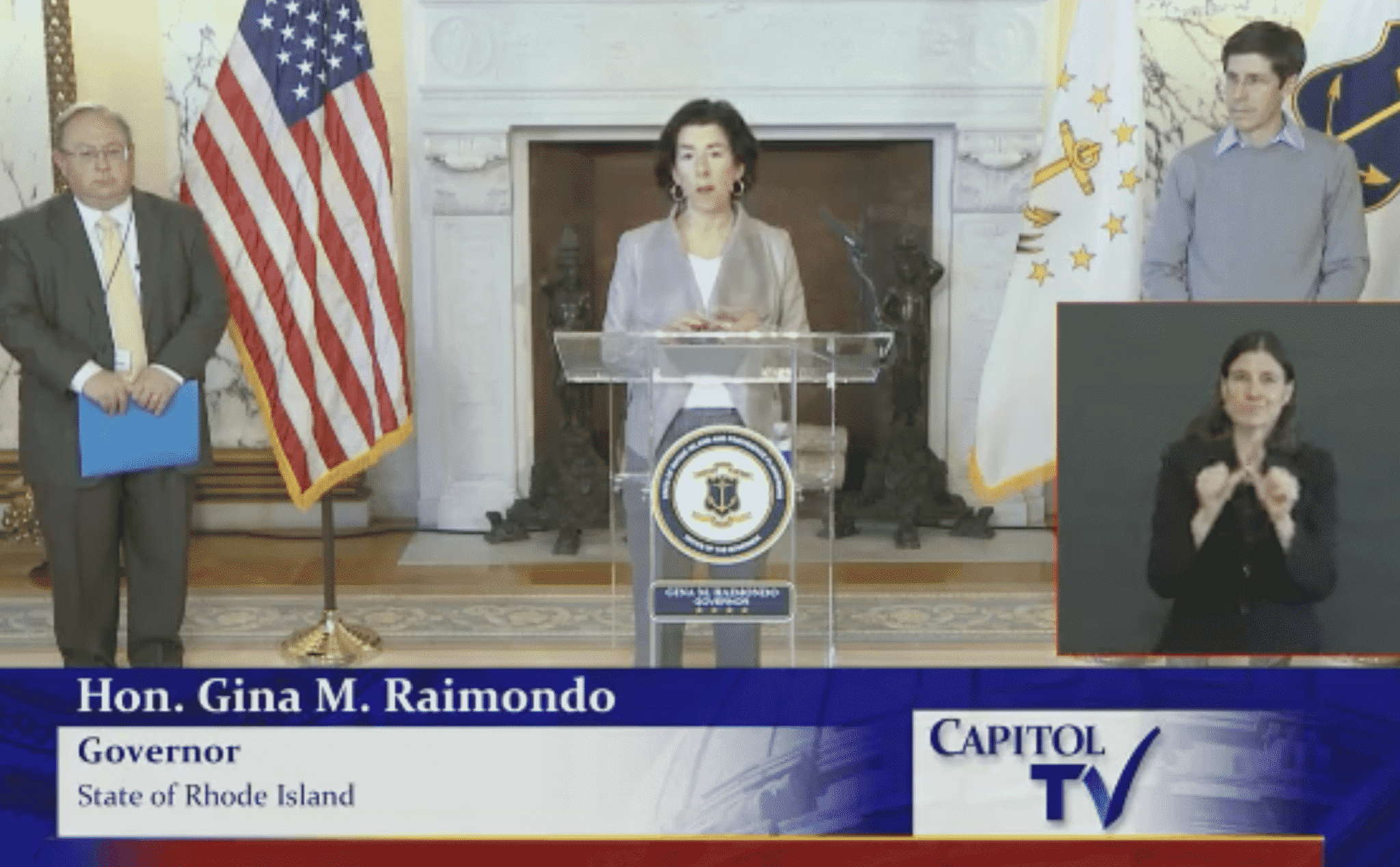 PROVIDENCE, RI — Another 13 COVID-19 deaths were reported Sunday, for 150 total fatalities in Rhode Island, numbers officials said would be much worse without social distancing and stay-home orders.
"It's absolutely working. You can see the numbers on the screen. They're going up, but not nearly as fast as we would have thought," said Gov. Gina Raimonodo Sunday during her daily press update on the COVID-19 outbreak.
The upward slope on the graph charting new daily cases is much gentler, and the peak expected May 8 will not be nearly as high as it would have been had Rhode Island not taken the measures it did as early in the crisis as it did, Raimondo said.
Dr. MacDonald said there are now 254 people in the hospital being treated for COVID-19, and 70 of them are in the Intensive Care Unit (ICU), 43 of whom are on a breathing machine/ventilator.
Latino community hit hard, Bailey School walk-up testing
Raimondo noted that 45 percent of all cases in Rhode Island were among the Latino community, a statistic that demands research into its cause and what officials can do to counter it.
"The trend is not unique to Rhode Island. It's a similar thing to what you see in many states, but that doesn't make it acceptable," Raimondo said.
To help counter that statistic, Raimondo said, the state is opening its first drive-up and walk-up testing site at parking lot of Bailey Elementary School, 65 Gordon Ave., Providence.
The new testing site has been established in partnership with Providence Community Health Center, Raimondo said. She repeated that anyone, regardless of income or immigration status can seek health care at any one of the state's Community Health Centers.
Though Bailey Elementary School is centrally located in Providence, you still need an appointment, which you can make by calling your doctor or local urgent care center.
The full list of health care clinics in RI is available on the DOH website
Latino community outreach, focus
Raimondo said she is consulting stakeholders in Latino community for advice and to distribute information to the community. She publicly thanked Dr. Pablo Rodriquez, Central Falls Mayor James Diosa, Rep. Grace Diaz, and Providence City Council President Sabina Matos for help communicating the need for social distancing, masks and testing to the Latino community.
"You've been great and we need to continue to rely on you even more,"
Raimondo said RI will increase outreach and public relations effort with advertising on Spanish radio and other Spanish speaking media.
Funerals remain part of group limits
"A number of loved ones are passing away through this crisis," Raimondo said. Nonetheless, there are still no gatherings of greater than 5 people allowed in Rhode Island during the COVID-19 outbreak, and this includes funerals.
Masks order in effect
"Certainly, if you're going out to a grocery store, it's an absolute must," Ramondo said of her recent order for all businesses' employees to wear masks at work and to remind customers to wear masks.
"I'm very pleased to say that we had excellent compliance yesterday." DBR sent inspectors to 200 businesses and found widespread compliance with the order.
Mask must cover nose and your mouth.
Drive-through delivery. All employees wearing masks, so good job. Unfortunately many of the customers did not have a mask on – dangerous because you're not six feet away from someone.
"Lets do the right thing and keep them safe," Raimondo urged drive-through customers.