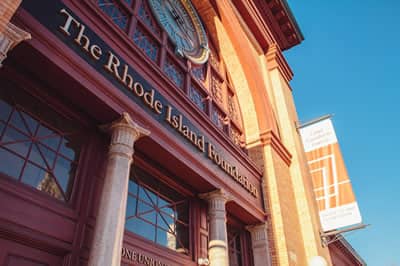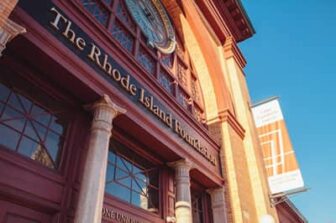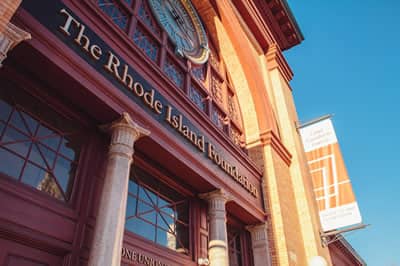 WARWICK, RI —The Rhode Island Foundation made $3.3 million in grants in Warwick last year, helping push the organization to the second-best year of grant-making in its 107-year history.
Amenity Aid, Coastline EAP, Elizabeth Buffum Chace Center, Friends Way, House of Hope Community Development Corporation, Integrated Healthcare Partners, the Rhode Island Coalition Against Domestic Violence, the Rhode Island Parent Information Network, Thundermist Health Center, the Gamm Theater and Sargent Rehabilitation Center were among the Warwick nonprofits statewide that received funding.
The nearly $84 million in funding awarded by the Foundation statewide last year trailed only the $87 million awarded in 2020. In 2022, the Foundation also raised more than $75 million in gifts.
"In addition to our focus on core initiatives, our aid brought relief to people who are coping with hunger, surging housing prices and the behavioral health crisis as they struggle to recover from the pandemic," said Neil D. Steinberg, the Foundation's president and CEO. "We are grateful for our passionate and committed donors and the nonprofit organizations that deliver a wide range of services to our diverse community."
Many of the grants aligned with the Foundation's three strategic priorities: educational success, healthy lives and economic security. Nonprofits doing work in a wide variety of sectors, such as arts and culture, basic human needs, the environment and housing also received funding.
"Working with committed nonprofit partners and key community stakeholders, including elected officials and state officials, our support and leadership help reduce achievement gaps in education, address health disparities across all populations and promote real opportunity for economic security for all Rhode Islanders," said Steinberg.
House of Hope
House of Hope used its grant to recruit and retain staff. In addition to serving Rhode Islanders experiencing homelessness, the organization also manages dozens of affordable apartments and provides a range of supportive services for residents across the state.
"The mission of House of Hope affirms housing as a basic human right, however the agency finds itself in the challenging position of navigating food and housing insecurity experiences of our staff as housing and other costs of daily life continue to rise," said Laura Jaworski, executive director.
Thundermist Health Center
Thundermist Health Center received $10,000 to support its Trans Health and Wellness Program, which targets adults ages 18 to 25. The goal is to improve physical and mental health, increase community contentedness and reduce social isolation. The organization reports having more than 1,500 active patients.
"Wellness programming is vital to our trans and non-binary patients," said Jayeson Watts, LICSW, Director, Trans Health, Thundermist Health Center. "These events provide socialization and community. They help patients meet new people, learn new things, and add joy and movement to their week."
Rhode Island Foundation 2022 recap
At the end of 2022, the Foundation had total assets of approximately $1.3 billion, which ranks the organization among the nation's 20 largest community foundations. In a year when the S&P was down 18.1 percent, the Foundation's endowment return was only down 10.6 percent, which ranked in the top quartile of foundations and endowments nationwide. The Foundation's long-term returns are often in the top decile, with a 20-year annualized return of 8.1 percent.
The Foundation also continued its grant-making in response to the COVID-19 pandemic, including partnering with the state to distribute a total allocation of $20 million in federal America Rescue Plan Act funding with $13.9 million having been committed through February.
The Foundation launched its second very successful Equity Leadership Initiative class. The leadership development program is designed to build a pipeline of future leaders of color for positions of influence throughout the state. In addition, the Foundation offered $2 million in grants to address structural racism through its new Racial Equity and Social Justice Program.
"Correcting the root causes of inequity and addressing disparities are two of our foundational principles, and for years have been central to our work. They are values that are at the core of our decisions about how to allocate discretionary funding and civic leadership resources across all our work," said Steinberg.
In addition to grant-making and fundraising, community leadership is central to the Foundation's work. In 2022, the Foundation raised $854,761 for its Civic Leadership Fund. This annual fund enables the Foundation to go beyond traditional grant-making to meet emerging opportunities and challenges, and to engage Rhode Islanders in civic and civil dialogue.
"Our Civic Leadership initiatives recognize that progress requires flexibility, innovation and the capacity to respond to key issues of the day. It enables us to take on challenges like addressing the housing shortage, supporting the growth of small businesses in communities of color and jump-starting the life sciences sector," said Steinberg.
The announcement comes as Steinberg is about to complete his 15-year tenure at the helm of the Foundation. The Foundation's board of directors selected David N. Cicilline to succeed him as president and CEO after a thorough national search that included significant community input and generated an impressive pool of diverse candidates. Cicilline will begin his service to the Foundation on June 1.