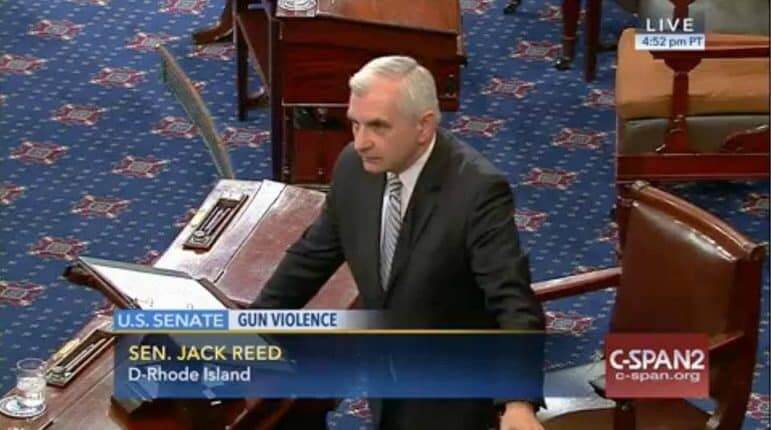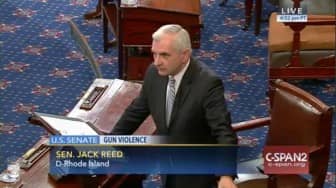 WASHINGTON, DC — Sen. Jack Reed joined fellow Democrats led by Connecticut Sen. Christ Murphy in a successful 15-hour long filibuster demanding Senate action to curb gun violence Wednesday night, following Sunday's mass shooting killing 49 people at the Pulse gay nightclub in Orlando, FL
Following the filibuster, Republican leaders agreed to allow debate on four gun control measures, according to Reuters:
Banning people on the terrorist watch list from gun ownership
Expanding background checks to include gun shows and internet sales
Requiring court approval within three days to ban a person from buying a gun
Requiring law enforcement to be notified if someone investigated for terrorism within the last five years attempts to buy a gun.
The Senate is expected to vote on the proposals Monday.
Wednesday night, Reed posted a photo of himself on the Senate floor during the filibuster, along with a statement on the issue:
"We are demanding action to help address gun violence.
We stand in solidarity with the people of Orlando, and all the victims nationwide whose lives have been taken or impaired by gun violence. We are united around a belief that Congress can and must do more to keep guns away from dangerous individuals by strengthening background checks and closing gaps and loopholes in our gun laws.
This is not a partisan issue.
From Orlando, Florida… to Charleston, South Carolina… to Chattanooga, Tennessee… to Roseburg, Oregon… to San Bernardino, California… to Newtown, Connecticut… to my home state of Rhode Island, gun violence impacts communities across this great nation of ours.
Having served in the military, I am familiar with firearms and support responsible gun ownership and people's right to hunt. But let's remember: rights come with responsibilities.
The vast majority of responsible gun owners support legislation I have put forward or backed over the years to:
Reinstate the assault weapons ban.
Ensure that individuals on the terrorist watch list cannot purchase firearms.
Allow researchers at the Centers for Disease Control and Prevention (CDC) to gather and study detailed data on gun violence.
Use technology to improve the storage of firearms to prevent access by children or unauthorized individuals.
Close loopholes to prevent firearm purchases without a rigorous background check.
We are all in this together. And I believe Democrats and Republicans can and must enact sensible gun reforms that enhance the safety of our communities and address the gun violence epidemic in this country."