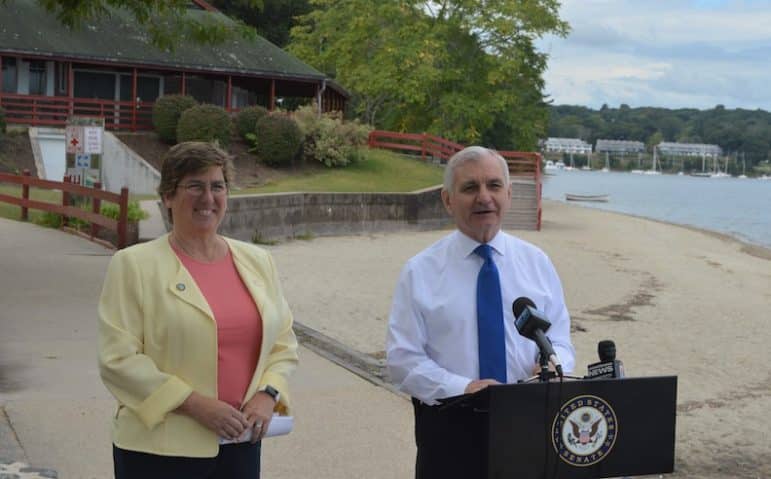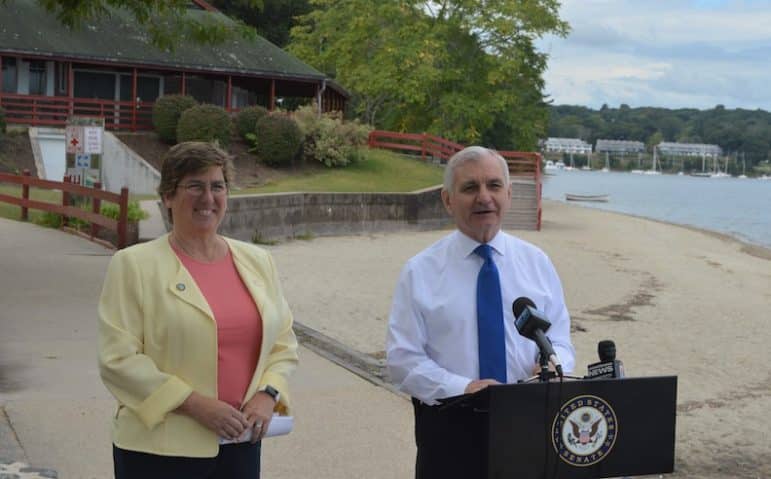 WARWICK, RI – U.S. Senator Jack Reed joined Rhode Island Department of Environmental Management (DEM) officials at Goddard Park Monday to announce a new $1.7 million Land and Water Conservation Fund (LWCF) grant to upgrade RI parks, preserve open spaces and enhance public outdoor recreation.
The funding represents a$700,000 increase over last year's funding levels, according to Reed's office.
Some of the federal funds may be used to make improvements to facilities and amenities at Goddard Park, such as a new concession stand or to refurbish the carousel building, which sits on a hill overlooking Greenwich Bay.  Goddard Park attracts thousands of visitors each year as Rhode Island's most popular Metropolitan Park, and offers a nine hole golf course, an equestrian area, 18 miles of bridle trails, 355 picnic tables, 11 game fields, and a performing arts center for weddings, concerts, picnics, and special events.
DEM has recently used federal LWCF funding on a variety of projects across the state, such as a new "green" beach pavilion at Lincoln Woods State Park, and upgraded bathroom facilities at Fishermen's State Park and Campground.
"Land and Water Conservation Funds are crucial to Rhode Island and the state does a great job putting them to work.  Rhode Island's park system is essential to our economy, community, and public wellness.  This federal funding will help the state develop new outdoor recreational facilities and protect open spaces," Reed said.
President Donald Trump's budget recommended essentially zeroing out LWCF funding, but Reed, a member of the Senate Appropriations Subcommittee on Interior and Environment, which funds proposed LWCF projects, helped lead a bipartisan coalition of Senators to increase LWCF appropriations and permanently reauthorize the program as part of a comprehensive public lands and natural resource management bill that was signed into law this year.
"I am pleased to deliver additional funding this year to enhance parks, trails, and wildlife refuges while providing more opportunities for Rhode Islanders to get outside and enjoy the natural beauty of our state," Reed said.
At the state level, the LWCF program is administered by DEM.   The state awards the federal funds to local communities and municipalities through a competitive application process.  These federal funds must be matched by the state and may be used for acquisition, new construction, and renovation of recreational sites.
"We appreciate the leadership of Senator Jack Reed and our Congressional Delegation in securing this critical funding to upgrade Rhode Island parks and recreational facilities and preserve open space across our beautiful state," said Rhode Island Department of Environmental Management Director Janet Coit.  "Rhode Island's parks, beaches, and green spaces are part of what make our state so special.  Because they are so vitally important to connecting residents to the outdoors and providing Rhode Islanders and visitors a place to recreate and unwind, Governor Raimondo has made supporting our state parks a top priority.  We're thrilled that Rhode Island will continue to benefit from this valuable federal grant program."
In addition to these federal funds, DEM recently announced the availability of $5 million in outdoor recreation matching grants, which are funded through a 2018 Green Economy and Clean Water Bond, approved by voters, and designed to help communities acquire or improve outdoor recreational facilities.
 Last month, the DEM released OCEAN STATE OUTDOORS: Rhode Island's Comprehensive Outdoor Recreation Plan, which is available online to locals and tourists interested in exploring and enjoying Rhode Island's 8,200 acres of parkland, 1,000 campsites, 400 miles of hiking and biking trails, 200 fishing spots, 25 parks and nature preserves, and eight saltwater beaches.