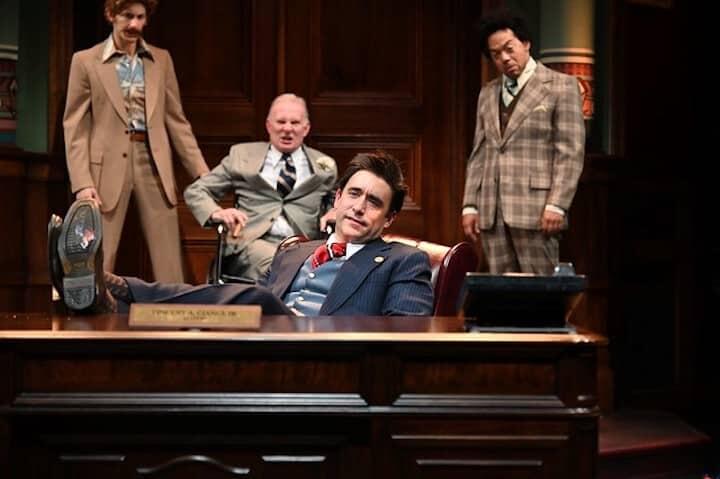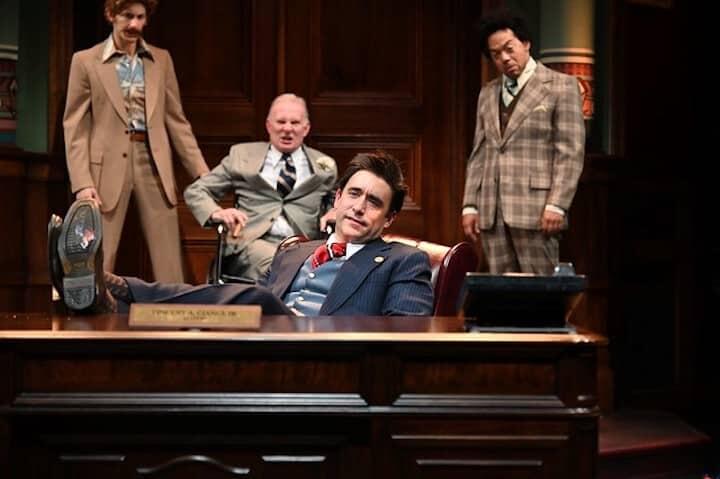 PROVIDENCE — No show this year has been more anticipated than Trinity Repertory Company's "The Prince of Providence." Does the play live up to the hype? Absolutely.
Playwright George Brant and a talented cast have crafted a wildly entertaining exploration of the life and times of legendary Mayor Vincent "Buddy" Cianci.
Scott Aiello (from TV's "Billions") turns in a powerhouse performance in the lead role. Aiello is always fascinating to watch as a man with great ambitions and plenty of hidden demons.
The story, based on the book by journalist Mike Stanton, opens with Cianci launching a long-shot candidacy for Mayor of Providence in the 1970s.
Cianci, an Italian and a Republican to boot, manages to win over the city's Democratic party "machine" and scores a narrow election victory after billing himself as the "anti-corruption" candidate.
Once ensconced in office, Cianci slowly comes to realize he needs to make moral compromises in order to accomplish anything in the rough and tumble world of government.
Under his leadership, a blighted downtown underwent a "renaissance." Cianci dug up the city's rivers, helped facilitate a thriving arts community, and put Providence on the map as a popular tourist destination. Basically, he made residents proud of their city again.
In the 1990s, the FBI raided Cianci's City Hall office and uncovered massive corruption. He was later convicted on one count of racketeering conspiracy, and he served four years in federal prison.
There is a lot of humor in the show. When Cianci informs his wife Sheila (wonderfully played by Rebecca Gibel) about his plans to run for Mayor, she thinks he means Mayor of Cranston.
A funny scene features Sheila pointing a gun at Buddy and forcing him to dance in his underwear after discovering one of his hotel room trysts.
We also see a parade of potential jurors who are all disqualified because they know Cianci from various social functions.
At one point, Aiello poses for photos with audience members and jars of his famous marinara sauce are handed out to a lucky few.
Cianci's stint as a radio host is also amusing, as a variety of unusual people call in to his show. I spotted one of them clutching a Del's lemonade.
We see Cianci at his worst moments as well.
One of the show's most intense and disturbing scenes features Cianci violently attacking a man who he accused of bedding down with Sheila, after their divorce. Aiello is absolutely chilling here as Cianci is consumed with rage.
Director Taibi Magar's staging is imaginative and the work by
company regulars Stephen Berenson, Mauro Hantman, Phyllis Kay, Brian McEleney, Charlie Thurston, Janice Duclos, and Joe Wilson, Jr.(in multiple roles) is stellar.
Set designer Sara Brown created a beautiful recreation of Cianci's city hall office, where most of the action takes place.
"The Prince of Providence" is unlikely to change anyone's mind about Buddy Cianci. His fans will still love him and his detractors will still condemn him.
One thing is without question. This show cements Buddy Cianci's reputation as a local legend. He may be gone but he will certainly never be forgotten.
The Prince of Providence runs from Sept. 12 through Oct. 20 at Trinity Repertory Company. 201 Washington St., Providence. For tickets, visit trinityrep.com or call 401-351-4242.