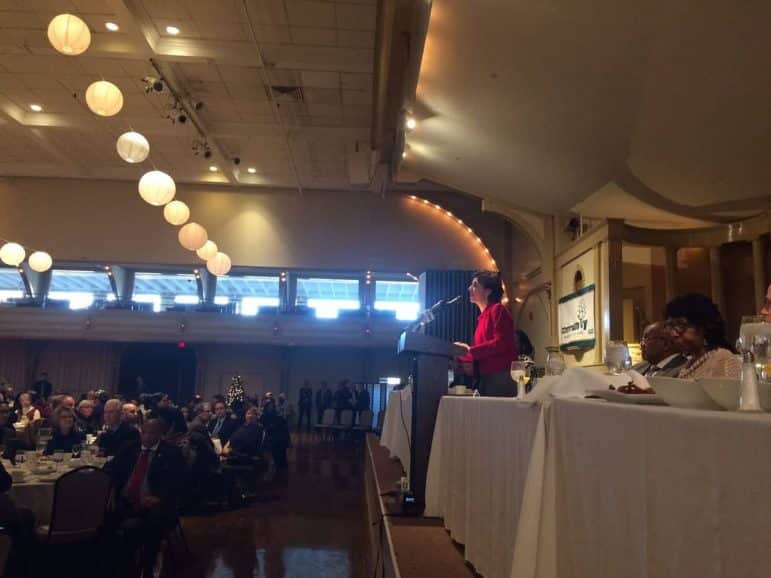 CRANSTON, RI — Governor Gina M. Raimondo announced her proposal Monday to offer two years of free college to all Rhode Islanders during the Ministers Alliance of Rhode Island's 34th annual Martin Luther King Jr. Scholarship Breakfast at Rhodes on the Pawtuxet.
Her plan, Rhode Island's Promise, guarantees two years of free college for every Rhode Island student at who graduates on time from the Community College of Rhode Island, Rhode Island College and the University of Rhode Island, beginning with high school seniors who graduate this spring.
"Rhode Island's Promise honors our commitment to Rhode Island students who are asking for nothing more than a fair chance," Governor Raimondo said, speaking to hundreds of people who attended the Martin Luther King Jr. Scholarship Breakfast.
"The economic justice MLK pursued remains our principal struggle. Our focus since day 1 has been to create more, better opportunities," Raimondo tweeted during the announcement.
She noted in a press release about the plan her intent that it would knock down the financial barriers to obtaining a college degree.
The plan covers the entire cost of tuition and mandatory fees for full-time students who qualify for in-state tuition earning an associate's degree at CCRI. At RIC and URI, the scholarship will cover tuition and fees for a student's junior and senior years. There is no minimum high school GPA for the scholarship.
All high school seniors, beginning with the high school graduating class of 2017, who graduate from a public or private high school in Rhode Island, complete a home school program, or obtain a GED before the student turns 19, and who enroll in the immediate fall semester after graduation, will qualify for the program.
Students must complete the FAFSA and qualify for in-state tuition (which generally requires three years of residence) to be eligible.
The Governor's FY18 budget includes $10 million for the first year costs of the $30 million plan, which is affordable, Raimondo says thanks to tough fiscal choices the state has made. The entire proposal must win the approval of the General Assembly.
The proposal also incentivizes RI college students to finish their programs of study on time. Fewer than 50 percent of URI students, 15 percent of RIC students and only 5 percent of CCRI students earn their degree on time, according to the plan's website, freecollegeri.com.
Rhode Island is only the second state to propose such a program in the United States. In New York, Governor Andrew Cuomo has proposed free college tuition for families earn $125,000 or less at the state's public colleges, according to a CNN report, though some states have made only their community colleges free.