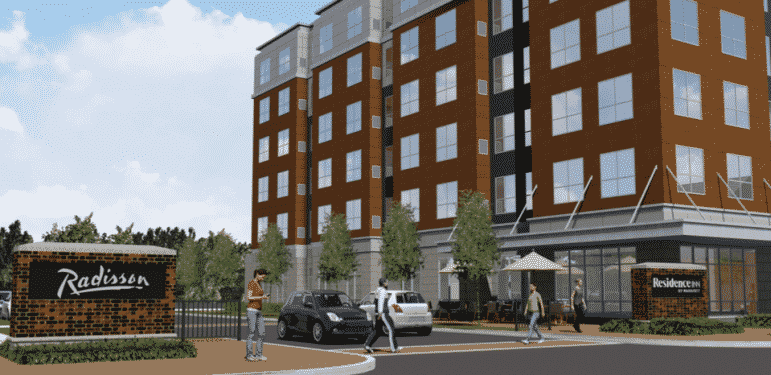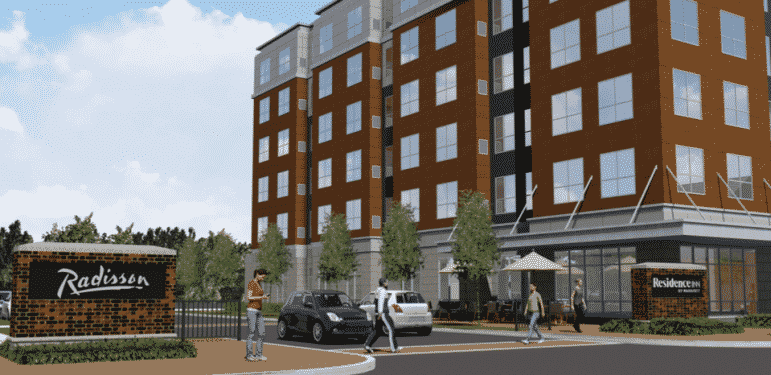 WARWICK, RI — Pinnacle Hotel Management is planning a $30 million, 140-room Residence Inn by Marriott on Montebello Road in City Centre Warwick, the 96-acre development under the eponymous master plan as a transport, commerce and residential center surrounding Green International Airport.
Mayor Joseph J. Solomon and Doug Duba, Director of Portfolio Management for Pinnacle Hotel Management, announced the plans last week.
In March, Pinnacle and Johnson and Wales University sold the eight-acre Radisson property, including the land and the former Legal Sea Foods building, to Pinnacle, a Florida-based developer, for $7.5 million, according to the Mayor's office. Demolition of the former Matec building on the property began Dec 19 to accommodate the proposed 102,669 sq ft., six-story hotel building.
"We have been seeing terrific progress in City Centre Warwick, particularly in recent months," Solomon said. "This project would bring 40 new full-time jobs to Warwick as well as temporary construction work. Pinnacle Hotel Management has developed a reputation for quality developments, and we know this new Residence Inn by Marriott will be no exception. I am grateful for the assistance of Councilman Tim Howe, who represents this ward, in achieving this development and other positive initiatives in City Centre. I know he is looking forward, as am I, to welcoming the Residence Inn back to Warwick and to see continued investment in City Centre."
Pinnacle had previously owned and operated a Residence Inn on Kilvert Street, and recently sold the property to another brand, the Mayor's office stated.
"After owning a hotel in Warwick for so many years, we became reluctant sellers and immediately began to search development sites," Duba said. "We are excited to be back in the market, to have the opportunity to develop a brand new Residence Inn by Marriott, and to become a part of the city's vision for the new Warwick City Centre."
In addition to the Residence Inn, Pinnacle is investing $2.6 million for a full renovation of the existing Radisson Hotel, including refurbished rooms, public spaces and banquet and meeting areas. The overall development plans include substantial pedestrian-centric design elements that are consistent with the vision for City Centre. Pinnacle plans to retain the Legal Sea Foods building and is presently seeking a tenant, Duba said.