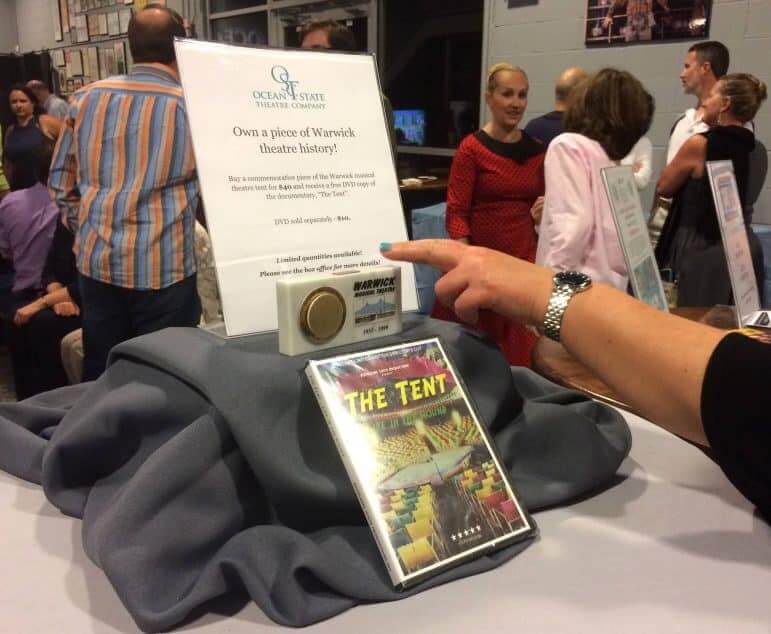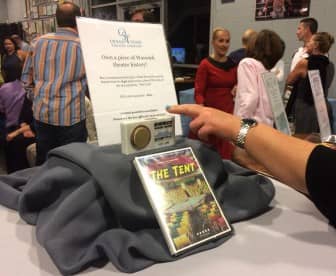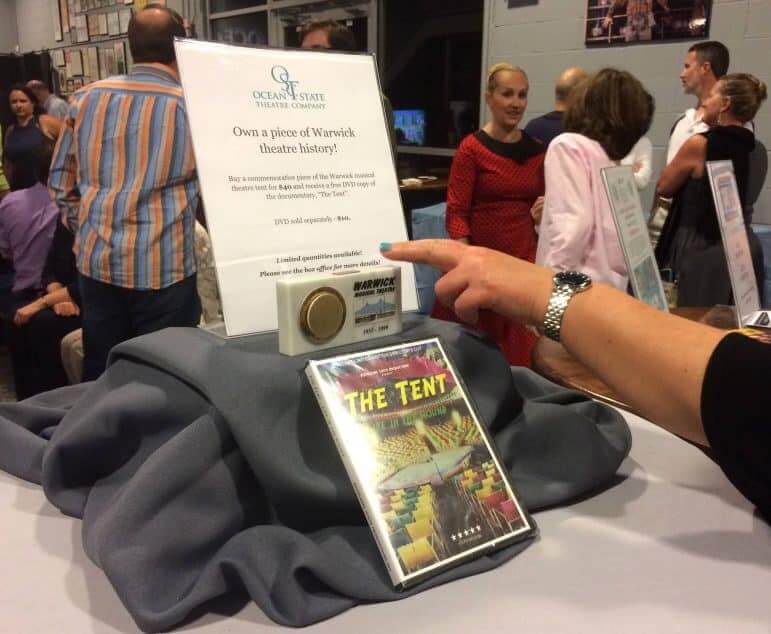 WARWICK, RI — Ocean State Theatre is offering the public original pieces of the stage from the Warwick Musical Theatre as well as DVD copies of "The Tent: Life in the Round," donated by Larry Bonoff , to be used to raise funding for the non-profit.
"I was so touched when Mr. Bonoff offered us both the DVDs and the remaining pieces of the original stage floor from the Warwick Musical Theatre," said Amiee Turner, OSTC's Producing Artistic Director. "He said that we should use them to raise funds for 'the next great Warwick tradition.' It's exciting that we can offer our supporters a piece of Warwick theatre history!"
Those who visit Ocean State Theatre to purchase the keepsakes are also invited to spend some time in the theatre's lobby and enjoy the mounted display of Tent memorabilia, which is on loan from Bonoff.
The Stage Floor:  Circular pieces of the original stage from the Warwick Musical Theatre are beautifully mounted on marble measuring 2.5" x 5" and include a photograph of the tent and the years in which The Tent was in operation. Each collectible is an individually numbered limited edition of 2500.
The Film:  Nominated for a 2010 Emmy award, "The Tent: Life in the Round," tells the story of the Warwick MusicalTheatre and reminds those who were lucky enough to attend a show, that the Tent was a labor of love that continues to exemplify the power and importance of hard work, family, generosity, and the human spirit. Buster and Barbara Bonoff took a love and passion for the performing arts and against all odds, made it into their living. For 45 years, the top names in entertainment graced the circular stage at the Warwick Musical Theatre. Along the way, the Bonoffs positively affected the lives of the hundreds of employees who worked for them and the thousands of theatergoers who attended performances. Telling the amazing tale are family figures from WMT's past as well as Billy Ray Cyrus, Howie Mandel, Huey Lewis, Vince Gill, and many more. Funny poignant and memorable, "The Tent" transports you back to a golden age.
Each commemorative piece of the Warwick Musical Theatre stage will be sold for $40 and will include a free DVD copy of the documentary, "The Tent: Life in the Round." DVDs will also be sold separately for $10. Quantities of both items are extremely limited.
Both the commemorative floor pieces from the Warwick Musical Theatre and copies of the DVD of the documentary, "The Tent: Life in the Round," are available at the box office Monday through Friday from 12 noon – 6:00 pm, Saturdays from12 noon – 4:00 pm, and from 12 noon until curtain on performance days. The theatre is located at 1245 Jefferson Boulevard, Warwick, RI. The memorabilia is also available online 24 hours a day at www.OceanStateTheatre.org and via telephone during normal box office hours by calling 401-921-6800.