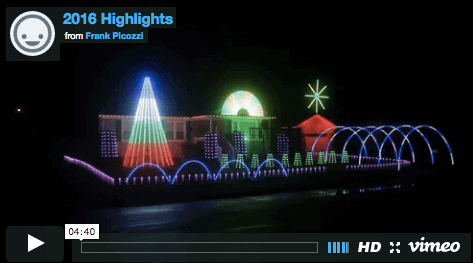 2016 Highlights
from
Frank Picozzi
on
Vimeo
.
WARWICK, R.I. — If you've yet to visit the Picozzi Christmas display this season, there's still time to get a look at the annual musically linked light show broadcast on FM radio at 97.1 for folks in their cars at 75 Gristmill Road,Warwick RI, and add your donation to The Tomorrow Fund to show your appreciation.
"Last year and again in 2016 we will be donating to The Tomorrow Fund of  Hasbros Childrens Hospital. Every penny donated goes to the fund," wrote Frank Picozzi, architect of the annual synchronized light show, on the website dedicated to the display.
The Tomorrow Fund at Hasbro Children's Hospital operates separate from Lifespan hospital group, on their own in operation and funding, All the hospital provides is a small suite of very tiny offices.
Money raised for the Tomorrow Fund aids children being treated for cancer and their families. Funding is used to help with co-pays for those that can't afford them, provides a $15 daily stipend to help with lunch and snacks for families who visit their children at the hospital, and pays for parking.
The fund also pays for a playroom for the kids to spend time in, and helps people with mortgages, rent, utilities, and car payments if their child's treatment taxes family finances too severely.
Picozzi, who has been decorating his house for the last 30 years, has been running the synchronized show for the last nine years. The last few incarnations of the show have seen a transition from regular Christmas lights to LEDs which he can program to display in any color.
"This is accomplished with several types of controllers that allow my computer to command the lights. I use software that I program the lights with. The programming is the most challenging of all, it takes 5 to 10 hours to program 20 to 30 seconds of a song," Picozzi wrote.
If you haven't been out to the Picozzi house — just off Archdale Drive off West Shore Road — it's definitely worth the trip.