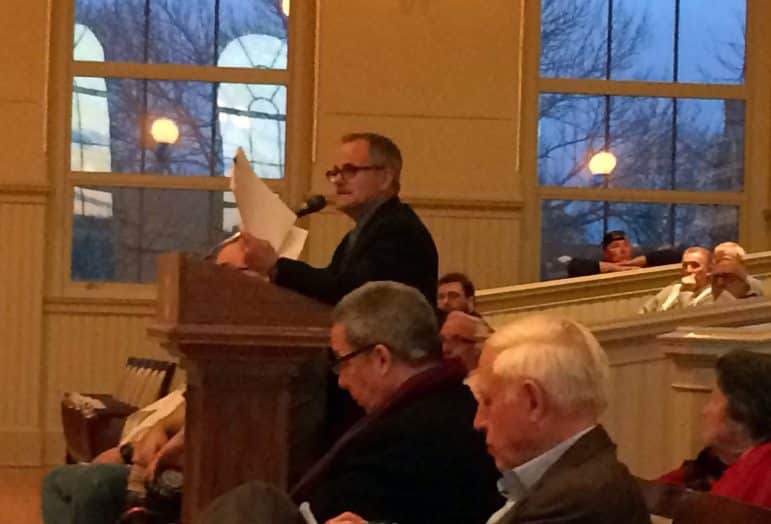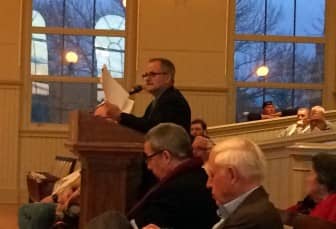 Warwick, R.I. — DPW Director David Picozzi answered a litany of accusations of impropriety and theft against his department during Monday's City Council meeting in a calm, compelling indictment of rumors and harassment over the course of the year. 
Picozzi didn't name his accusers, and declined to do so after his speech, but described accusations that were wrong about basic details of DPW operations, that the accusers themselves recanted and apologized for, and that city documents and his own department records disproved.
Picozzi did reference a late summer 2015 incident in which 2014 mayoral candidate Stacia Petri, now going by Stacia Huyler, the administrator of the WarwickWATCH Facebook page, accused his father and mother-in-law of receiving preferential treatment allowing them to only pay taxes on one of their two cars.
That accusation was proven false, since exemptions exceed the value of one of the vehicles, sparing it from City taxes, as reported in the Warwick Beacon Aug. 4. That incident required Warwick Police intervention when one of Huyler's Facebook followers vowed to visit the elderly couple's home.
Picozzi said the person responsible (Huyler) later sent flowers to his father and mother-in-law, a letter of apology to Picozzi, and recorded a video apology for the incident, But, he said, groundless accusations and harassment have continued, prompting his desire to speak to them directly before the City Council.
Councilman Steven Colantuono said some of the accusations have also been leveled by Rob Cote, a local government watchdog.
One complaint claimed employees made improper use of a widely known key code to access the DPW yard, and also filled up personal vehicles with the DPW's gasoline.
Picozzi pointed out that for the past four years the DPW yard has only been accessible via a key card that registering the user, time and length of visit. The same card system is needed to use the gas pumps, he said.
"We haven't had a gate code that's well known to anybody in years," Picozzi said.
Another accusation, he said, was via a direct call to his home while he was sleeping. The person said an employee's vehicle had been spotted in the DPW yard that evening, and provided a plate number. However, Picozzi's own recollection was that the vehicle in question had been in the shop for repairs. Two separate surveillance videos backed up Picozzi's memory, revealing the report as groundless.
Picozzi also addressed an accusation that department employees used DPW equipment and supplies to build two homes.
"I can tell you I don't see how that could ever possibly happen, the way we run things in the city yard. There's only a couple of people who can approve purchases. And I have a question for the person who posed this question. Who is this person that took enough equipment to build two houses? What's the address of these houses? Has it been reported to the police? If it hasn't I suggest that they report it to the police right away. Not the City Council, not the local news media, not the talk shows. Where's the proof of that? I'm pretty sure there isn't any.
Another accusation Picozzi listed: A City policy that allows assets to be used indiscriminately by employees with no record keeping. "Totally false. That hasn't happened in five years," Picozzi said. Although, he said, sometimes, "You'll see my guys bringing their tools from home and working."
Regarding an accusation of an employee making personal purchases using a City of Warwick Home Depot credit card, "If this weren't so serious, I would laugh right now to the person who made this accusation. Because I want him to show the City of Warwick Home Depot credit card. Because I can tell you we do not own a City of Warwick Home Depot card."
Picozzi said he's been an employee of the city for 31 years, a manager for 26 years and a director for 14.
"I've never been accused of anything close to this in my career, and I don't appreciate it. And it's OK. One thing I've learned in 31 years is how to tell a concerned citizen apart from a person with a political agenda, and I think it's very clear, very, very clear. I think you all can make that determination yourself."
Picozzi repeated that none of the accusations leveled at the department have any proof backing them up.
"That's why they come to this room and do it, and talk shows, and emails, because they don't go to the police department. Because I think they're in fear of filing a false police report. That's why they come here."
Picozzi invited the City Council to spend a day at the Public Works Department to see the department operating for themselves.
His speech was received with loud applause from an unusually crowded Council Chamber audience.