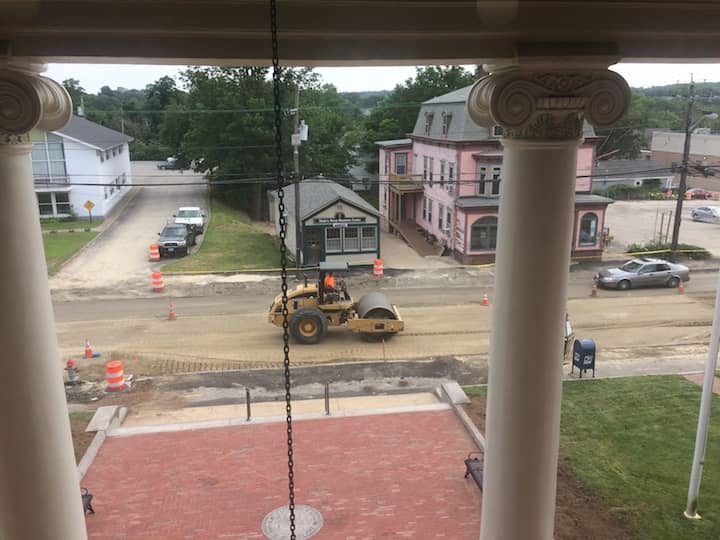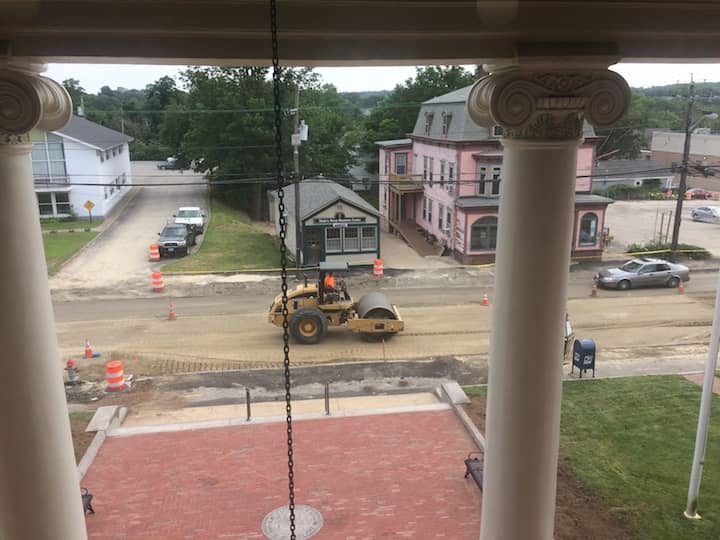 WARWICK, RI —Drivers through Apponaug Four Corners (Post Road at Centerville Road and Greenwich Avenue) should be wary of potential lane closures this week at the RIDOT continues work at the center of that roundabout, the agency warns.
The floor shook inside City Hall on the second floor Friday as a road roller packed dirt on the side of Post Road in front the building. Outside, the roller sent heavy vibrations through the sidewalk as well.
RIDOT has kept one eastbound lane and shoulders closed on Post Road from Apponaug Four Corners to West Shore Road, for roadway grading and new pavement placement, weekdays from 6 a.m. to 4:30 p.m.
One lane of travel will remain open continuously. Parking may be impacted within the construction zone. Expect delays and seek alternate routes if possible.
RIDOT also alerted drivers to the following ongoing Apponaug traffic notes:
The agency reminds motorists to stay to the right of the traffic barrels as work continues on the Apponaug Four Corners roundabout.
Route 117 (Centerville Road), east of Meadow Street to Post Road, including the bridge, remains closed to through traffic for construction until the final traffic configuration is implemented. Local access to the businesses has been kept clear.
RIDOT has also alerted drivers to the following ongoing Warwick-wide traffic notes:
Rte. 4 South, from the I-95 split to Exit 8 (Rte. 2/East Greenwich), right shoulder closed until December 2017 for bridge work.

Airport Rd. East and West, from #540 to #541, partial left and right lane closures for construction, Tuesday and Wednesday from 5 a.m. to 5 p.m.

Rte. 117 (West Shore Rd.) North and South, from Warwick Ave. to Rte. 113, right lane and shoulder closures in a moving operation for roadway sweeping, Monday from 9 a.m. to 3 p.m.

Rte. 2 North, from Rhode Island Mall to the I-295 overpass, 

center lane closed for bridge work through Fall 2017.

Airport Connector East at the Jefferson Blvd. off-ramp, lanes shifted to the high speed lane, with all exits open. Westbound traffic will continue through the current configuration through Winter 2017.