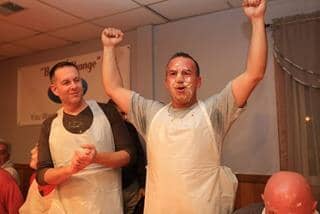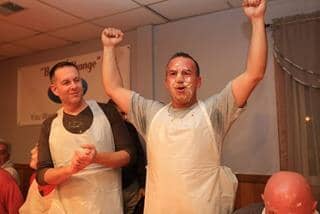 WEST WARWICK, R.I. — Mike Penta, whom voters may remember as one of three candidates running for Warwick's Dist. 21. representative seat in the General Assembly, also co-owner of Gel's Kitchen in West Warwick, won Saturday's pie eating contest at the Portuguese Holy Ghost Society event that drew hundreds and raised $14,066 for charity.
Proceeds from the fundraiser will go to Be The Change,which provides hot, home cooked meals for the homeless, impoverished and elderly, and collects and distributes toiletries to people in need. The event was hosted and organized by Gel of Gel's kitchen, Penta's wife.
Gel's Kitchen was only involved from a volunteer perspective, Gel said. "I just hosted it for them , because I love doing that kind of thing and I wanted to give back," she said.
Penta won 1st place in the contest, with a time of 2:03.  Second place went to West Warwick Councilman John D'Amico at 2:24, and third place was Rob Gorman with a time of 2:30.