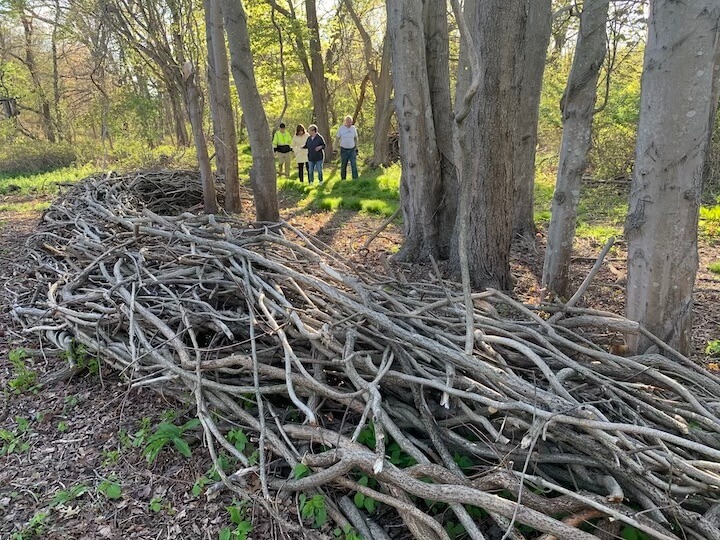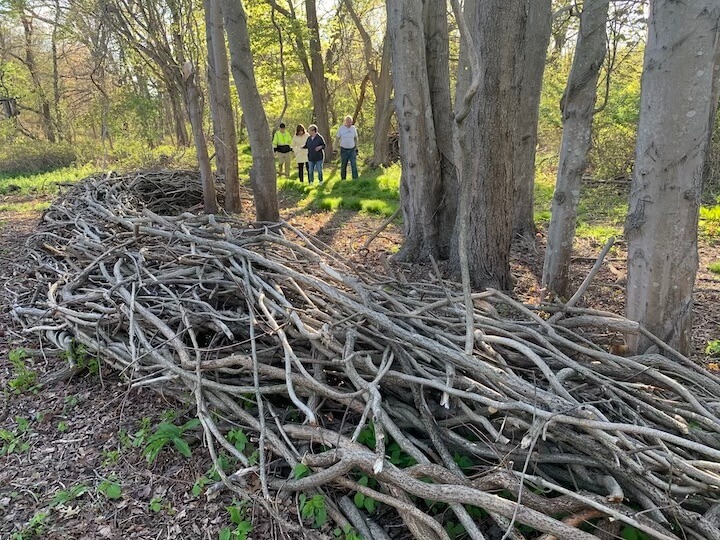 WARWICK, RI — The Pawtuxet River Authority and Watershed Council (PRAWC) kicked off its year-long 50th anniversary celebration May 10 with a tour of the he Howard Conservation Area.
The PRA owns the 50-acre parcel spanning the cities of Cranston and Warwick along the Mainstem Pawtuxet River, with public access available from Knight Street, adjacent  to  the Pontiac Canoe Launch.
According to the PRWAC, the land was, "formerly an ill-maintained expanse of illegal trash dumping, and abuts the former Cranston Sanitary Landfill which has undergone extensive environmental remediation.  PRAWC has been steadily working to make this area a functional urban passive recreation facility as well as a wildlife refuge by combating illegal dumping, eliminating invasive plant species, encouraging native plant growth, and maintaining a former state institution historic cemetery. The Howard Conservation Area is now home to a number of species of wildlife, including a large herd of deer, wild turkey, fox, oriole, cormorant, redheaded woodpecker, night herons, wood duck, grey and blue heron. There is a relatively flat, but grassy rail trail along the northern edge, which connects to a hiking trail along the river looping back to the cemetery providing over a mile of urban trails that are open for the public."
Last week, PRAWC volunteer Doug Wilson led a walking tour of the area's trails, commenting on points of interest and giving a running catalog of some of the invasive plants the area is now home to. Early-blooming flowers, native species-choking vines, and stinging nettled plants all grow in the space, Wilson pointed out, though he and a regular rotation of volunteers are doing their best to combat the foreign plants that out-compete local flora, he said.
The trails are also well-wooded and bring hikers through what might have been a vineyard, and a boat haven, along a indigent and prisoners' gravesite, and the spot of a one-time ice-harvesting operation.
The tour was the first event in the celebratory Take Five celebration throughout Pawtuxet Valley this year. The remaining events are:
June 4: Fishing Tournament at Lake Tiogue
​
June 18: Paddle down the Pawtuxet, Cranston
July 30: Read by the Water, Meshanticut Pond
September TBD: Art in the Park Event
*Dates dependent on weather conditions
Additional events will be added as we confirm them
The authority is also running a raffle for people who participate in the events during the celebration:
Join Us for the Take Five Outside Challenge: May 1 – Oct 18
Get out in the Pawtuxet River Watershed, enjoy yourself, PLUS maybe win a prize!
1. Register for FREE to help us celebrate our 50th Anniversary (May 1, 1972) (link)
2. Join us for events outside and/or complete any five outings on your own*
3. Check-in online to log each time you complete an outing (check-in link)
4. Log 5 outings by October 18 (Clean Water Act Anniversary), entered into our raffle!**
*Participants must complete a waiver, which will be emailed upon registration.
​             **Prizes are dependent on vendor participation and will be announced after July 1