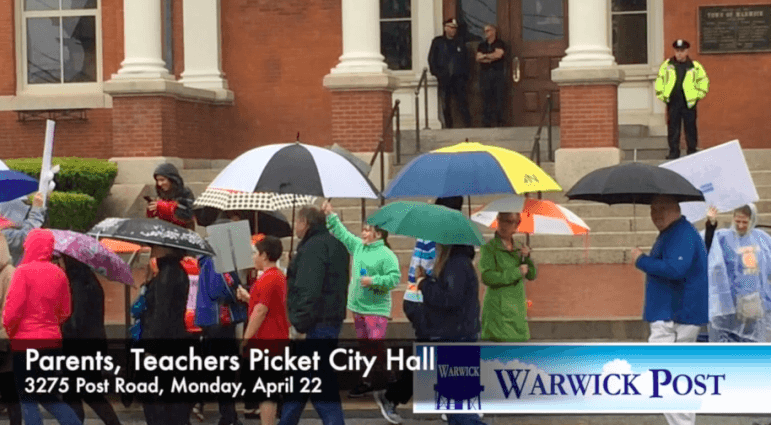 WARWICK, RI — About 50 parents, students, and teachers mustered their resolve and their umbrellas Monday afternoon to demand Warwick Schools  put teachers, students, and the learning environment first with a picket line outside Warwick City Hall.
Some picketers chanted and carried signs expressing displeasure with Superintendent of Schools Phil Thornton. Organizer Stephanie Shelton, a parent of students in Norwood Elementary School, an administrator for the U-Knighted We Stand Facebook page, said that wasn't the point of the picket line.
"We're really trying to focus on positivity," Shelton said.
Rather than start over, Shelton said she has hope that school leadership can be convinced to concentrate their efforts on improving the things parents and teachers agree need more attention: smaller classroom size, IEPs (Individual Education Plans), and safer schools.
"We want education to be a priority in Warwick. As tax payers, we demand that we invest in our schools. At the same time, we fully expect administration to spend responsibly and invest in education. We need books, we need capital improvements and we need teachers. We do not need a PR firm, we do not need attorneys, and we don't need more administrators. We need to fix Warwick schools," Shelton wrote in a release announcing the demonstration.