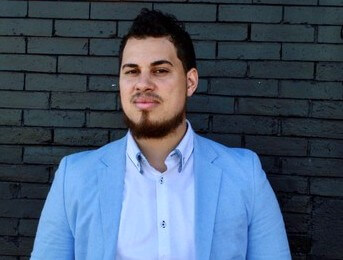 WARWICK, RI — Bringing a wealth of personal educational experiences to his new role as the new Lippitt Principal, Eric Pagan is zealous about the start of the 2023-24 school year. 
"Erick Pagan comes to our school district highly recommended," said Patricia Cousineau, Director of Elementary Education for Warwick Public Schools. "He has an extensive special education background, he is bilingual and he is all about family and community. He will be wonderful for our Lippitt Community."
Driven by a mission to eliminate institutional barriers for children of color like himself, Pagan has a goal of focusing on relationship building to propel students on a successful trajectory.
"The foundation of my leadership is to build relationships and a culture and climate of community," said Pagan, who began his undergraduate studies in 2006 at Rhode Island College pursuing a Bachelor of Science in Elementary Education with a concentration in Special Education. He also studied abroad and has a degree in Spanish from the University of Granada, Spain. In the past, he has taught Transitional Bilingual/Special Education in the Providence School District.
Always striving to do more and learn more, in 2014, Pagan earned a Masters in Teaching English to Speakers of other Languages and a certification in Dual Language and Bilingual Instruction. In 2019, Pagan continued moving forward and solidified his leadership skills by attending the Center of Leadership and Educational Equity Principal Residency Program, completing a Pk-12 Admin Certification, while at the same time teaching K-5 Special Education. 
He has served the Providence School District for over a decade and most recently was employed as the Assistant Principal of Curriculum and Instruction for Somerville Public Schools. 
Excited to embark on another adventure in his professional education career, Pagan, who is a husband and the father of four-year-old twin girls, is ecstatic about the opportunity for leadership at Lippitt Elementary School and the chance to work closer to home to spend more time with his family.
Always giving back, when Pagan is not eating, breathing and thinking about his educational endeavors, or spending time with family, he is traveling the world going on missionary trips to other countries to donate resources and materials to underserved and impoverished communities.
"I love traveling and helping others when I can," said Pagan, who is eager to get started in his new leadership role and to utilize his special education and bilingual expertise in a new community of learners.