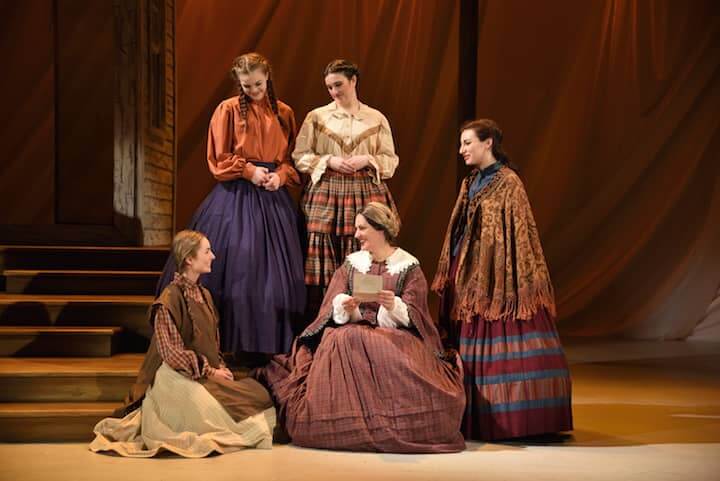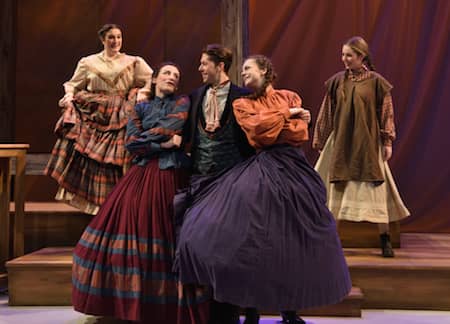 WARWICK, RI — OSTC's 'Little Women The Musical', now playing at the Warwick theater, has more depth than the average musical and also has a lot of heart.
 The story is based on Louisa May Alcott's classic 1869 semi-autobiographical novel about the March family of Concord, Massachusetts.
During the civil war, the four March sisters – Jo, Meg, Amy, and Beth, gradually transform from girls into women. They long for their father, who is serving as a Union Army chaplain during the Civil War. Marmee is the strong willed matriarch who guides the young ladies during a difficult time in their lives.
Like Alcott, Jo is a tomboy and an aspiring author who refuses to conform to society's expectations. She could easily be labeled a feminist, although Jo is really just a woman who is fighting to live her life the way she wants to live it.
Jo's book is rejected by several publishers. One of them comments that a woman's responsibility is to have babies, not to write literature.
When her imperious Aunt March expresses concern over Jo's life choices, Jo reacts in a defiant manner.
"I don't need to be saved," Jo shouts.
Meg (Alison Novelli) is a romantic who falls in love with John Brooke (Kevin Patrick Martin), who enlists in the Army.
Beth (Bryn Martin) is a gentle and kindhearted soul who is skilled at playing the piano.
Amy is the baby of the family and resents wearing hand me down dresses from her older sisters. She resents Jo's independence and burns one of her stories in a rage.
Jo wants to be a success but she also has a strong devotion to her sisters. This theme of family is at the core of the show.
No matter the tragedies that life brings, Jo will always cherish the bonds with Meg, Beth, and Amy.
The ensemble cast, under the skilled direction of Ethan Paulini, all delivered effective performances.
Tess Jonas is nothing less than spectacular as Jo, who never lets life defeat her dreams.
Jonas displayed some superb vocals on "Astonishing" and "The Fire Within Me."
Abigail McMahon, a Warwick native, was solid as Amy, who changes from a sullen teenage girl into a vibrant young woman. McMahon previously appeared in OSTC productions of "Meet Me in St. Louis" and "The Sound of Music."
Amiee Turner, the producing artistic director of OSTC, has some terrific moments as Marmee.
Turner beautifully sings the emotional ballad "Days of Plenty", when Marmee encourages Jo to keep fighting for what she believes in.
OSTC veteran Tommy Labanaris gives an entertaining performance as the earnest Professor Bhaer, Jo's love interest.
Labanaris and Jonas brought down the house with the charming duet "Small Umbrella in the Rain."
Michael Luongo was sweet and likable as Laurie, the young man who falls for Jo and wants to marry her.
Staci Morin was wonderfully funny as both Aunt March and Mrs. Kirk.
The orchestra, under the direction of Esther Zabinski, sounded great.
Costume designer Emily Taradash provided amazing looking gowns for the ladies.
Clifton Chadick's set design was minimal yet effective.
The theme of female empowerment featured in Little Women The Musical couldn't be more timely. Women are still fighting for equality in the 21st century. This is a show which not only celebrates strong women, but their hopes and dreams as well.
Little Women: The Musical runs through March 19 at Ocean State Theater Co.
The theatre is located at 1245 Jefferson Boulevard, Warwick, RI. Tickets, available 24 hours a day at OceanStateTheatre.org, are $39 for preview performances, $39-$59 for all other performances except Thrifty Thursday (March 9) when all tickets are priced at a $10 discount ($29-$49). Tickets are also available via telephone during normal box office hours (401) 921-6800.