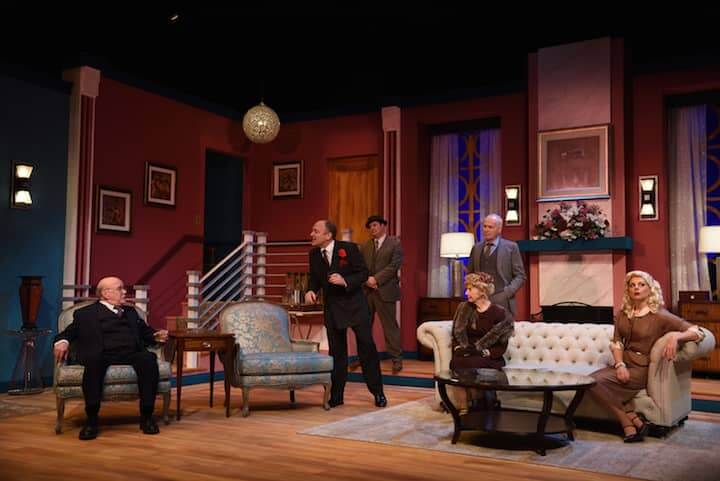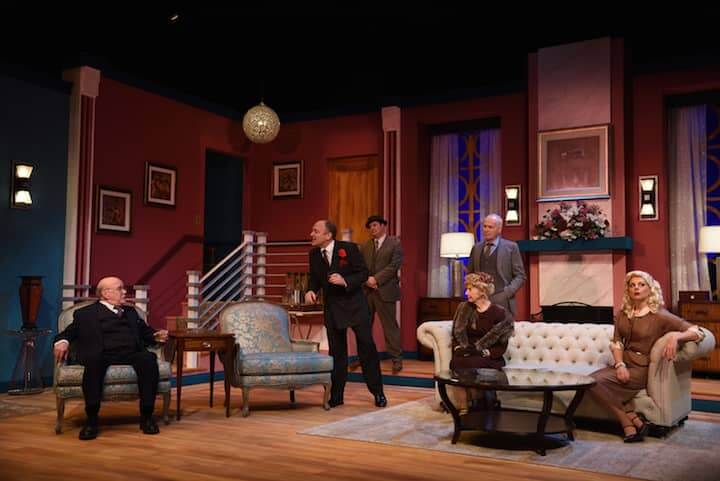 WARWICK, RI — The theme and story of Ocean State Theatre's masterfully executed 'Born Yesterday,' about an uncouth crook seeking Washington DC influence in the company of an under-estimated showgirl, references contemporary political themes so aptly you might think the 1946 play was penned within the last few months, or adapted for the times with fresh dialogue.
"We did not change a single word," said Producing Artistic Director Amiee Turner.
When she was selecting the plays the theater would produce this season, last year, Turner said, she had no inkling of the events about to unfold.
"It is really interesting, when you pick a show a year ahead of time, when you see what's going on in the world," Turner said Friday while introducing the show's opening night.
That day, President Donald Trump had signed an executive order banning refugees from predominantly Muslim countries from the US, while maintaining an exemption for Christians, roundly denounced by federal and state officials as unconstitutional and illegal. Turner's reference to current events, recently dominated by a real-life notorious politician, inspired laughter from the crowd.
Turner noted the 70-year-old play's focus on the corruption of American government. "I think you're going to be surprised about how we're still talking about it," she said.
The tone is set early on in the first act, when Billie, played by Lara Hayhurst, quips airily about the ambition of her lover, the egotistical, vulgar and wealthy Eddie Brock, played by Robert Ierardi, to own and control everything.
"Personally, I don't care one way or the other," says Billie.
"Very few people do. That's why he may get to do it. Don't-care-ism. Satan's key to success," observes Brock's legal fix-it man, Devery, played by  Sean McGuirk of Warwick. The line elicited loud laughter from the audience.
McGuirk's performance added a palpably shrewd element of self-loathing to the production as Devery explained the machinations inherent in buying politicians (in particular, Hedges, played by the unfailingly entertaining Brian Mulvey of Warwick) and cheating the law. His measured, functioning-alcoholic composure contrasted with the earnestly ignorant shuffle of Greg LoBuono's Eddie Brock, Harry's right-hand-man.
The physical acting of the main characters, however, stood out from the rest of an exemplary cast. Harry moved and talked in sharp, decisive, but expansive gestures; Billie's actions were often wooden, stiff and planned, yet awkwardly executed.
As Billie begins to learn more from Paul, played by Michael Jennings Mahoney of Providence, her mannerisms and attitude largely survive the process; she's recognizably the same person, and not just due to her appearance. Hayhurst's performance stood out among a very able cast, and elicited a well-deserved standing ovation from many in the crowd who had, until her bow, remained in their seats.
Performances of 'Born Yesterday' will be held Wednesday (except Feb. 1), Thursday (except Feb. 9), Friday and Saturday evenings at 7:30 p.m., with matinees on Thursdays (except Feb. 9), Saturdays at 2 p.m. (except Feb. 4) and Sundays at 2 p.m., at 1245 Jefferson Boulevard, Warwick, RI. Tickets are $34 for preview performances, $34-$49 for all other performances except Thrifty Thursday(February 9) when all tickets are priced at a $10 discount ($24-$39). You may buy tickets online at Ocean State Theatre's website, or by phone at (401) 921-6800.