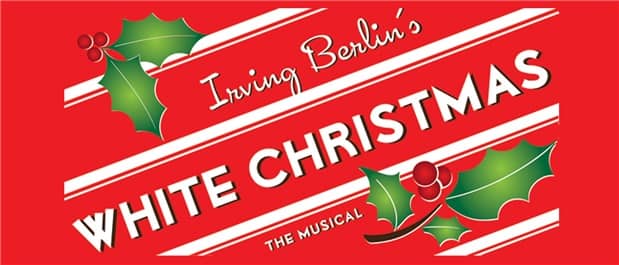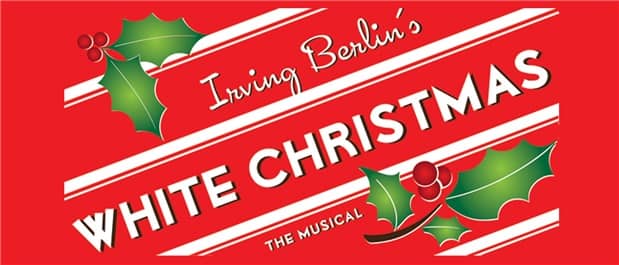 WARWICK, RI — Ocean State Theatre Company will present Irving Berlin's White Christmas, the family-friendly, holiday musical, Nov. 30– Dec. 24, with a cast and crew comprised of new and familiar faces in time for the holidays.
Based on the beloved, timeless film, this heartwarming musical adaptation features seventeen Irving Berlin songs.
Veterans Bob Wallace and Phil Davis have a successful song-and-dance act after World War II. With romance in mind, the two follow a duo of beautiful singing sisters en route to their Christmas show at a Vermont lodge, which just happens to be owned by Bob and Phil's former army commander. The dazzling score features well known standards including "Blue Skies," "I Love A Piano," "How Deep Is the Ocean," and the perennial favorite, "White Christmas."
Paula Hammons Sloan, who has directed or choreographed numerous national tours including Cabaret, Bye Bye Birdie, Urban Cowboy, Seven Brides for Seven Brothers, Copacabana, Singin' in the Rain, My One and Only, and Crazy for You, will be making her Ocean State Theatre Company debut as the director and choreographer of White Christmas.
John Jay Espino, who music directed previous OSTC productions of It's a Wonderful Life, Les Misérables, The King and I, and this season's critically acclaimed production of Billy Elliot: The Musical, returns as Musical Director.
The twenty-two person cast includes New York actor, Nate Suggs, who returns to OSTC after portraying Billy Crocker in last season's Anything Goes and OSTC founding member, Joel Kipper of South Kingstown, who was last seen in Rounding Third, in the roles of Bob Wallace and Phil Davis.
The roles of sisters Betty and Judy will be portrayed by Stefani Wood of Riverside, who appeared as Mrs. Martini in It's a Wonderful Life and is currently touring in OSTC's educational production of Polkadots: The Cool Kids Musical and Maria Logan of New York, who made her OSTC debut as Brooke Wyndham in Legally Blonde: The Musical. Mark S. Cartier of West Bridgewater, MA., seen in OSTC productions of Fools, Miracle on 34th Street, Laughter on the 23rd Floor, The Diary of Anne Frank, Meet Me in St. Louis, Breaking Legs and 1776, returns as the General, Broadway actress Susann Fletcher, (The Full Monty, Guys and Dolls, The Goodbye Girl, Jerome Robbins' Broadway, The Best Little Whorehouse in Texas) will be making her OSTC debut as Martha and Casey Nadzam of Hamden, CT, will be making her OSTC debut as Susan Waverly.
Rounding out the cast are Rachel Abbate of Norfolk, MA, Melissa Buriak of Ledyard, CT, Eileen Cannon, Blayne Gregg-Miller, Michael Luongo and Ashley Rubin of New York, Aaron Dore of Fairhaven, MA David Groccia of North Providence, Daniel Guay of Fall River, MA, Breezy Heller of Westerly, Tess Jonas and Daniel Forest Sullivan of Boston, MA, Daniel Larson of Smithfield, Taylor Hilt Mitchell of Warwick and Tobias Wilson of Providence.
White Christmas will be presented at Ocean State Theatre. Previews are scheduled for Wednesday, Nov. 30 at 7:30 p.m. and Thursday, Dec. 1 at 2 and 7:30 p.m. All other performances will be held Wednesday (except December 7), Thursday (except Dec. 8), Friday, and Saturday (except December 24) evenings at 7:30 p.m, with matinees on Thursdays (except Dec. 15), Saturdays (except Dec. 3) and Sundays (except December 18) at 2 p.m. Special Sunday, Dec. 18 at noon and 5 p.m. and Tuesday, Dec. 20 at 7:30 pm.
Conducting Conversations Live!, a free post-show discussion hosted by WCRI's Mike Maino, will follow the 2pm performance on Sunday, Dec. 4. The post show Piano Bar Series, hosted by Robert Miller, Jr., will continue following Friday and Saturday evening performances in the theatre's lobby on Dec. 9, 10, 16 and 17.
The theatre is located at 1245 Jefferson Boulevard, Warwick, RI. Tickets are $39 for preview performances and $39-$59 for all other performances. Discount rates for groups of 20 or more are available by calling (401) 921-1777 x112. $30 "Rush" tickets are available on a limited basis one hour prior to curtain on the day of the performance. Tickets are on sale at the box office Monday through Friday from 12 noon – 6:00 pm, Saturdays from 12 noon – 4:00 pm, and from 12 noon until curtain time on performance days. Tickets are also available online 24 hours a day at www.OceanStateTheatre.org and via telephone during normal box office hours by calling (401) 921-6800.