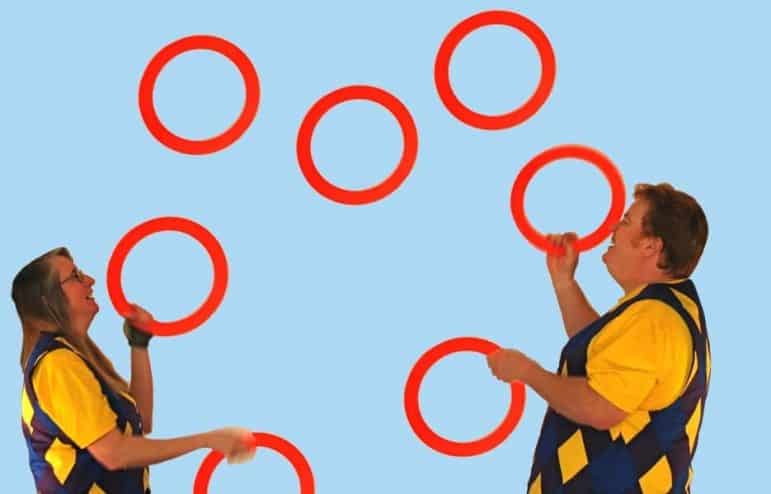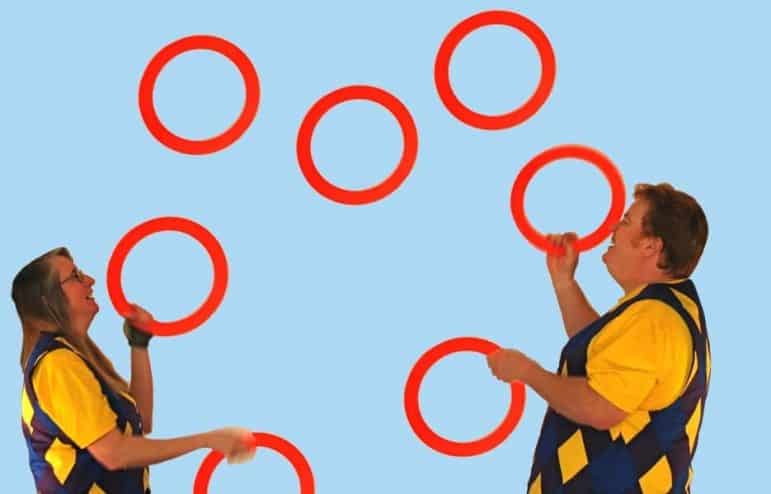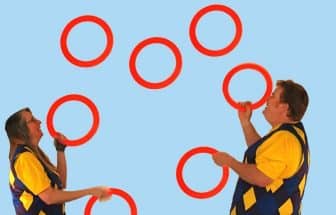 WARWICK, RI – Ocean State Theatre Company has announced the appearance of the Airborne Jugglers as part of OSTC's 2016-17 Family Fun Fest, brining their gravity defying and imaginative juggling act to Ocean State Theatre for one performance only on Saturday, Nov. 12, 2016 at 11 am.
Amazing juggling is synchronized with lively music, laughter fills the air and you never know what will happen next! Audience volunteers find themselves in the middle of the action and the fun is contagious. The Airborne Jugglers are unforgettable!
World class performers Joe Murray and Susan Kirby have traveled the globe entertaining audiences for over 20 years. Highlights of their professional career include performances in Japan, Europe, The Bahamas, Aruba, and The Cayman Islands. Here at home they have entertained in 43 of the 50 states at a wide variety of events. Joe and Susan have been privileged to share the stage with numerous entertainers including Robin Williams, Jerry Seinfeld, Tim Allen, John Mellencamp, Larry the Cable Guy, Jeff Foxworthy and Billy Gardell, to name a few.
Before and after the performance, families can enjoy drinks and snacks, which will be available for purchase at the theatre's lobby concession stand.
The Airborne Jugglers will be at Ocean State Theatre on Saturday, November 12, 2016 at 11 a.m. The theatre is located at 1245 Jefferson Boulevard, Warwick, RI. Single tickets are $10.00 each with packages of three Family Fun Fest shows or more for $8.00 per ticket.
Discount rates are available for groups of 20 or more by calling (401) 921-1777 x112. Tickets are on sale at the box office Monday through Friday from 12 noon – 6:00 pm, Saturdays from 12 noon – 4:00 pm, and from 12 noon until curtain time on performance days. Tickets are also available online 24 hours a day atwww.OceanStateTheatre.org and via telephone during normal box office hours by calling (401) 921-6800.