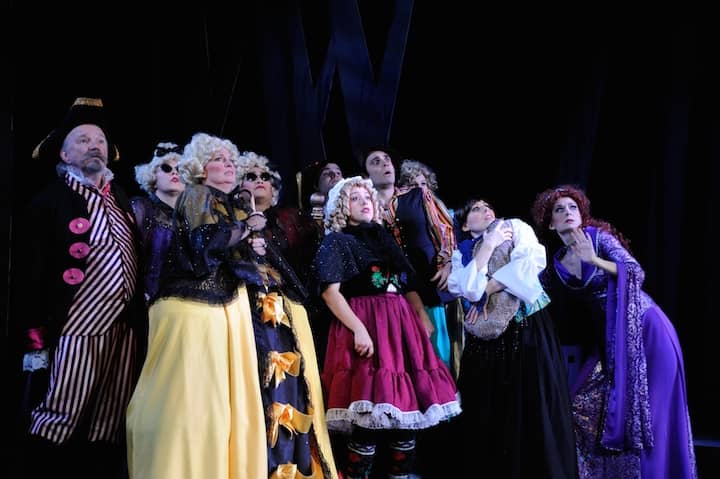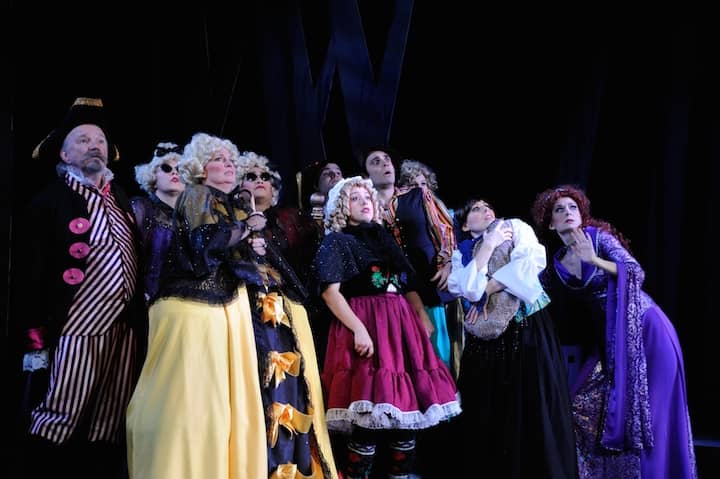 Warwick, RI – Stephen Sondheim's adult fairy tale musical "Into the Woods" works magic on its audience apart from the storybook script, an enchantment Ocean State Theatre weaves nearly flawlessly.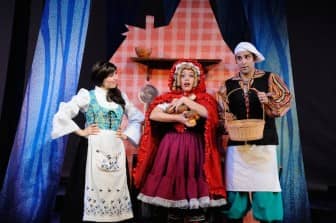 The tale follows a Baker and his wife longing for a child, Cinderella yearning for the ball, and Jack, wishing his cow would give milk. When the couple learns the Witch's curse is preventing them from having a child, they set off to break it. Everyone's wishes are granted, but the consequences of their actions are unexpected.
A film by the same name, perhaps just its trailer, may have left you with the impression that you know this story, its songs, it's themes, and could pass by the musical without missing anything.
That would be a mistake, since there's a lot in the musical the music, songs, sets and cast convey that simply doesn't come across in cinema.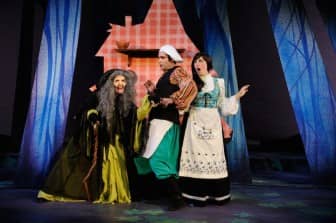 The set in the opening scene appeared to point to a minimalist approach, but that belied the flair with which the rest of the production's settings were fleshed out. Trees rolled in from stage left and right, on three levels, and the backdrop was cleverly constructed to present both the illusion of a moving moon and a treetop perch.
The music, directed by local musician Esther Zabinski, provided the perfect foundation upon which the singing, delivered by a strong ensemble cast, wove fantastic, tragic, and inspiring tales of storybook characters struggling to figure out what they want, how to get it, and how to manage life after their sought-after prizes lose the luster of the unattainable.
Friday's opening night audience was palpably moved by the performances. Of particular note were the strong positive reactions to and vigorous applause for Sarah Pothier of Rumford as Cinderella's "On the Steps of the Palace" about the fear of revealing her true self to a pursuing prince.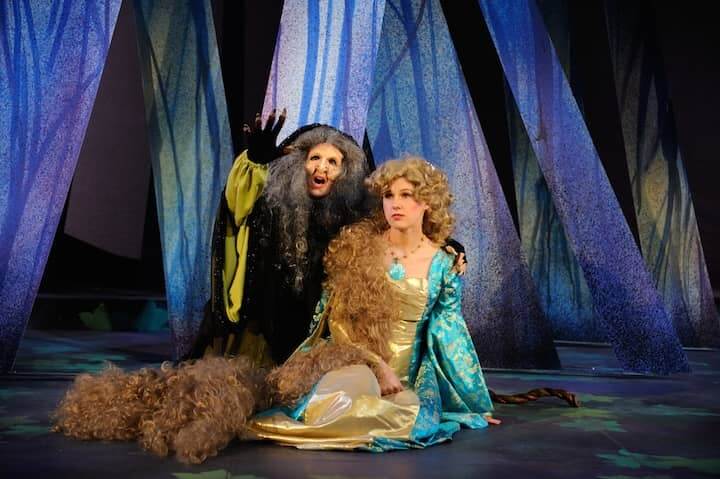 The baker, played by Tommy Labanaris of Coventry, stilled the audience to an introspective silence with the exhausted lament, "No More," and the Baker, Cinderella, Joseph DePietro of New York's Jack and Nicole Calkins of North Providence's Little Red Riding Hood deliver a poignant "No One is Alone."
Erika Amato's Witch conveyed an ominous and mysterious presence as an old, bent but nonetheless graceful crone.
Physically, the Wolf, played by Wayne Hu of New York (who also played Cinderella's prince), was a stark contrast to the Witch. The Wolf seemed lost in an ungainly costume of wide haunches and fat belly.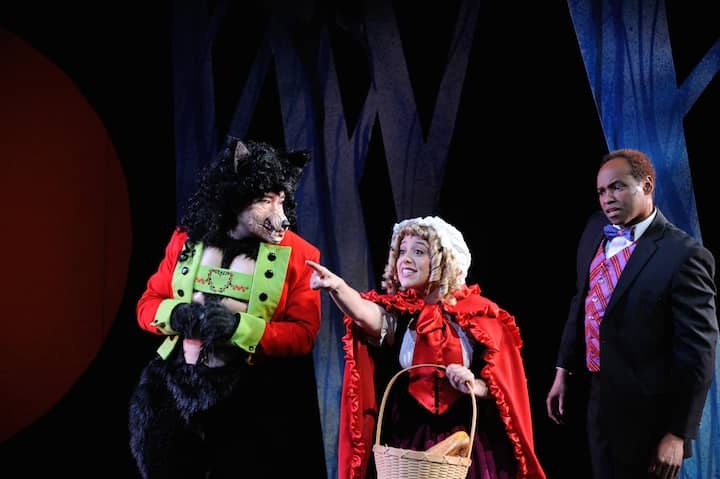 The wolf's suave, oily seduction fell entirely to Hu's vocal delivery. Unfortunately, the costume included a mask that covered his face, obscuring his expressions and, at times, muffling his voice. Hu recovered in Act II as Cinderella's Prince with the comedic "Agony" with Rapunzel's Prince, played by Jonathan Olivera of North Providence.
Caroline Bateson of East Greenwich lends a stunning voice to Rapunzel's prince-enchanting siren song, and Warwick's Brian Mulvey returns as Cinderella's Father and the plaintive Mysterious Man, haunted by his past, working to make amends.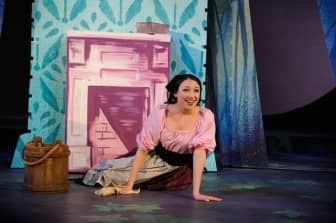 "Sondheim at his most charming," is a high bar Ocean State Theatre reaches on all but a few moments, and you miss it at the peril of a magical experience.
"Into the Woods" runs through May 23 Wednesday (except May 6), Thursday, Friday and Saturday evenings at 7:30 pm, with matinees on Thursdays (except May 14 & 21), Saturdays at 2 p.m. (except May 2 & 23) and Sundays at 2 p.m.
The post show Piano Bar Series will continue with "Miscast" and will be held following Friday and Saturday evening performances in the theatre's lobby on May 8, 9, 15 and 16.
 The theatre is located at 1245 Jefferson Boulevard, Warwick, RI. Tickets are $39 for preview performances and $39-$54 for all other performances. Tickets are available online 24 hours a day at www.OceanStateTheatre.org and via telephone during normal box office hours by calling (401) 921-6800.