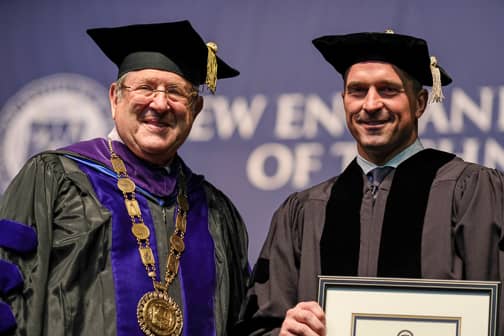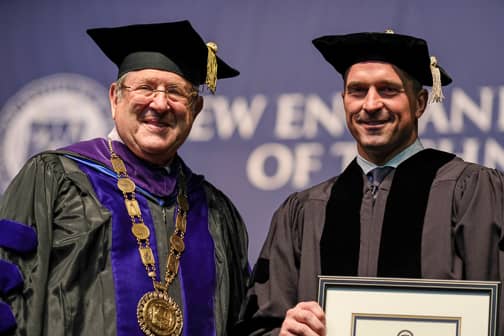 PROVIDENCE — Former Boston Celtics and Fall River basketball superstar Chris Herren delivered this year's commencement address to 1,130 New England Institute of Technology graduates Sunday, May 5, at the Dunkin Donuts Center in Providence.
The students earned associate, bachelor's and master's degrees.
Herren, who rebounded from drug addiction, devotes his life to helping others fight it. New England Tech presented honorary degrees to Chris Herren and to community and political leader Donald R. Sweitzer, former chairman of International Game Technology (IGT) and current treasurer of the Democratic Governors Association.
"The bad days become the blessings and the beauty of living life in sobriety, eventually you find the silver lining in all your sad stories. You become extremely grateful for your worst moments. You forgive and you allow yourself to be forgiven," Herren told the graduates during the commencement.
Herren continued, "The pursuit of a secondary education warrants applause. Your commitment to accomplish it is amazing, but it generates nothing. Today isn't an ending, it's your beginning. Continue to work hard. Set new goals and challenge yourself daily to be better than the day before. Make a commitment to inspire. Share your gifts with others and don't ever give up on your dream because trust me, it's never too late to live it."
A list of graduates from Warwick and West Warwick are posted below:
Honors: *
Potential June Grad: +
Warwick RI
AS Degree
Tyler J. Algren, Krista Archer*, Amanda R. Barnette, Sarah Belmore*, Christina Blanda+, Bethany A. Bonenfant+, Tyler B. Cameron+, Anthony Carcia*+, Daniel I. Carter, Adam C. Copp*, Abdellah El Moudden, Geoffrey Fennell, George Ferraria*, Nathan R. Fonseca, Jakob H. Francois+, Katrina Goddard, Andrew J. Granata*+, Stephanie Hager*, Cheslyn A. Harrop, Jacqueline J. Jesus+, Jessica E. Kuncio, Kerri Leary, Nicholas R. Leland, Robert Lewis Jr*, Chelsey B. McCabe, Nicole M. Menezes*, Bradley Meunier, Tanya M. Montoya, Arianna Moussally, Jessica L. O'Leary*+, Sopher Phin, Kyle M. Riley, Benjamin B. Robin*, Kathleen J. Romano, Alvaro A. Ruiz, Sean M. Ryan, Elizabeth Sarkisian*, Christopher M. Sicard, Jazmine D. Smith, Sarah M. Stone, Kasey L. Strumar*, Arthur Sylvester-McCarthy, Jordan N. Travers, Ty E. Vadenais, Marissa P. Yandoc, Paula Yepes
BS Degree
Tory J. Bassett, Corey J. Beagan*, Brett M. Casale*, Trent A. Clarke+, Kyle K. Cox, Victor Desa*+, Vincent J. DeVito III*, Joseph J. Flaherty, James A. Gardner, William D. Gibeault*, Ivy E. Gowans, Crystal M. Green*, Alexander S. Harrop, Laurie R. Hattoy*+, Stephen A. Octeau, David Pena+, Samantha M. Powers, Tyler J. Rapson*, Tyler Skoglund, Sabrina D. Spiver, Melanie A. Tribe-Scott*, Rowan J. Wheatley II*
MS Degree
Nikitha Ameda+, Adam G. Chirico, Lakshmi Sindhuri Kandregula+, Jamie M. Maymon*, Ashley E. Meizoso
Honors: *
Potential June Grad: +
West Warwick RI
AS Degree
Stefan A. Archer, Joseph H. Buffington+, Jeffrey T. Caswell+, Alexandra deCastro, Marc A. Durham+, Michaela Jencks+, Noah Marino+, Nicolas M. Ochoa, Joshua A. Poplis, Peter Tumani Rara-Matenge, Elizabeth M. Redin+, Maynor Sanchez, Tayla M. Thibault, Caitlyn M. Turenne, Nicholas S. Urso+
BS Degree
Jannette Candela*, Daniel J. Curran Jr+, Cody J. Deutsch, Cody J. Gerdin, Dylan A. Mercadante+, Mogomotsi M. Moilwa*, Timothy Payette, Teaira N. Perry, Andres J. Sagastume Lemuz, John J. Samuel, Kyle A. Sylvia
MS Degree
Courtney F. Oliver