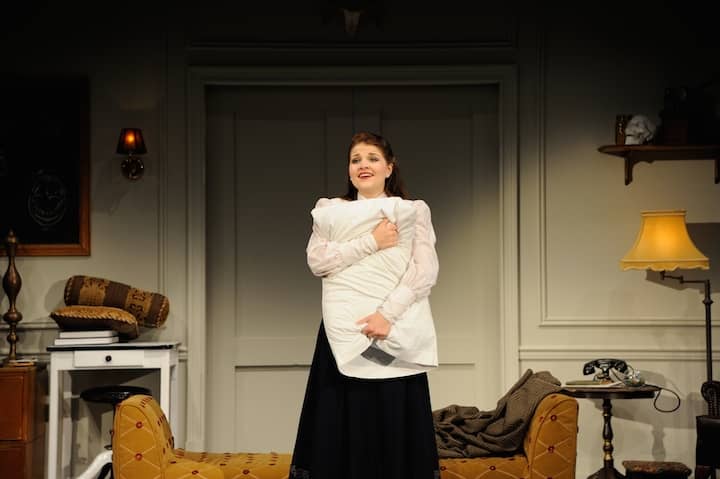 Warwick, RI – Ocean State Theatre's season-opening production of My Fair Lady marked itself as a crowd-pleaser with a standing ovation Sept. 26, a reminder of live theater's intimate appeal.
That element of stage performance, the social experience of watching actors and dancers, everyone's attention focused on the actors in an en masse, silent consensus, was palpable during the performance of 'I could have danced all night,' by  Jessica Wagner in the role of Eliza Doolittle.
The crowd was already raptly wild for her performance as she neared what would prove a stunning finale to the song. The frenzied applause seemed a foregone conclusion, and near-unanimous.
In the classic adaptation of George Bernard Shaw's 1912 play Pygmalion, Doolittle, a cockney flower peddler, agrees to take speech lessons from an over-bearing and socially awkward linguistics professor, Henry Higgins.
The show was considered one of the most popular musicals of the 1950s, and it's clear the cast led by director-choreographer Amiee Turner and musical director Esther Zabinski aimed to live up to the reputation.
Higgins, played by Richard Costa, is perpetually inept in communicating affection for Eliza, offset by Todd Berkich's fatherly Colonel Pickering. Eliza's un-fatherly father, the shrewdly labor-averse and comically endearing Alfred P. Doolittle, is played by Woonsocket native Peter Tedeschi, performing in his home state for the first time.
Valerie Remillard Myette of North Kingstown returns to the theater in the role of Mrs. Pearce, Roger Reed debuts at OSTC in the role of Freddy Eynsford-Hill, and East Providence native Melanie Souza, previously seen in OSTC's 9 to 5: The Musical, portrays Mrs. Higgins.
Other local performers include Nicole Calkins and David Groccia of North Providence, Taavon Gamble of Wakefield, Jade Genga of East Greenwich, Daniel Larson of Smithfield, Brian Mulvey of Warwick, Jonathan Olivera of Providence, Mackie Saylor of Pawtucket, Tobias Wilson of New London, Conn., and Marianna Wood of Lowell, Mass.
Last but not least among the elements of the performance is the set, which rolls on and off stage between scenes. The most elaborate piece is Henry Higgins' study, an intricate recreation of a lavish English gentleman professor's work place.
Carved and painted wood convincingly masquerade as shelves full of dog-eared texts, and a diagram of a the human mouth and tongue, a detail only noticeable by patrons in the front rows, help convey the illusion of place for the musical.
My Fair Lady runs through Oct. 19 on Wednesday, Thursday (except Oct. 16), Friday and Saturday evenings at 7:30 p.m., with matinees on Thursdays (except Oct. 9& 16), Saturdays at 2 p.m. (except Sept. 27) and Sundays at 2 p.m.
The post show Piano Bar Series continues with "I Could Have Sung All Night!" will be presented following Friday and Saturday evening performances of My Fair Lady on Oct. 4, 10 and 11. Attendance at the performance preceding the piano bar is not required. The lobby doors will open for the piano bar at 10:15 pm.  Admission to the piano bar is free, so reservations are strongly recommended.
The cozy space at OST sports comfortable seats, a full bar with seating to relax in before the show and during intermission, ample parking and a convenient location at 1245 Jefferson Boulevard, Warwick, RI. The spot is nearby several local restaurants, the closest of which is the Greenwood Inn. Tickets are $39-$54 at the box office, by visiting www.OceanStateTheatre.org and via telephone during normal box office hours by calling (401) 921-6800.