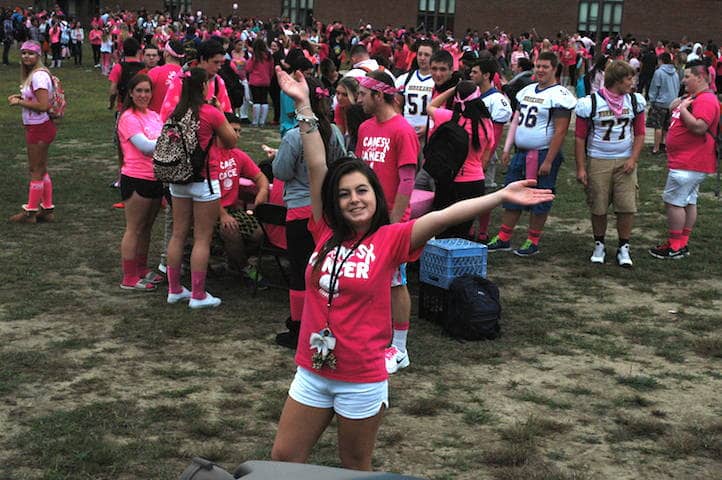 Warwick, RI – Warwick Vets students competed in a Humvee push, jumped down and on a bounce house, played games and entered a raffle at the end of school Friday, all wearing pink, to benefit breast cancer research.
While the school holds a "Pink Out" each year to fundraise for the Gloria Gemma Breast Cancer Resource Foundation, this year, Brittany Tarasenko, 16, a senior at the school, had an idea for something different, said Cindy Rix, English teacher and social arts coordinator.
"She said, 'What if we did a field day?'" Rix said.
Brittany arranged for a bounce house, and she had a line on the donation of a Humvee for the day from the RI Army National Guard through her friend, Adam Dorsey. Students wore pink on Friday, attended the field day during the last period of school, and each made a donation to the Gloria Gemma organization.
"She's a friend of my son, but I would help anyhow,"  said Adam's dad, RI Army Guard Master Sgt.  Steven Dorsey, who brought the Humvee.
Teams of students competed to see which group could push it the furthest. The winner got raffle tickets for Dunkin Donuts gift cards. They won't know how much money they've raised until next week.
"A lot, I would think," Rix said.
Rix said this Pink Out has been the best attended the school has had yet. School Secretary Cathy Bonang agreed. "She (Brittany) definitely was a very good model for what she accomplished today," Bonang said.
For the future, Brittany, a little younger than her peers due to starting school at four instead of five, said after high school, she'll study either accounting or criminal justice.