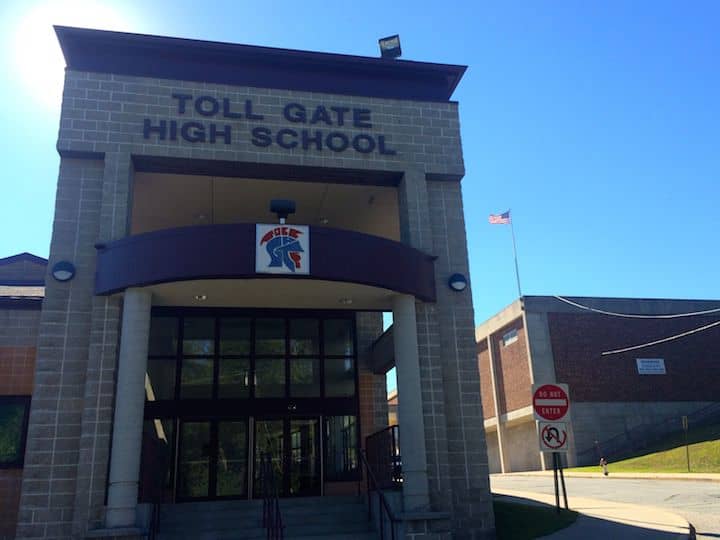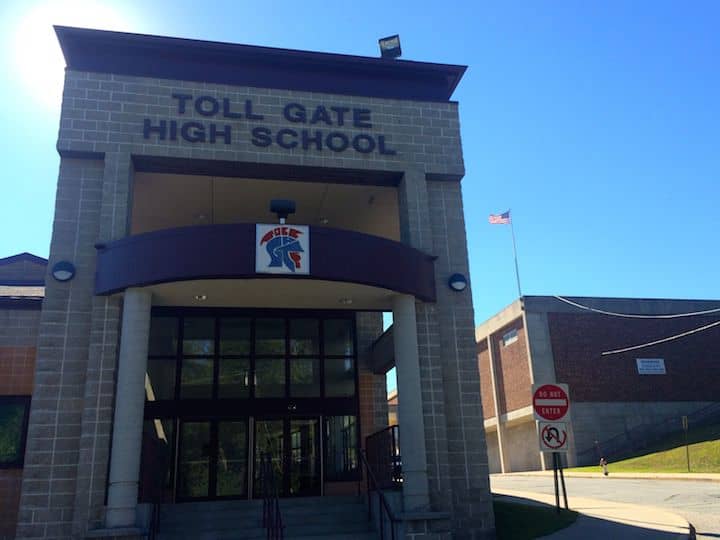 WARWICK, RI — Warwick Police have determined a Toll Gate student who threatened to shoot a fellow junior girl in September does not have access to firearms, but the victim's mother has kept her daughter home after the threat-making student returned to school Monday.
"On Monday my daughter informed me that this student was at school. I then picked my daughter up and let them know that if they couldn't deal with this that I planned to let every parent in the state know how seriously we take the 'zero tolerance for violence,' said Gina Mercurio Martin Tuesday morning.
Warwick Police report they have determined the threatening girl does not have access to firearms at her home, noting the decision to admit the student to classes is the School Department's to make. Mercurio Martin said police told her guns had been removed from the girl's house.
"The student isn't a danger as far as firearms are concerned," said Capt. Brad Connor, WPD operations bureau chief. He said that after the threats were reported, police assisted an "agency," in assessing the safety of the girl in her home. He said no charges were brought against the girl.
Connor said that if legal firearms are in a home, police check to ensure the guns are locked away from access to children in their safety assessments. He would not comment on whether firearms were located in the threatening girl's house.
Connor referred further questions about the incident to the Warwick School Department.
"In the fall there was an incident involving students and social media at Toll Gate High School.  In response, the School Department took appropriate action.  At all times, students in attendance were and continue to be safe at Toll Gate High School. We continue to employ routine safety protocols for any potential threat present at all of our schools. As always, we work in concert with state and local entities as needed to ensure the safety of all students," Superintendent Phil Thornton said in a statement to media Tuesday morning.
Mercurio Martin said she learned of the threats in late September.
"My daughter came to me and showed me the texts that were sent to her. They were graphic, saying she was going to shoot her, drag her bloody body through the hallways," she said. Mercurio Martin filed a report with the Warwick Police Department and she and her daughter met with Toll Gate's principal, Candace Caluori, the next morning, she said.
The student was removed from school briefly. "A few days later she was back at school and my daughter sent me a picture that had been posted at some point on social media of this student with a gun,", Mercurio Martin said.
Mercurio Martin notified the school and Warwick Police a second time, and removed her daughter from the school that day too, she said. The threatening student was removed from the school for three months, Mercurio Martin said, and Caluori assured her the incident was being handled appropriately, and that the girl would likely not return to Toll Gate.
"Three months went by and I received a call on Friday saying that she would be returning to the school. I called the Warwick school department to speak to the superintendent and received a call back from the director of secondary ed again. He said he promised I would know before she came back and he was sorry but she had been cleared by a medical professional, and was "OK" now," Mercurio Martin said.
Mercurio Martin posted about the situation on Facebook, framing it as a hypothetical question, which received hundreds of  comments and shares.
"For the time being I am keeping my daughter home, which is awful for her. I don't know what more I can do at this point. I wanted the public to know how our school department is handling this. As far as what to do, I will not send my daughter to that school with that child there. She deserves to receive an education and not feel scared or threatened," Mercurio Martin said.