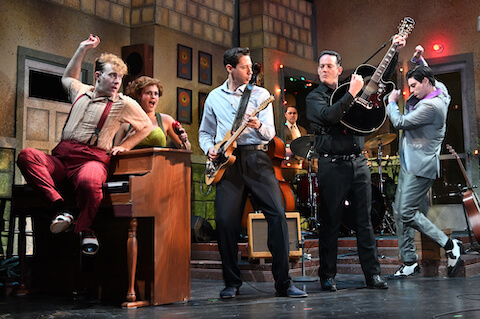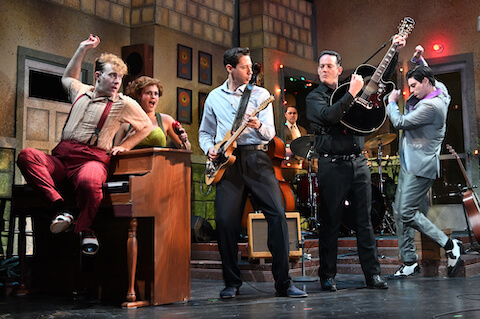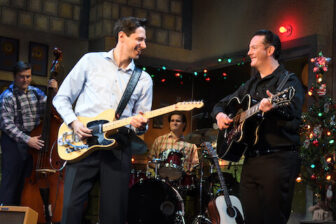 WAKEFIELD, RI — Theatre By the Sea has launched their 2022 summer season with the rollicking musical "Million Dollar Quartet."
Four musical legends – Elvis Presley, Johnny Cash, Carl Perkins, and Jerry Lee Lewis – gathered at Sun Records in Memphis for a once in a lifetime jam session in 1956.
Four musical legends – Elvis Presley, Johnny Cash, Carl Perkins, and Jerry Lee Lewis – gathered at Sun Records in Memphis for a once in a lifetime jam session in 1956.
The show, with a book by Colin Escott and Floyd Mutrux, is referred to as a "jukebox" musical, which packs in tons of hit songs from these artists. There isn't a conventional story, but rather a series of interludes depicting the rivalries between these men as well as their relationship to Sam Phillips (Michael Santora), the mercurial head of Sun Records.
For example, Perkins is incensed when Elvis scores a huge smash with "Blue Suede Shoes," a song he wrote and performed himself.
Phillips feels betrayed when Cash signs a lucrative recording contract with Columbia Records. He gave Cash his big break and hoped to have him record many more hit songs for Sun.
Lewis is the perpetual butt of jokes from his fellow singers. They mock him relentlessly but the good-natured musician takes it in stride.
Theatre by the Sea has always done a fine job casting their shows, and this time is no exception. All four actors hired to play the quartet are not only charismatic, but are terrific vocalists as well.
Alessandro Viviano has Elvis' infamous hip thrusts down perfectly and does a bang up job on "Long Tall Sally" and "Hound Dog."
Sky Seals' Cash is a laconic and somber man who wrote moody, introspective songs stemming from a troubled childhood. Cash, who dealt with alcohol addiction, has a great line about how "middle aged drunks don't buy records, they make them."
Seals strums the guitar and belts out classics like "Folsom Prison Blues" and "I Walk The Line."
Colin Summers' Perkins is deeply competitive and headstrong and is threatened by the growing popularity of Elvis and the young upstart Jerry Lee Lewis, a wizard behind the piano.
The real standout was the dynamic Taylor Isaac Gray as Lewis, a fast and loose performer with a raging libido.
Gray brought down the house with a show-stopping "Whole Lotta Shakin' Goin' On" and the classic "Great Balls of Fire."
I also liked the lovely Emma Wilcox as Dyanne, one of Elvis' girlfriends. Wilcox gets to take the microphone a couple times and knocks it out the park with a sultry rendition of "Fever."
The ensemble also shines on the gospel classic "Down By the Riverside."
Kroy Presley and Matt Rapiejko played Brother Jay and Fluke, two of the session musicians at the recording studio. Presley also served as musical director.
Director and choreographer Greg Santos has crafted a high energy and stylish show with striking scenic design by Kyle Dixon and costume design by Travis M. Grant.
The four men who made up the "Million Dollar Quartet" made music with their heart and soul. There's a reason why their songs, which were a mix of country, rock, and blues, have endured.
This show not only will make you want to get up and dance, but to seek out the music and memories these men left behind.
Million Dollar Quartet runs through June 18. The theatre is located at 364 Cards Pond Road, Wakefield. Tickets are on sale at the box office Monday through Saturday from 11:00 am – 5:00 pm and performance days from 11:00 am until curtain, (performance Sundays 12 noon until curtain), online 24-hours-a-day at www.theatrebythesea.com and via telephone during normal box office hours by calling (401) 782-TKTS (8587).