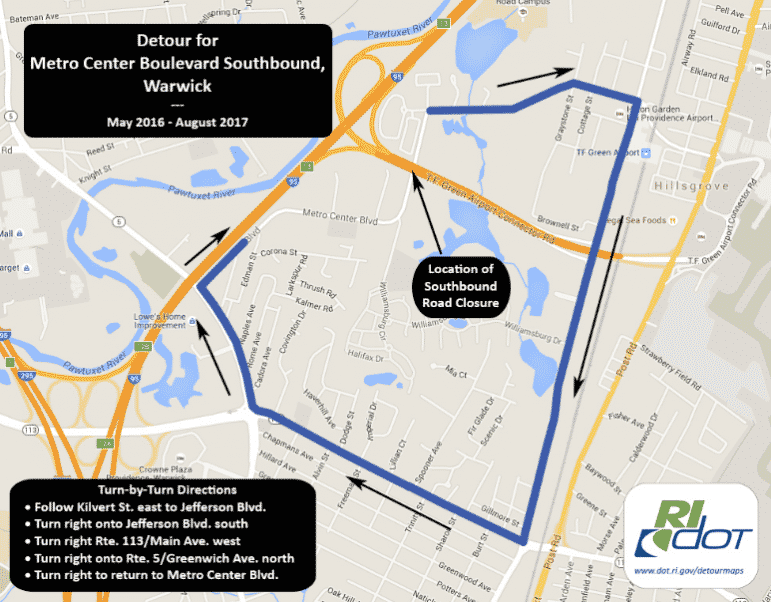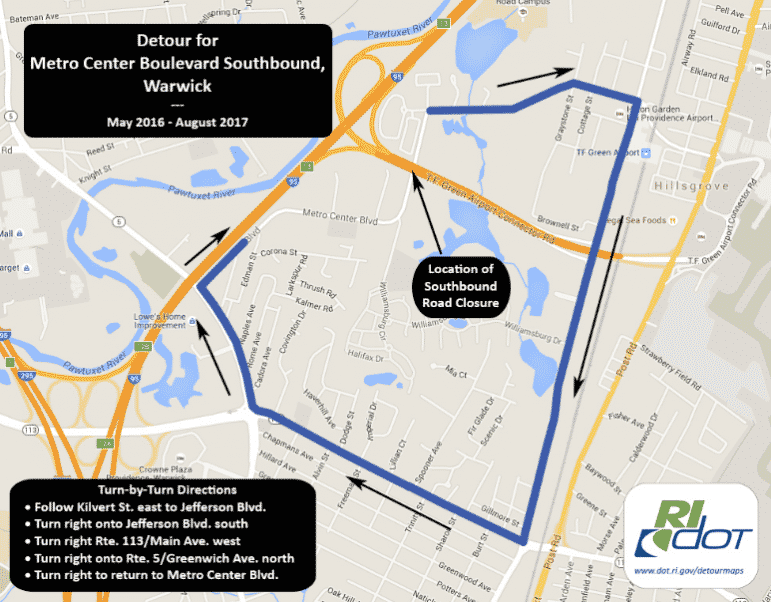 Warwick, RI — Rhode Island Department of Transportation (RIDOT) will temporarily close Metro Center Boulevard to southbound traffic from Kilvert Street to just north of 100 Metro Center Boulevard (the area over the Airport Connector) in Warwick as part of a $750,000 bridge preservation project.
The closure is scheduled to begin Monday morning, May 16 and continue through August 2017, according to a release from the RIDOT.
The Metro Center Boulevard Bridge will remain open for northbound traffic. Southbound traffic will need to follow the signed detour using Jefferson Boulevard South to Route 113 (Main Avenue) West to Route 5 (Greenwich Avenue) North and back to Metro Center Boulevard.
Work at the Metro Center Boulevard Bridge includes repairs to the deck, joint replacement, steel beam repairs, and repainting the bridge. During construction, crews will typically be working weekdays from 7 a.m. to 3 p.m. The painting will most likely occur during the overnight hours from below on the Airport Connector. Lane closure information will be available on the RIDOT's site.
The Metro Center Boulevard Bridge work is part of a larger $8 million bridge preservation project, with a budget contingency of $400,000, encompassing repairs to the Airport Connector, seven bridges, and the resurfacing of a portion of Route 2 in Warwick.