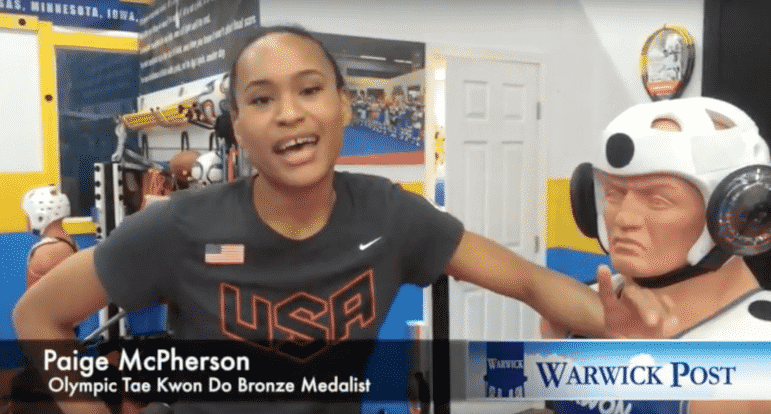 Warwick, RI — Paige
"McFierce" McPherson
, Tae Kwon Do Bronze medalist, wants every advantage she can get when she faces off against 16 competitors in the 2016 Olympics Aug. 19, so she's training at at Tom Chea's Martial Arts one week each month.
Chea's gym is equipped with
a Fit Light training system
he's modified for Tae Kwon Do training so his students can increase their reaction time. React faster than your opponent, and you block a hit, or score your own.
"Really the smallest little difference can make you go from a medalist to a champion," McPherson said while training at the Warwick gym at 25 Coronado Road.
McPherson's coach, Juan Moreno, himself a three-time Tae Kwon Do medalist, learned of the system while visiting to help train Chea's students, the gym owner said. One of Chea's students, a Andrew Kaczmarzyk, a 12-year-old beginner (white belt) who'd been training on his fit light system, was routinely beating black belts in matches while Moren was visiting from Florida.
Moren decided to see what the system could do for his students, McPherson, so she's visiting from the sunshine state once a month during her training. Chea said he's helped Providence Bruins' Alexander Khokhlachev improve his game, as well as that of Lasalle soccer player Victor Rey. The Hendricken Hockey team and the NK Volleyball team also train in his gym.
For McPherson, the results have also been impressive. During a session Thursday night, McPherson was clocked reacting to stimuli within 200 milliseconds.
"That's the same as a race car driver," Chea said.