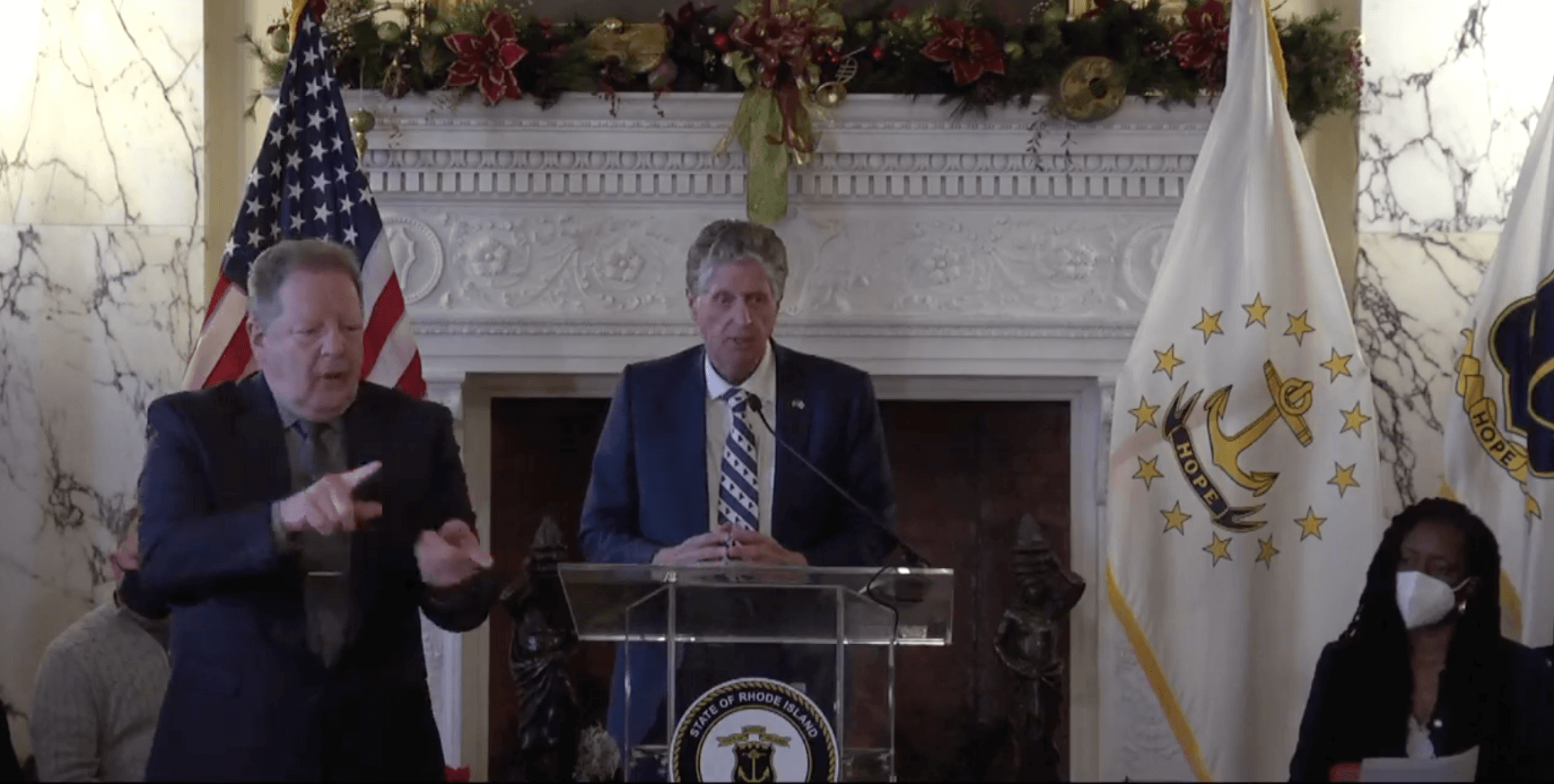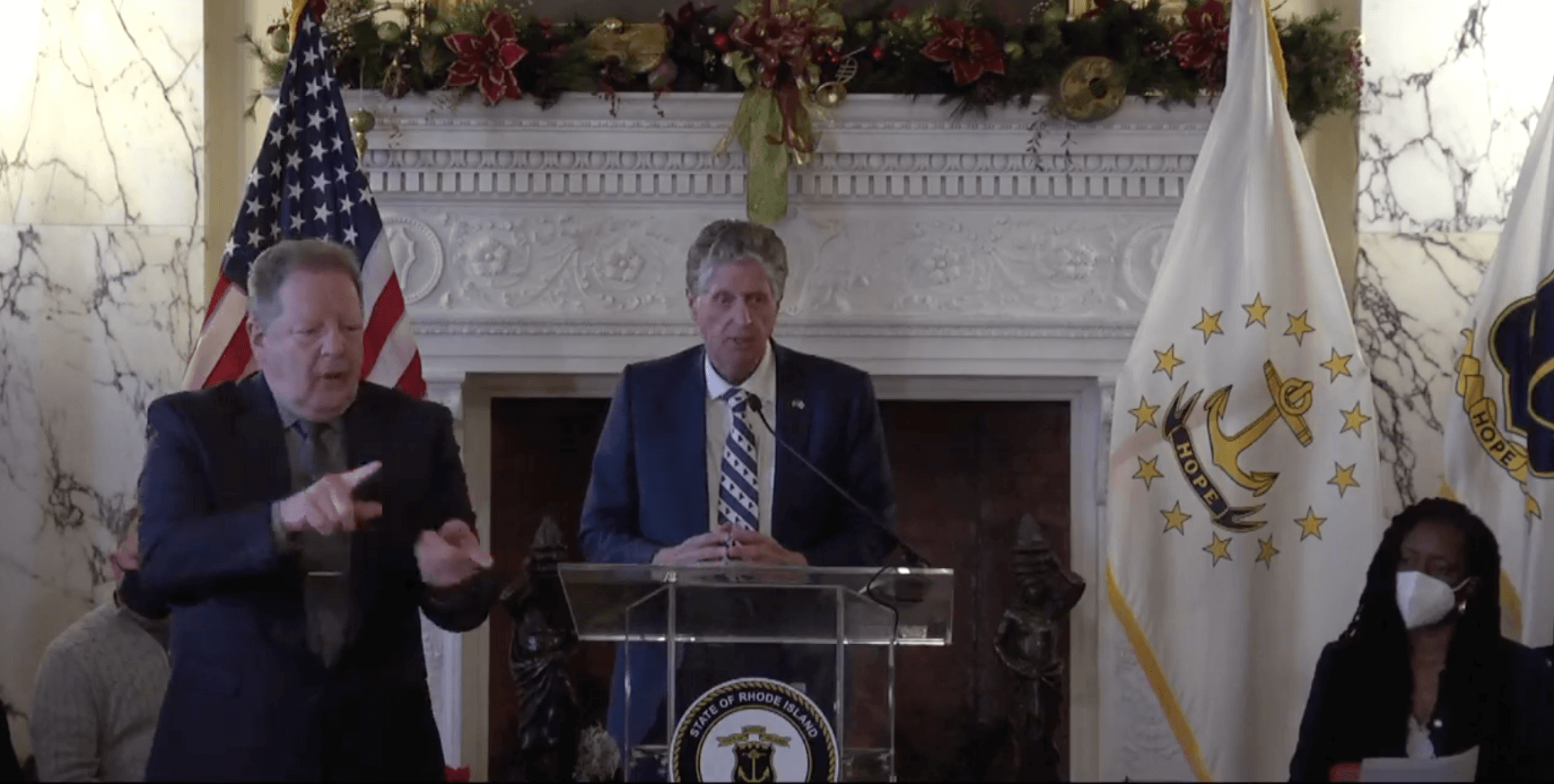 PROVIDENCE, RI — The state's 5 percent COVID-19 positive rate is expected to increase with the more contagious Omicron variant, so masks and vaccines will be required in most indoor situations, Gov. Dan McKee announced Wednesday.
There were 1,092 positive COVID-19 cases in RI Wednesday, and there were more than 1,000 for the previous two days. A winter rise in COVID-19 cases was expected before Omicron was known to be spreading here as cold weather put more people indoors with closed windows. Omicron is expected to further increase pressure on hospitals, with ripple effects on the economy and schools, McKee said.
"Now's the time to act," he said.
McKee said he is asking for FEMA's help adding staff to the state's hospitals to deal with the rising cases.
"All of our hospitals are at a breaking point," McKee said.
Mask, vaccine mandates start Dec. 20
Also, starting Monday, Dec. 20, an executive order will establish the following vaccine and mask mandates for people aged 2 and up, for 30 days, McKee said:
Cat 1: Indoor venues with an over 250-person capacity – Masking required regardless of vaccination status
Cat 2 – Indoor gyms, dance studios, entertainment venues, restaurants and other areas with fewer than 250-person capacity –  Masking, or proof of vaccination, will be required of employees and patrons
Cat 3 – Office-based businesses and other public and private employers – Must require either masking or proof of vaccination.
The requirements will be re-evaluated as the executive order expires, McKee said.
Proof of vaccination can be done using:
Your original vaccination card
A  photo of your vaccination card
An app showing proof of vaccination
"The reality is that we have a more contagious variant of COVID-19 now here in Rhode Island," said Rhode Island Department of Health Director Dr. Nicole Alexander-Scott, with spread of the virus similar to this time last year.
"Unlike last year, we have been here before. We have the tools to get through this. We know what works and we want to implore everyone, it's my responsibility to make sure that you are all educated on what works and how we can get through this together," Alexander-Scott said.
Vaccinations: Boosters are now a crucial defense
She reminded people that vaccinations, including booster shots, are an important defense against spreading the virus. Unlike pre-Omicron spread, she said, booster shots are no longer something you can do to make yourself extra safe. The Omicron variant not only spreads more easily, it also reduces the effectiveness of vaccinations from about 90 percent to about 35 percent. Booster shots, however, increase protection to about 70 percent.
"They are a necessity to get Rhode Island ready for where we need to be," said Alexander-Scott.
While RIDOH is seeing increases in COVID-19 cases among every age group, the highest increases are among unvaccinated groups, such as the 5-11 year olds, who became eligible for the shots only a short time ago.
Unvaccinated people, she said, are:
4 times more likely to be infected
11 times more likely to be hospitalized
About two-thirds of COVID-19 hospitalizations are among unvaccinated individuals, she said.
Masks also an important defense against COVID-19
Alexander-Scott reminded people that masks are also very important in controlling respiratory viruses. She said few people know, but Rhode Island nearly didn't have a flu season at all due to the effectiveness of widespread mask use last year.