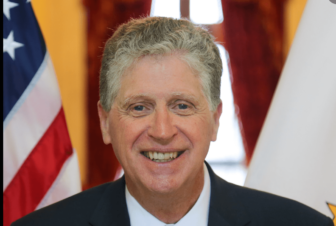 PROVIDENCE, RI –  Late Saturday, Gov. Dan McKee tested positive for COVID-19 with minor symptoms and is reaching out to close contacts while isolating for five days, according to his press office.
"Late yesterday evening, Governor McKee tested positive for COVID-19. He only has minor symptoms because he is vaccinated and twice boosted. After speaking with his doctor, the Governor has begun taking the antiviral medication Paxlovid and is isolating for 5 days. During this time he will be working remotely," said Matt Sheaff, a spokesman for McKee.
The Governor is in good spirits and is grateful for the support of his family and staff, said Sheaff.
The Governor's office will contact anyone who may have been exposed to COVID-19 while interacting with McKee over the past two days, Sheaf said.
Per CDC guidance, recently updated Aug. 11, those exposed are encouraged to monitor for symptoms and test on the sixth day after potential exposure.
CDC's new guidance on COVID-19
CDC's new guidance on COVID-19 noted the following points:
Reiterating that regardless of vaccination status, you should isolate from others when you have COVID-19.

You should also isolate if you are sick and suspect that you have COVID-19 but do not yet have test results.

If your results are positive, follow CDC's full isolation recommendations.
If your results are negative, you can end your isolation.

Recommending that if you test positive for COVID-19, you stay home for at least 5 days and isolate from others in your home.  You are likely most infectious during these first 5 days. Wear a high-quality mask when you must be around others at home and in public.

If after 5 days you are fever-free for 24 hours without the use of medication, and your symptoms are improving, or you never had symptoms, you may end isolation after day 5.
Regardless of when you end isolation, avoid being around people who are more likely to get very sick from COVID-19 until at least day 11.
You should wear a high-quality mask through day 10.

Recommending that if you had moderate illness (if you experienced shortness of breath or had difficulty breathing) or severe illness (you were hospitalized) due to COVID-19 or you have a weakened immune system, you need to isolate through day 10.
Recommending that if you had  severe illness or have a weakened immune system, consult your doctor before ending isolation. Ending isolation without a viral test may not be an option for you. If you are unsure if your symptoms are moderate or severe or if you have a weakened immune system, talk to a healthcare provider for further guidance.
Clarifying that after you have ended isolation, if your COVID-19 symptoms worsen, restart your isolation at day 0. Talk to a healthcare provider if you have questions about your symptoms or when to end isolation.