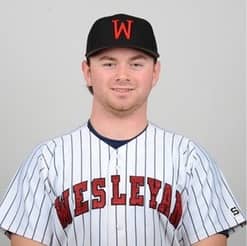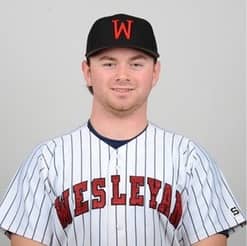 Michael McCaffrey of Warwick, a junior on the Wesleyan University baseball team, was named NESCAC Pitcher of the Week for the second time in his career on April 9 after preventing any hits during six innings of work during a 1-0 win over NESCAC West Division-rival Middlebury in Game 1 of a three-game series on April 7 at Dresser Diamond.
McCaffrey (2-2), who also garnered Pitcher of the Week acknowledgement on April 3, 2017, is the third Cardinal to earn a weekly conference award in baseball this spring. Wesleyan has compiled a 13-6 overall record and an unblemished 3-0 mark in the NESCAC West Division.
McCaffrey currently leads the NESCAC with 37 strikeouts on the season, as he also earned the win on the mound during the team's 5-2 season-opening win over Dubuque in Tucson, Ariz., on March 11, as he only gave up one earned run on six hits in 4 1/3 innings, to go along with five strikeouts.
McCaffrey previously attended Bishop Hendricken High School.
Wesleyan University is a private, non-sectarian liberal arts university in Middletown, Conn. Founded in 1831, Wesleyan offers its 3,000 undergraduates and 200 graduate students a demanding educational environment characterized by boldness, rigor and practical idealism.