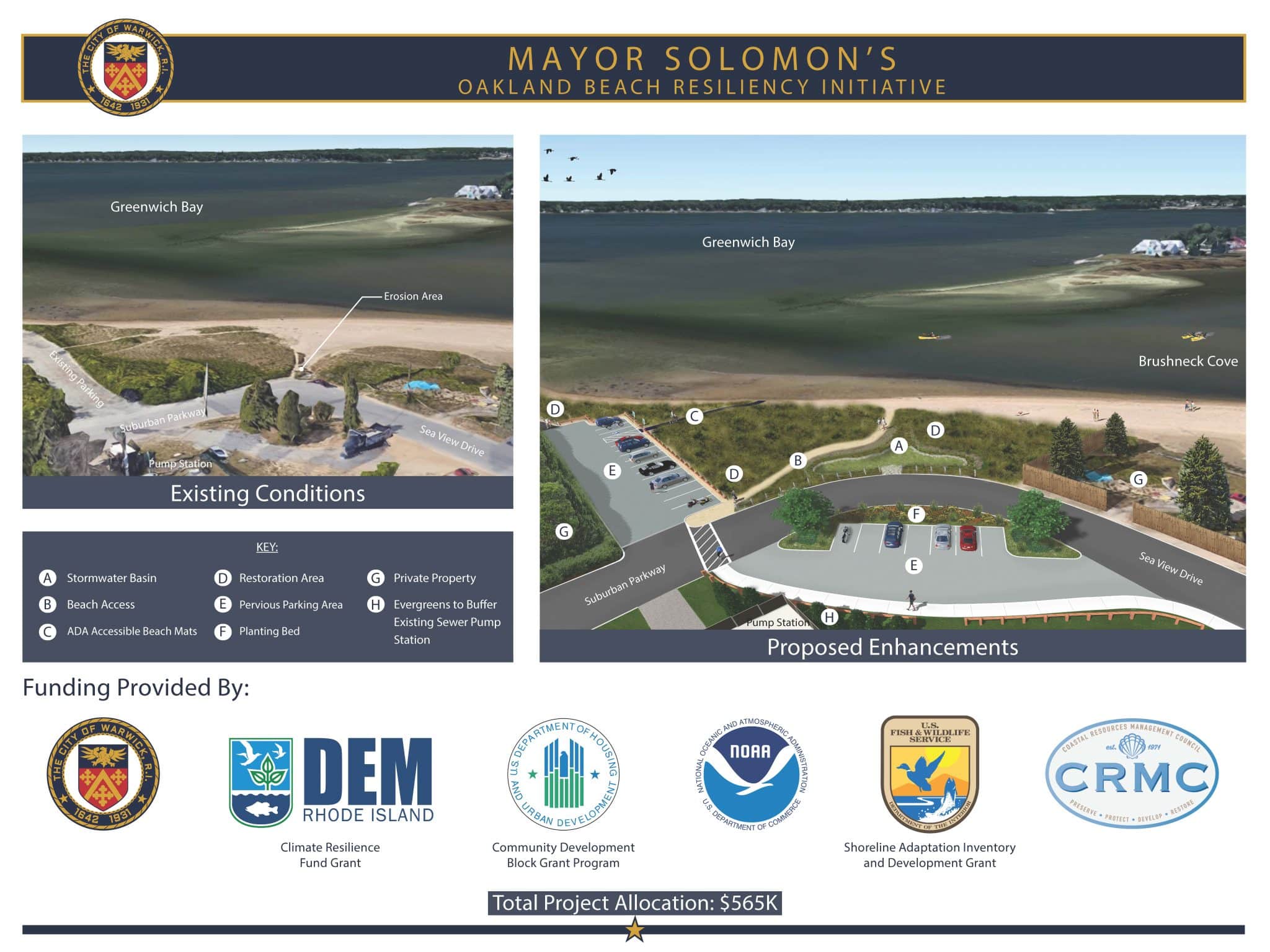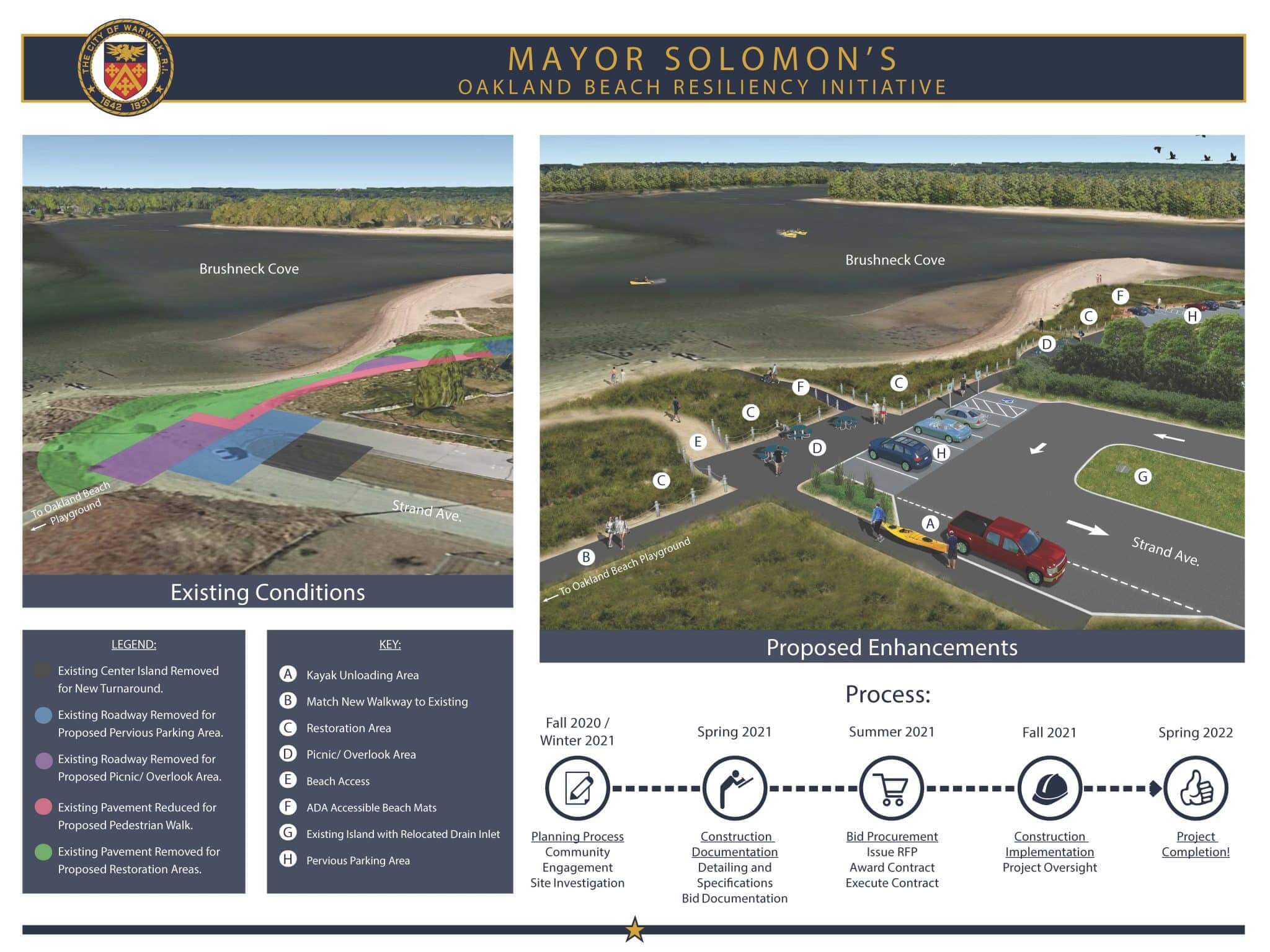 WARWICK, RI — Tuesday, Mayor Joseph J. Solomon joined Ward 6 City Councilwoman Donna Travis at the Seaview Drive parking area to announce $565,000 in water quality and coastal resiliency projects aimed at girding the neighborhood from projected sea level rise caused by global warming.
The projects, along Seaview Drive and Strand Avenue respectively, are expected to begin this fall and wrap in the spring of 2022.
"My team has been working on this project for several years, and I'm very excited that this work will improve the area in so many ways: we're bolstering the shoreline to protect against erosion, increasing access to the water, and putting in vegetation that will help filter stormwater runoff instead of just running into the bay," said Solomon 
The RI Department of Environmental Management has awarded the City $400,000 from its Climate Resilience Grant Program for the project; additional funds are being allocated through the U.S.  Housing & Urban Development Community Development Block Grant Program and the Coastal Resources Management Council's (CRMC) Shoreline Adaptation Inventory and Design (SAID) program.
Solomon's Oakland Beach Resiliency Initiative will include the removal of low-lying street pavement and parking that is currently vulnerable to coastal flooding. The project will also include the establishment of a vegetated coastal buffer, construction of structural and vegetative measures to treat stormwater runoff, planting of native vegetation, extension of a recreational walking path, and general improvements to the waterfront access corridors. The purpose of the project is to prevent erosion, protect existing infrastructure, enhance water quality, improve natural habitat, provide better public access, and preserve recreation opportunities for years to come.
 Solomon stated that when the project is completed, a portion of the existing parking area will be preserved and supplemented to give neighborhood residents, as well as visitors, direct access to waterfront areas and expanded recreational opportunities. The existing coastal walking path, located on the south side of Strand Avenue, will be extended north to Suburban Parkway. New, informal pathways will maintain and enhance access to the beach area. Additional improvements to pathways will increase access for individuals with disabilities. Interpretive signage will be installed to convey the rich cultural history of the area, as well as educate the public about this unique coastal habitat and efforts to improve resiliency and water quality. All of these enhancements will be made while simultaneously reducing the amount of pavement and unnecessary built infrastructure, increasing coastal habitats, addressing water quality issues, and improving overall resiliency.
The Mayor noted that without some type of mitigating actions, coastal flooding associated with sea level rise and associated erosion is expected to significantly impact the waterfront along Seaview Drive and could begin to displace residential dwellings in the area. The establishment of the vegetated coastal buffer and reduction of impervious surfaces, as set forth in the scope of this project, will help slow erosion, reduce flooding, improve water quality, and expand natural habitat along this important coastal barrier.