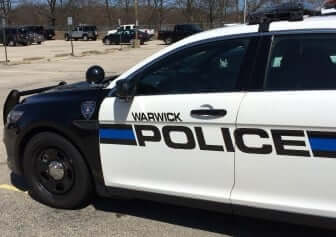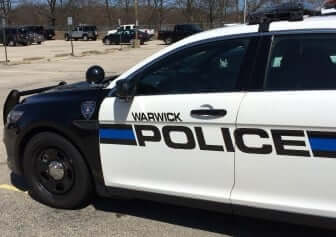 WARWICK, RI — Shortly before his arrest on a DUI charge Oct. 20 at about 7 p.m. at the Quaker Lane Wendy's, bystanders and security video witnessed a West Warwick man urinating at the Four Seasons gas pumps nearby.
According to Warwick Police, Joey Michael Scott, 50, of 40 Dogwood Ave., West Warwick, was recorded urinating at the gas pumps as he stood between the door of his Chevy Silverado and the pumps, according to the report of Officer Stephen Major. Major described footage from the night, noting that Scott first staggered backward while standing at the pumps, then regained his balance before relieving himself from his position at the gas pumps between his car door and his white 2017 Chevy Silverado.
The behavior, usually reserved for the station's restrooms, caught the attention of one of the people within view, who called Warwick Police to let them know the man, whom they described as obviously intoxicated, had driven away in his pickup and headed north on Quaker Lane.
Officer Anthony D'Abrosca was also called to the scene, then redirected to the Wendy's by Major, who had caught up to the driver there, according to the officer's report. At the fast food restaurant, D'Abrosca met up with Major and the two approached the Silverado, which had been parked in the back of the lot.
Major spoke with the driver, identified him as Scott, and asked him to step out of the Silverado. Scott did, and was unsteady on his feet, according to the report. He also had bloodshot eyes and slurred his speech.
Major reported seeing large, opened cans of beer in the truck with Scott, also noted his eyes were bloodshot and watery and his speech was slurred. Scott's breath also smelled of alcohol, Mayor noted. When Major asked when Scott had drank the opened cans of beer, he said he had last drank them three hours before, according to the report. Major asked him to get out of the truck and perform sobriety tests.
Major also observed Scott was unsteady on his feet as he stepped from the truck. During the tests, Scott demonstrated a lack of smooth pursuit in his vision, was unable to reliably walk heel-to-toe in a straight line as instructed, and was also unable to stand on one foot for more than a few seconds. During the tests, when asked to walk an imaginary line, Scott replied, "An imaginary line, how am I supposed to walk on that?" So Major directed him to a yellow line for the drive-through in the lot. The visual cue was of little help, as he walked off-line, started too soon, and did not keep his balance.
Major arrested Scott on suspicion of driving under the influence of alcohol, and transported him to Warwick Police Headquarters, 99 Veterans Memorial Drive, where he refused to take a breath test of his blood alcohol level. Major charged him with DUI, blood alcohol content unknown, and cited him for refusing the test.