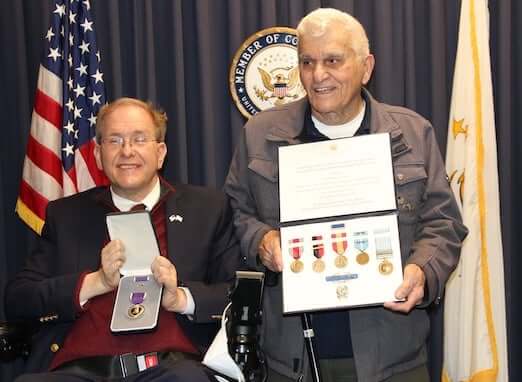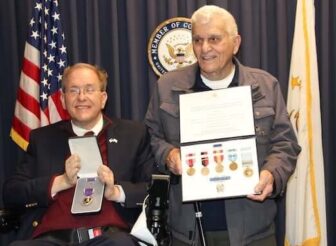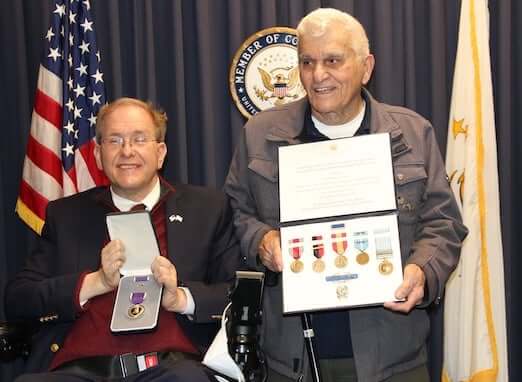 WARWICK, RI —Anthony "Tony" Mazza returned home from the Korean War as the nation was struggled to care for thousands of combat veterans from both World War II and Korea, and the government lacked resources to honor him as deserved.
"Today, we had the opportunity to correct that," said Congressman Jim Langevin, senior member of the House Armed Services Committee, at his office in Warwick,
300 Centerville Road, Suite 200 South.
On Friday, Langevin presented a collection of service medals, including the Purple Heart, to Mazza for his service in the United States Army during the Korean War.
Born in 1929, Mr. Mazza was deployed to Korea in 1950 with the 5th Regiment's 24th Infantry Division as a rifleman in Bravo Company. Shortly after arriving in Korea, all of Mr. Mazza's personal belongings were burned, leaving him with just one uniform and one pair of socks, according to a statement from Langevin's office.
After seven months of running from foxhole to foxhole in one pair of socks during the Korean winter, the damage to Mr. Mazza's feet was extensive. At risk for a double amputation, Mr. Mazza was sent to Osaka Military Hospital and treated for severe damage on both feet.
Due to the injuries Mr. Mazza sustained in the line of duty, he was awarded our nation's oldest military award and solemn distinction, the Purple Heart. He was also awarded the Presidential Unit Citation Medal, and several other medals in recognition of his distinguished service.
"I am forever grateful for his service," Langevin said.