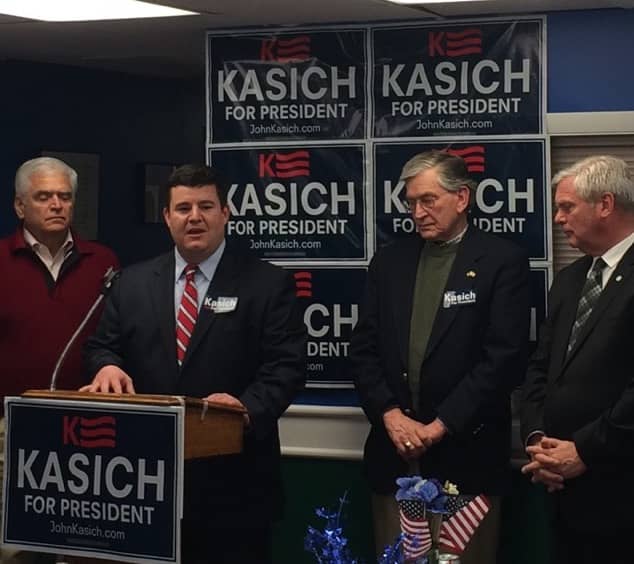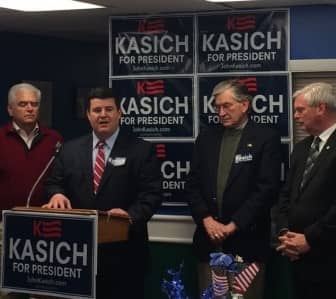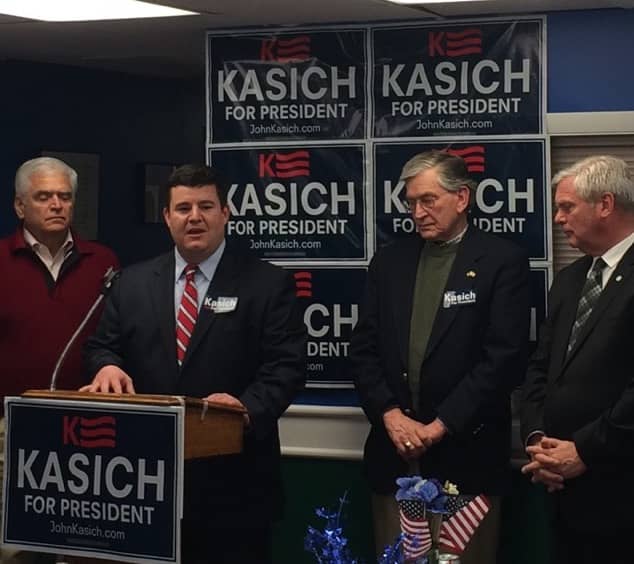 Warwick, RI — GOP Presidential Candidate John Kasich's mathematically impossible delegate path to the Republican nomination for president doesn't faze the members of his RI leadership team, who hope to prevail during a contested convention July 18.
Kasich's campaign opened its RI headquarters at Mayor Scott Avedisian's campaign headquarters on Airport Road April 11, drawing about 35 supporters to the narrow interior, the site of routine victories for the Republican mayor.
The candidate is also expected to visit the Ocean State April 23 at Bryant University in the George E. Bello Center, at 11 a.m. Tickets are at the event's registration page.
RI Sen. Dawson Hodgson (R-Dist. 35, North Kingstown) said the mission of the leadership team, including himself, Avedisian and Gary Sasse, the former chairman of Sen. Marco Rubio's campaign in the state, "Is to save the Republican party."
Doing so, Hodgson said, requires a qualified candidate, and Kasich is the only one running for president who fits the bill.
"There's parts of his record that I think should be very appealing to Rhode Islanders," Hodgson said.
Hodgson touted Kasich's work on the Balanced Budget Act of 1997 while an Ohio Congressman and chair of the House Budget Committee. The Balanced Budget act, combined with a booming economy and a tax increase on the wealthy and moderate income Americans on 1990 and 1993, helped the Clinton Administration balance the federal budget, according to a report on Kasich's balanced budget record on Politifact.
Kasich's delegate count isn't a factor in their strategy, Hodgson said, because they expect to compete at a contested Republican National Convention in July. Sen. Ted Cruz recently announced he is also pursuing the Governor's contested convention strategy after his loss in the New York primary to front runner Donald Trump.
Also, Sasse said, Kasich has the best chance against the likely Democratic nominee, former Secretary of State Hillary Clinton.
"He is the most electable, and the purpose of the party is win elections," Sasse said.