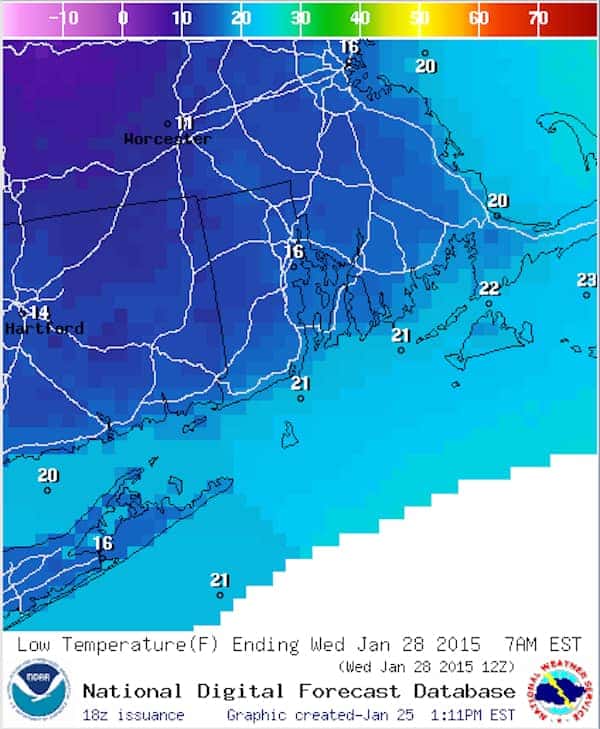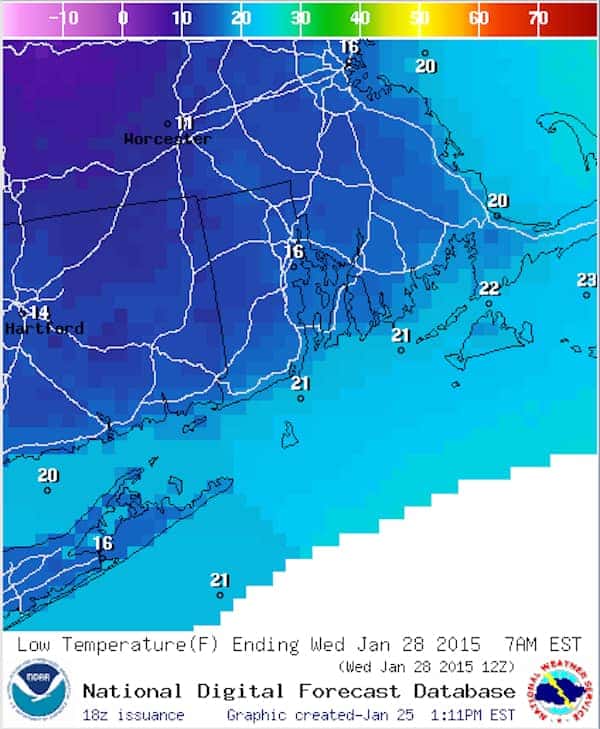 Warwick, RI — Update: 6:53 a.m.: Snow is now expected to begin after 1 p.m., according to the NWS.
All indications are that a severe winter storm will hit the Rhode Island area beginning Monday night, Jan. 26, and continuing through Tuesday night, according to the National Weather Service, which issued a Blizzard Warning ahead of the storm, nicknamed 'Juno' by the Weather Channel.
Read the latest updates on the first blizzard of 2015 on the Warwick Post Storm Center.
Snow is expected to start Monday afternoon, after 1 p.m., increasing overnight and building to blizzard intensity during the day Tuesday, when winds are expected to gust up to 60 mph. Estimates range from 12 to 24 in. of total snowfall for the Rhode Island area, the Weather Service reported.
The city of Warwick issued a parking ban, effective Monday afternoon, Jan. 26, until further notice.
With a forecast like that, it's best to be prepared — here's the Rhode Island Emergency Management Agency list of winter weather preparedness tips.
Among the advice offered by the RI EMA:
Stay indoors during the storm if at all possible. Maintenance crews will be plowing and treating roadways, and traffic makes that work more difficult.
Before the storm hits, stock up on non-perishable food, water, batteries, and other basics to cover three days. Have a battery-powered radio to get news alerts in case cell phone service is disabled.
Wrap exposed pipes in insulation or newspaper to prevent freezing.
Prepare your Winter Weather Supply Kit with a freshly-stocked first-aid kit, essential prescription medicines, non-perishable foods (those that require no refrigeration such as canned goods, dried fruits and nuts), a non-electric can opener, water (one gallon per person, per day), baby-care items, extra blankets, sleeping bags and a fire extinguisher.
See how people in Warwick are stocking up ahead of Winter Storm Juno.
Because of the storm, this will likely be the first time this year that schools are closed due to the weather — here's how to sign up for text alerts from the Rhode Island Broadcasters Association.
Keep up with the latest forecast on the National Weather Service website — and watch Warwick Post for updates.