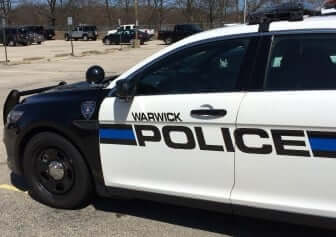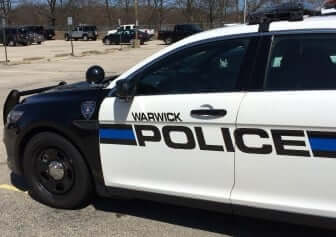 WARWICK, RI — On Oct 22 at 1:45 a.m., Officers Richard Odell and  David Babcock were called to  Greenwich Avenue for rotary crash, finding a BMW on the curb in the center, then arrested the driver on a DUI charge.
Odell and Warwick Fire rescue were first to arrive, finding a couple standing next to a gray BMW B328 with significant damage, its airbags triggered according to Babcock's report. A man and woman were standing nearby.
On the sidewalk of the south side of Greenwich Avenue, Babcock saw a Blue Toyota Tacoma with significant damage. The Tacoma's driver told him he had been driving west on Veterans Memorial Drive when he entered the rotary, where the BMW struck his truck at high speed. The driver was examined by Warwick Fire Rescue personnel, according to the report.
The BMW driver, identified as Dean E. Bogdan, 27, of 6 Sweet Meadow, Cranston, RI, told Babcock he had been traveling north on Greenwich Avenue through the rotary when the Tacoma struck his car, spinning it out onto the curb.
As Babcock spoke with Bogdan, the officer smelled alcohol on his breath, saw his eyes were bloodshot, and noted slurred speech. When asked if he had been drinking earlier, Bogdan said he had drank three or four alcoholic drinks at Lowkey restaurant in East Greenwich.
Babcock asked Bogdan to perform sobriety tests, which he did, demonstrating a lack of smooth pursuit and involuntary movement in his vision, stepped off-line and missed heel to toe steps on every step during a walk and turn test, and put his foot down, hopped and used his arms for balance during a one-leg stand test.
Bogdan also registered a .133 blood alcohol level on a field breath test, after which Babcock arrested him on suspicion of DUI, and transported him to Warwick Police Headquarters, 99 Veterans Memorial Drive, where he refused a second breath test.
Babcock charged Bogdan with DUI, blood alcohol unknown, and cited him for refusing the breath test.