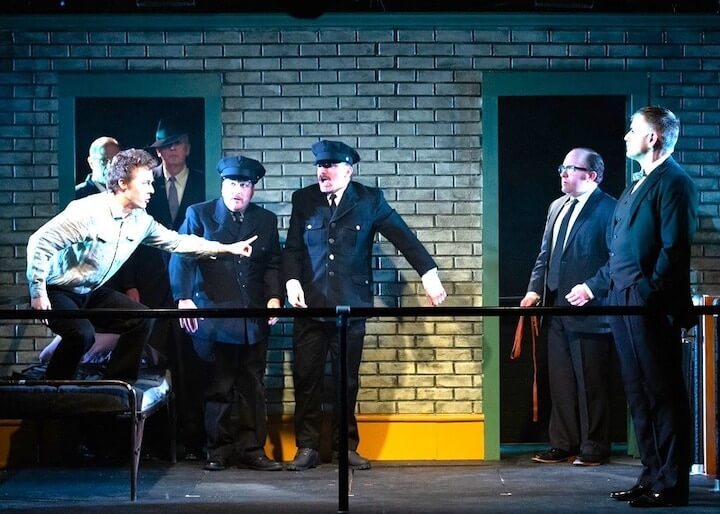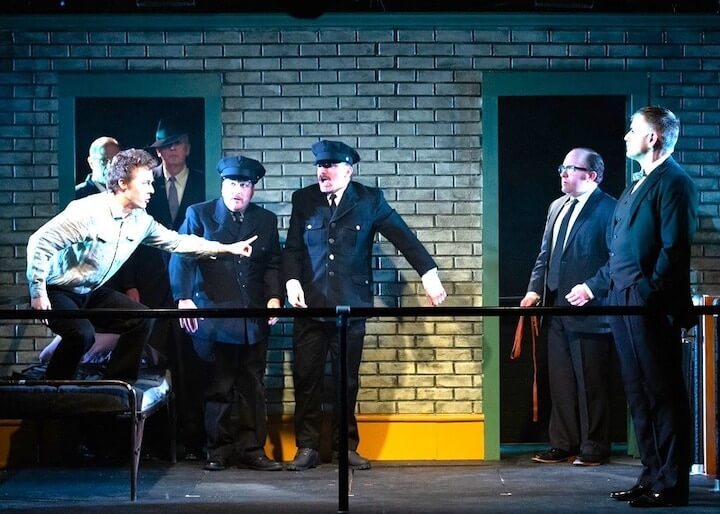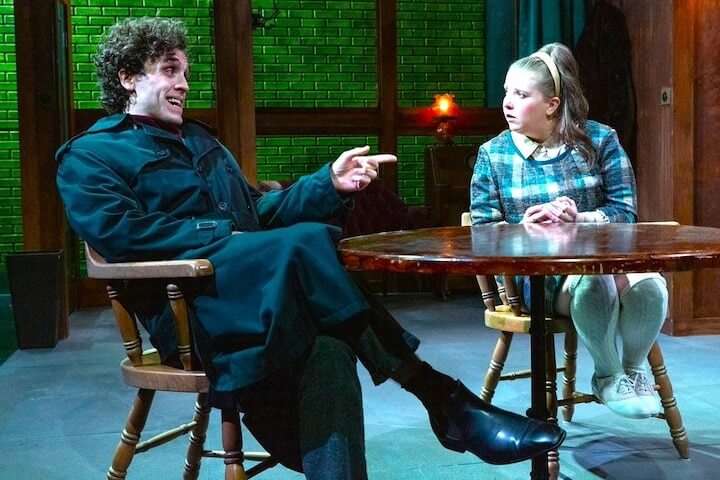 WARWICK, RI— Martin McDonagh's "Hangmen" is a comedy wrapped up in tragedy with characters relying on raw emotion instead of logic.
The Gamm Theatre has produced other McDonagh plays including "The Beauty Queen of Lenane" and "A Skull in Connemara." "Hangmen" goes down a much darker path than those stories ever did.
That much is made clear from the opening scene in 1963, when Hennessey (David Ensor), who's been convicted of murdering a young woman, desperately proclaims his innocence as his executioners prepare to hang him.
One of the men informs Hennessey he would be dead already if he just calmed down and let them do their job. The way the dialogue is delivered earns a laugh and breaks the tension before the inevitable occurs. 
The action then jumps forward two years to 1965 when the death penalty was abolished in Great Britain.  
Harry (Steve Kidd), who gave the order to end Hennessey's life, is running a bar in a Northern England town. He has a loving wife named Alice (Karen Carpenter). His introverted teenage daughter Shirley is the subject of much teasing from Harry's patrons.
To say Harry is unapologetic is an understatement. He speaks to a local newspaper reporter and boasts about how many men he hanged during his years as an executioner. 
"HANGMEN" is riveting entertainment. As a treatise on capital punishment, it provokes discussion. As a theatrical experience, it draws you in from the first moment and never lets you go.
Not long after, Peter Mooney visits the bar and chats up a distraught Shirley. He promises to take her to visit a friend in a mental hospital. Shirley is charmed by the man even as the questions he asks her become increasingly creepy. There's something off about the man, but Shirley agrees to meet him. 
Shirley's whereabouts are unknown for much of the second act. What has happened to her? And what does this have to do with Harry's work as the executioner?
No spoilers here, except to say that Mooney has some type of axe to grind with Harry. He may be merely playing a mind game or his intentions could be much more sinister.
Director Tony Estrella ("Describe the Night") ratchets up the tension to nearly unendurable levels as everyone wonders what Peter may have done to Shirley after she fails to return to the bar. 
Jessica Hill Kidd's multi-level set design is ingenious and James Horban's atmospheric lighting establishes the foreboding setting perfectly.
Kidd ("The Night of the Iguana") is in top form here. Harry is a deeply flawed man seemingly incapable of introspection. What's truly disturbing here is his lack of conscience when questioned about his executions of potentially innocent men. It was merely a job for him, nothing more.
The real standouts in the large cast are John Hardin ("Bad Jews") as Mooney, and newcomer Abigail Milnor-Sweetser as Shirley. Hardin exhibits a devilish glee as he relentlessly taunts the bar patrons, including the hapless Inspector Fry (Steven Liebhauser), a police detective. Mooney derives delight by psychologically tormenting Harry and making everyone wonder what madness he is capable of.
Milnor-Sweetser beautifully portrays Shirley's loneliness and insecurities as she seeks love and companionship, unaware of the danger surrounding her. She's the proverbial lamb in a den of wolves.
Jim O'Brien ("Admissions") is outstanding as Albert Pierrepoint, also an executioner. In real life, Pierrepoint hanged more than 450 people, including Nazi war criminals in post-war Germany. Pierrepoint later expressed his doubts about the effectiveness of capital punishment, noting it did not deter any future murders from being committed.
 "Hangmen" is not a sermon about capital punishment. McDonagh is far more ambitious in his writing. He ponders the morality of men (and women) rendering judgment on other human beings without gathering all the evidence necessary to reach a reasonable conclusion. That defines the tragedy in this show.
There have been thousands of executions carried out in the United States. How many innocent men and women have been put to death? How does a man feel after he has ended another's life? 
 "HANGMEN" is riveting entertainment. As a treatise on capital punishment, it provokes discussion. As a theatrical experience, it draws you in from the first moment and never lets you go.
Hangmen runs through November 26. The Gamm Theatre. 1245 Jefferson Boulevard. For tickets, call 401-723-4266 or visit  https://www.gammtheatre.org.