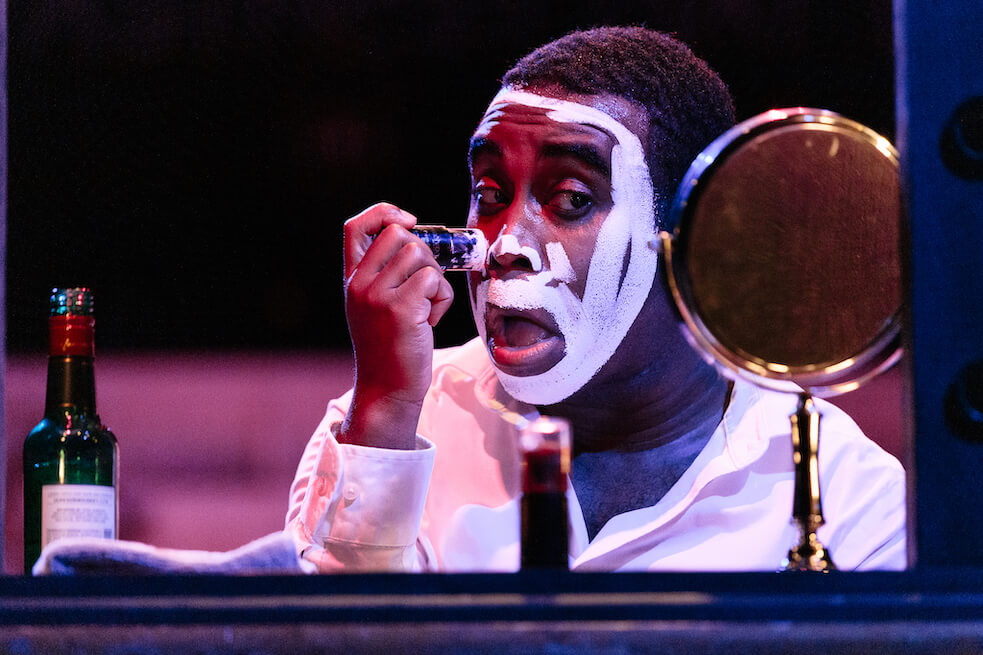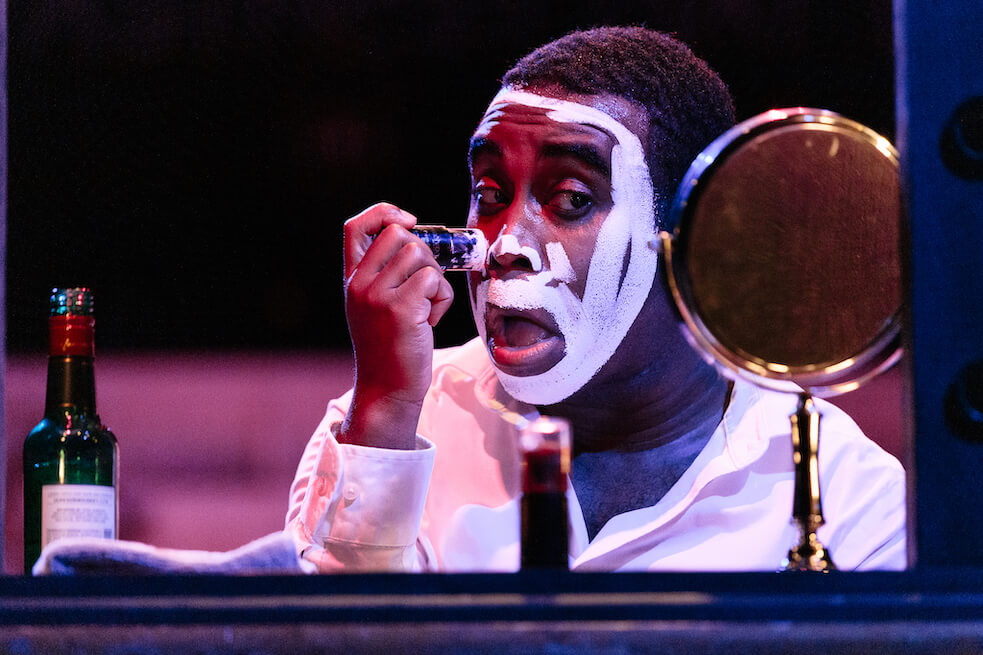 WARWICK, RI – The Gamm Theatre's first show of 2022 is "An Octoroon," a searing and provocative look at racial identity in America.
Playwright Branden Jacobs-Jenkins ("Everybody") adapted a play by Dion Boucicault, who wrote "The Octoroon, or Life in Louisiana in Five Acts," which premiered in 1859.
Much of the action takes place on a Louisiana plantation, where the owner falls in love with one of his slaves, an "octoroon" – a woman who is one eighth black.
Marc Pierre, who previously appeared in "Gloria," gives a powerhouse performance as the plantation owner who sports white makeup and a blond wig. Pierre also portrays a black playwright in the opening scene. Pierre commands the stage with a booming voice and vibrant physicality.
Jeff Church ("Arcadia") also plays multiple roles as a playwright and a Native American Chief. Church brings a demented and zany energy to all his roles and this time is no exception. He paints his face red and wields a mean tomahawk.
Many of the play's most entertaining moments are the byplay between two of the plantation slaves, Minnie (Michelle L. Walker) and Dido (Jackie Davis).
The two women pass their time by exchanging gossip and sharing their thoughts on what it's like not to be free.
Walker, who has appeared in several productions, including "A Lie Agreed Upon" and "The Night of the Iguana," and Davis ("Radio Golf") bring humor and warmth to these characters.
Newcomer Shelley Fort is tremendously sympathetic as Zoey, the "octoroon."
Fort conveys the self-loathing of this woman who feels impure due to her racial composition.
Jason Quinn ("A Lie Agreed Upon") is also excellent as Pete, an older slave who keeps the others in line.
Director Joe Wilson, Jr., who is a member of Trinity Repertory Company, does an excellent job of staging the action.
Set designer Michael McGarty has reconfigured the theater to allow audience members to sit on both sides of the narrow stage.
Peter Sasha Hurowitz's sound design and Dawn Chiang's lighting design help create an unsettling, hallucinatory feeling.'
Jacob-Jenkins focuses on the less flattering qualities of human nature in his plays and this time, he pushes the envelope as far as he can.
A certain racial epithet is used frequently by the characters. The women slaves are not only physically abused, but are the victims of verbal violence.
Language is used to degrade, dehumanize, and humiliate. It's brutal to see up close.
"An Octoroon" is being presented at a time when legislators in some states are declaring war on "critical race theory." For example, a new bill in Florida would ban public schools and private businesses from making people feel "discomfort" when being taught about racial discrimination in U.S history. The Florida bill also states that educators or businesses cannot teach that "one race, religion, ethnicity, or sex is inherently superior to another race, religion, ethnicity, or sex; an individual, by virtue, the individual's race, religion, ethnicity, or sex, is inherently racist, sexist, or oppressive, whether consciously or unconsciously."
Late in the show, a television is brought onto the stage and video of the 2017 white supremacist march in Charlottesville, Virginia is seen, along with the riot at the U.S. Capitol in 2021. Has society changed all that much in two centuries?
"An Octoroon" aims to provoke, to make us look in the mirror and see the ugliness in the world. Would these small-minded legislators who are afraid of children learning about our history have the courage to see "An Octoroon"?
As a theatrical experience and as a look at our past, "An Octoroon" is mesmerizing.
"An Octoroon" runs through February 20. The Gamm Theatre. 1245 Jefferson Boulevard, Warwick. Proof of vaccination and face masks are required. For tickets, call 401-723-4266 or visit www.gammtheatre.org.