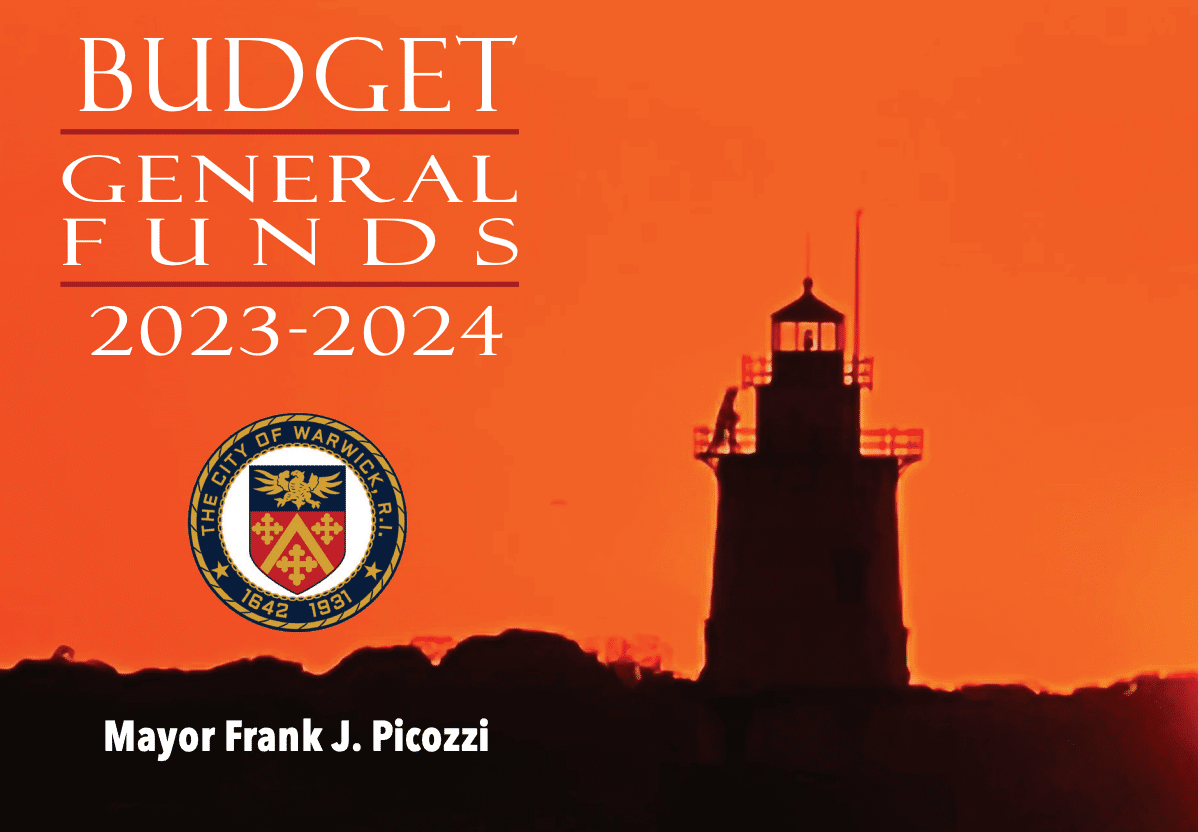 EDITOR'S NOTE: This story relies on a revised Warwick Schools budget total following a May 24 email query to and response from Warwick School Committee Chairman David Testa. The School Committee's original budget figure reported during their live-streamed meeting was lower than the actual number. This story uses the revised figure, and previous stories referencing the school budget total have been updated with the new figure, provided by Testa.
WARWICK, RI — The Warwick City Council meets to discuss, perhaps change, Mayor Frank Picozzi's $353.2 million FY24 budget, sporting a 2.9 percent increase, maybe more if they add $1.4 million for schools.
Picozzi budgeted Warwick Schools for a 4 percent increase, from FY23's $178.8 million, to $185.9 million, which was still about $1.4 million less than the $187.3 million the Warwick School Committee requested in its own budget proposal, passed May 5. The School Committee had cut $1,953,560 from Superintendent Lynn Dambruch's proposed budget before passing their version.
People watching the live-streamed FY24 budget hearings from home were treated with a long stretch of silence upon the Council's return from a half-hour break, when School Committee Chairman David Testa began his presentation and answered questions from the Council.
Warwick Post asked Testa about the $1.4 million extra Warwick Schools is asking the city to add to Picozzi's budget for schools.
"The largest chunk of that was $600K that the SC added (3-1 vote with me voting 'no') to fund 6 additional school buses. It's all but certain that First Student will not have the drivers for those buses and I think the best we can hope for is the 57 large buses that they originally budgeted for," Testa said. He said said the other $800,000 was attributed to, "a whole host of things."
As of Wednesday  afternoon, those things had not been specified, according to Councilman Jeremy Rix.
"We'll have to get a more precise list on exactly what would be cut if it isn't provided," Rix said.
In a detailed, multi-point Facebook reflection of the first budget hearing, Rix elaborated on the School Department's request.
"The Mayor's Proposed Budget along with increases in state funding combine for a proposed $7.1 million increase. However, the Schools are seeing significantly increasing costs and unfunded State mandates and are requesting an additional $1.4 million. We are going to be receiving additional information on exactly what the School Dept. would intend to cut if part or all of this additional $1.4 million is not received. The City and City Council have had a much improved relationship with the School Committee in recent years, so, I am hopeful that we will be able to have those difficult discussions and provide the funding necessary for the most important programs while recognizing the difficult position that the City and taxpayers are in," Rix wrote.
Regarding the muted portion of his presentation, Testa said, "I believe the muted audio portion was the President asking me what we'd have to cut if we didn't get the 1.4. The only thing I mentioned was that we'd definitely look at the $600K but then we'd have to back into the entire budget to see what else we could reduce."
Rix cautions against structural deficit, OPEB plan
Rix also struck a cautionary note about the city's structural deficit.
"After 0% tax increases in 4 of the last 5 years, this budget includes a $7.1 million drawdown of the Fund Balance. That $7.1 million would represent slightly over a 3% tax increase to balance the budget without that deficit. In addition, the City is continuing to use one-time money to avoid a larger drawdown, including projecting revenue of $2.5 million in sale of City real estate, and, one-time federal funds (ARPA) for items that would normally be funded through the operating budget, such as paving and purchases of vehicles. The City should certainly use that money, and, the paving and vehicles, etc. are absolutely needed. But, once that one-time money runs out, we will have all the more difficulty finding money in future budget for vehicles, paving, and other priorities. We can't just keep moving forward with such a large structural deficit, either," he said.
Regarding the Picozzi Administration's plan to fully fund OPEB by abandoning the existing 40-year plan:
"I am concerned about any plan for addressing long-term liabilities that involves contributing LESS money in the next 3 years than under the existing 40-year plan. I have to give credit to the Administration for coming up with a more comprehensive plan to address both the underfunded OPEB and Pensions than any Administration in the past. However, it seems to me that any plan to solve a problem caused by promising long-term benefits without sufficiently funding them shouldn't involve the City contributing less money in the next 1 – 3 years than under the existing 40-year plan. (We're about 26 years into the 40-year plan.)
To address these long-term funding issues, the City is going to have to have some difficult discussions with its Collective Bargaining Units to eliminate the structural deficit in the near-term and fund long-term obligations. Bankruptcy should not be on the table: That would be a disaster for everyone. These are problems that can still be solved through the collective bargaining process if all stakeholders are willing to make compromises. Some significant steps have been made towards these goals, but, seeing these numbers is sobering as it is clear that much more needs to be done for Warwick to close its structural deficit, fund its long-term obligations, and still address its infrastructure issues (roads, water, sewer) and send students to modern schools."